As a value-oriented investor, I look at a number of things when buying or shorting companies. First, I look at a company's industry. In this, I look at an industry that is simple to understand. Second, I look at a company's valuation and compare it with its peers. This helps me to identify bargains that have a potential to go up. Third, I look at companies in industries with large barriers to entry. Finally, I look at the ownership of the companies. I hate buying companies with a large controlling shareholder like Revlon (NYSE: REV). I love companies with management and board members invested in it. In this article, I list a number of companies I will be looking at this year and provide reasons for the same. I will regularly provide an update on these stocks if the thesis changes.
New York Times Co. (NYSE: NYT)
Short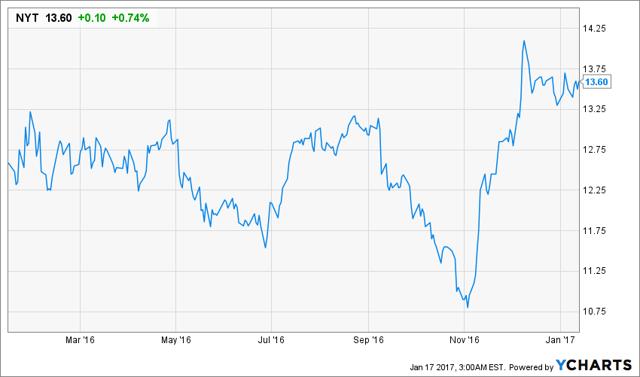 NYT is a media company that makes its money through advertisements. The company focuses on print and digital subscriptions. In November, the company announced a ten-fold increase in subscribers. This followed a rebuke by the president-elect. In the third quarter, the company also announced that the number of digital subscribers had grown by 116,000 people. The company also announced that it would vacate eight floors in their iconic New York offices. This is intended to reduce costs and improve the synergy between departments. Investors took these developments as positive and the share price went up.
However, I believe that the number of subscribers to NYT was expected to go up. This is because it was the electioneering year when more people were interested in political issues. I believe the growth is not sustainable going forward. The company has also been affected by the decline in print revenue. Presently, the print revenue represents only 22% of the company. This industry-wide problem has led to the closure of print divisions of a number of companies including The Observer. This trend will continue and will likely affect NYT as print subscribers decline. Finally, the company's decision to endorse Hillary Clinton is likely to affect the number of subscribers who view the company as a left-wing mouthpiece.
Twitter (NASDAQ: TWTR)
Long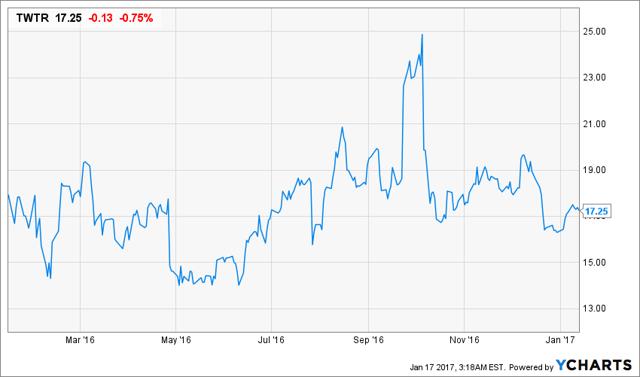 Twitter is probably the most influential company on earth. The company's mistakes are known and have been pointed out by a number of SA contributors. The biggest problem the company has is its lagging number of users. While the company is more than 10 years old, its daily usage has been passed by startups like Instagram and Snapchat (Private: Snap). The company has a CEO who doubles as a CEO of another public company, Square (NASDAQ: SQ). As if that is not enough, the company's CFO doubles as the COO despite him coming from the financial sector. Also, the company has suffered from mediocre acquisitions (Periscope and Vine) that have not contributed much in its revenue. In short, Twitter is a broken company.
My long thesis for the company is based on a number of factors. First, I believe that Twitter is undervalued compared to its peers, such as Facebook (NASDAQ: FB) and Alphabet (NASDAQ: GOOG, GOOGL). This is primarily because of its failed acquisition last year. Second, I believe that value can be created if the company gets a full-time CEO and an experienced COO. The new COO can make Twitter's platform easy to use for the users. I believe the major reason why Twitter's growth has stagnated is that most people don't know how to use the platform. Also, most Twitter users with fewer followers don't see an impact on their tweets.
Third, the company can improve its advertisement platform. As a major player and one of the most influential company in the world, TWTR can easily take a huge chunk of the increased marketing budget. SA contributor, Ranjit Thomas suggested the company to monetize search. Also, there have been suggestions for the company to provide its platform for free to general users while charging corporates a little fee.
Fourth, I believe that Twitter remains a great acquisition target. I believe that Twitter should not be a standalone company. It's a product that would do well under an umbrella of a big company.
I believe that some of the above points will be implemented sooner than later. This will be in the interest of the shareholders.
Revlon
Short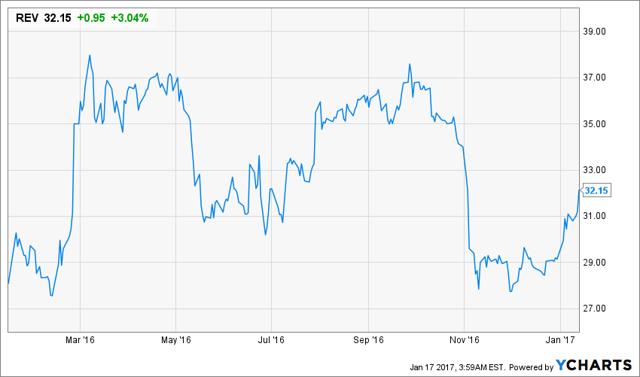 Revlon is one of the oldest beauty brands in the world; the company was established in 1932. In 1985, billionaire Ronald Perelman acquired a controlling stake in the company. He currently owns 77.6% of the company. The company's stock has been recovering after the company announced improved finances in Q2. The Q3 numbers were affected by the acquisition of Elizabeth Arden which the company paid a 50% premium.
My short thesis is based on a number of factors. First, as mentioned before, I don't like companies with a controlling shareholder. Ronald Perelman's holding for the company makes it impossible for outside investors to pressure the company to make changes. Second, the company is burdened with debt. REV has total assets of $3.11 billion against liabilities of $3.6 billion. The company has a debt to equity ratio of-4.934 indicating a negative net worth. In addition, the operating margin have been declining as shown below.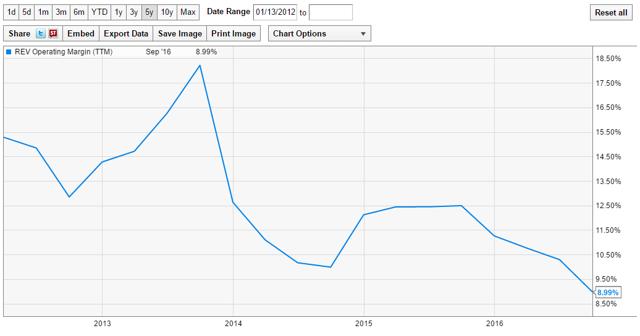 As seen, the operating margin are at the lowest point at 8.99% down from 16.33% in 2013. Third, the company's debt limits its global expansion plans. According to L'oreal, the Asian Pacific region represents the largest market share in beauty products. Most of REV's revenue come from the United States where CAGR is slowing. Based on Revlon's balance sheet, growth in the emerging market will be constrained.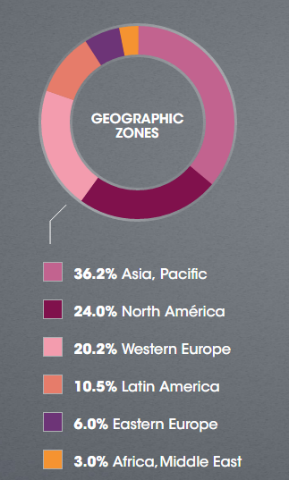 Source: Revlon
Revlon also faces a major challenge in implementing some of the major trends today. According to L'Oreal, the major trends in the beauty industry are the personalized 'sector, emerging markets, and the luxury market. With the company's balance sheet, it will be difficult for it to invest in R&D in the same scale as the competitors like Procter & Gamble (NYSE: PG) and L'Oreal (OTCPK: OTCPK:LRLCF).
In 2016, the company's share price went up when Perelman announced that he was open to strategic alternatives. It was rumored that Unilever (NYSE: UL) was interested in buying the company. Unless the company is acquired, investors are headed for a tough period in this company.
Signet Jewelers (NYSE: SIG)
Long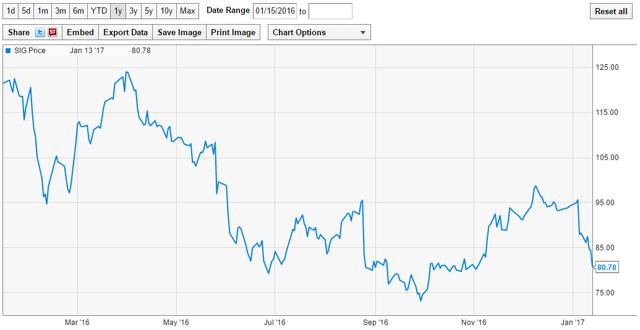 SIG is one of the leading jewellery companies in the US, UK, and Canada. The company operates more than 3,700 stores in the three countries. Some of the leading names in the portfolio are Kay Jewelers, Zales, Jared the Galleria of Jewelry, and Ernest Jones among others. In the past year, the company's stock price has fallen by 34% while revenue growth has gone down by 2.48%.
The decline can be attributed to a number of bad headlines such as the diamond swapping scandal, the credit scandal, and the company's poor holiday performance. Last holiday, same-store sales decreased 4.6% compared with an increase of 5.1% a year ago. The company also reduced its earnings range from between $4 and $4.20 to between $4 and $4.05. Also, the company sold $625 million in voting convertible preferred stock and bought common stock of the same amount.
SIG is facing the same headwinds facing the retail industry as more people buy products online. While online sales increased in 2016 by 13.2%, the retail sector increased by 0.6% fueled by auto sales. Retailers such as Macy's (NYSE: M) and Kohl's (NYSE: KSS) reported weaker holiday sales and reduced their annual forecasts.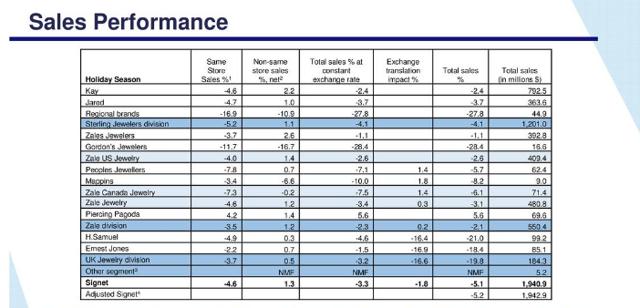 Holiday Sales. Source: Seeking Alpha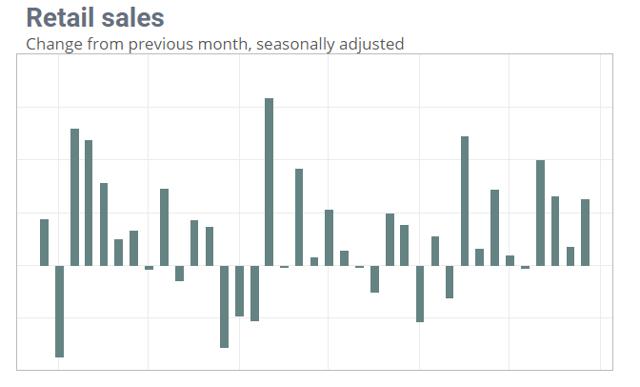 Source. MarketWatch
My bullish thesis is based on a number of factors. One, it is expected that online sales of jewellery will double from 6% to 12% by 2020. In 2025, it is expected that 18% of luxury jewellery will be sold in the internet. This means that in future, the company will continue selling its products in its retail stores with growth coming from online sales. The company is investing in its online presence.
Second, according to McKinsey the global luxury jewelry market is expected to reach €250 billion in 2020 representing a 6% annual growth rate. Based on these numbers, I expect SIG to perform well.
Finally, based on the company's price to earnings ratio, the company is undervalued. SIG has a PE ratio (TTM) of 12.3 compared to 23.1 of Tiffany & Co (NYSE: TIF), 50.9 of Blue Nile (NYSE: NILE), and the industrial average of 19.18. I attribute this to the negative headlines that have bombarded the company in the past year.
Disclosure: I/we have no positions in any stocks mentioned, and no plans to initiate any positions within the next 72 hours.
I wrote this article myself, and it expresses my own opinions. I am not receiving compensation for it (other than from Seeking Alpha). I have no business relationship with any company whose stock is mentioned in this article.