U.S. Bancorp (NYSE:USB) produced typically solid results for the fourth quarter of 2016 that completed a record year for the bank. This remains one of the more sensibly valued banks in the U.S. and holders will see no reason to change their positions after this quarter.
All told, revenue growth was 5% for the year 4.4% for 4Q YoY, which is the same order of performance. The only thing to note from the P&L is a gentle rise in non-interest expenses that saw the cost/income efficiency ratio move up from 54.4% in 2015 to 53.3% in 2016. USB has been clear in its last few conference calls in explaining that it has stepped up its client engagement efforts and would not be able to improve operating leverage short term. The increase in costs is visible through the second half of the quarters shown in the chart below.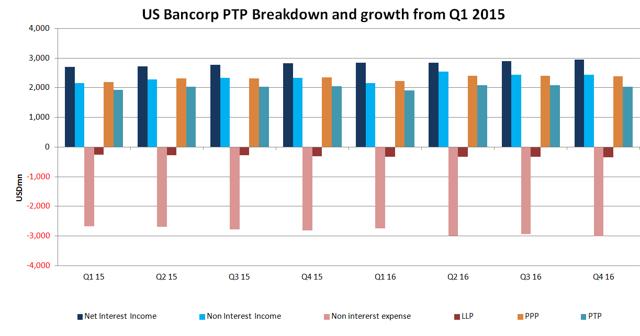 Company data
Here is the recent income growth, which has been steady. I expect this to step up and assume a faster growth rates through 2017-18 due to higher interest rates and loan growth.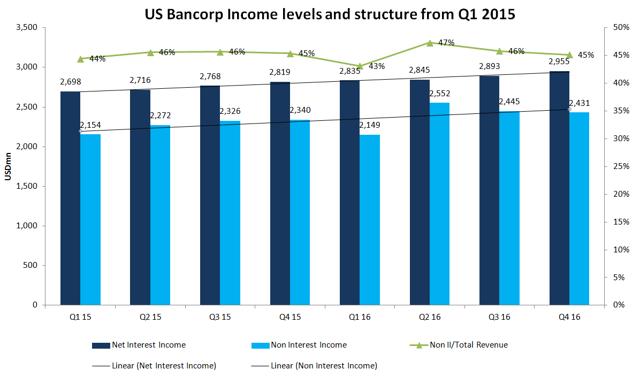 Company data
It should be possible for USB to maintain its efficiency ratio slightly higher than 55%. It's important investors recognize that the bank is choosing to lay down operating expenses in preparation for a somewhat better growth environment rather than struggling to control costs or falling short in terms of its revenue delivery.
USB has had slightly lower net interest margins this year but the difference with 2015 is less than 10bps, and mainly reflects the more rapid growth of deposits than loans, with loans up 11% YOY at 4Q and loans up 5%. This gives the bank a slightly more liquid balance sheet, at the expense of margin through having a slightly lower loans/assets ratio. Going forward I think NIM can lift 5-10% basis points easily on two Fed hikes in 2017 and I expect loan growth to assume a faster clip in 2017 to around 6% annually.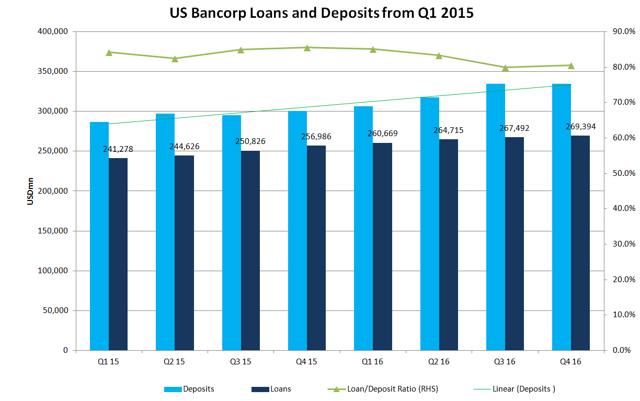 Company data
If we assume that the efficiency ratio remains at 55.3% through 2017-18 (which might be a little stingy given that USB mentioned on its 3Q call that rates and loan growth might bring it improved operating leverage), then the stock looks to be on 12.4x EPS for 2018, which puts it at the lower end of regional peers. At 4Q'16 its CET1 ratio calculated on the Basel III advanced approach was 11.7% while non performing loans/gross loans was 0.58%, the same kind of level it has been in for several years. So there's solidity, quality and due to a combination of ongoing solid revenue growth and a decent buyback program, prospective EPS growth of 11% in 2017 and 12% in 2018. Throw in a 2.2% yield and this stock can be viewed as a more potent situation than it often looks.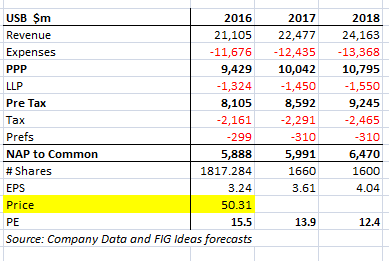 Conclusion
If you want to hold a bank but worry about an unwind of the Trump trade, perhaps because of the President-elect's dollar worries, you should give USB a close look.
Disclosure: I/we have no positions in any stocks mentioned, and no plans to initiate any positions within the next 72 hours.
I wrote this article myself, and it expresses my own opinions. I am not receiving compensation for it (other than from Seeking Alpha). I have no business relationship with any company whose stock is mentioned in this article.