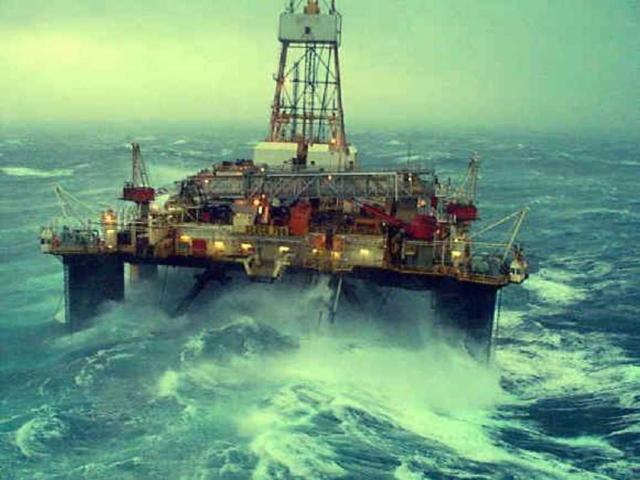 Image: Offshore Norway harsh environment.
Investment thesis:
The offshore drilling Industry is suffering through the worst bear cycle in history. The oil crash that began late in 2014 has had a terrible effect particularly on the offshore drilling players such as Transocean (NYSE:RIG), Seadrill (NYSE:SDRL), Rowan Companies (NYSE:RDC), Ensco Plc. (NYSE:ESV) or Noble Corporation (NYSE:NE) and another dozen or more companies struggling to avoid a financial meltdown, due to a basic lack of work, dismal day rates and rig oversupply which is the unavoidable trichotomy of an offshore drilling bear market.
Oil majors have reduced E&P CapEx to a bare minimum and 2017 is offering some timid improvement, but not strong enough to trigger extreme euphoria for the offshore drillers yet. I have followed this sector closely for years and tried to report the slow degradation of the business environment until now.
However, recently we may have experienced an important change in the oil market that may signal a bottom for offshore drilling and a possible slow recovery late in 2017 or early 2018.
On January 12, 2017, EIA wrote that crude oil prices are expected to increase slightly through 2017 and 2018.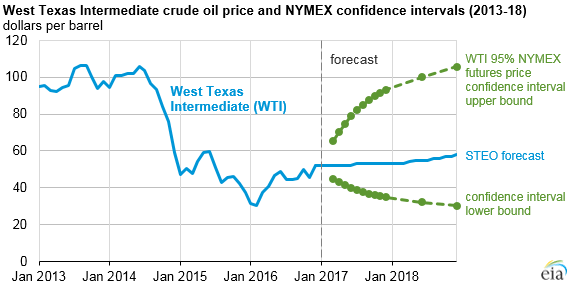 Source: U.S. Energy Information Administration, Short-Term Energy Outlook, January 2017
Note: Confidence interval derived from options market information for the five trading days ending Jan. 5, 2017. Intervals not calculated for months with sparse trading in near-the-money options contracts
The U.S. Energy Information Administration's January Short-Term Energy Outlook ("STEO") forecasts benchmark North Sea Brent and West Texas Intermediate crude oil prices to average $53 per barrel and $52/b, respectively, in 2017, close to their levels during the last three weeks of 2016. These prices are expected to rise to $56/b and $55/b, respectively, in 2018.
OPEC and non-OPEC producers have agreed to cut production by a little less than 1.8 MBOPD and assuming that this decision is followed by the facts, the price of oil will eventually trend up in 2017. A lot of uncertainty right now but let's hope that this consensus is for real this time.
According to some analysts, the forecast is even higher than the conservative EIA at around $60-$65 a barrel in 2017, which is now enough to change the entire tendering dynamic in the offshore exploration.
According to Wood McKenzie, The major driver of this recovery is justified by the 20% cost reduction realized by the industry this last couple of years and expected to sink further down by 3-7% in 2017. Cost reduction is of a paramount importance.
FIDs - Final Investment Decisions - are the main benefactors of this cost reduction, which are expected to at the least double from 2016. The number of FIDs is expected to increase to more than 20 in 2017, compared with nine in 2016.
Capex per barrel of oil equivalent for these projects averages just US$7 per barrel ("bbl"), down from US$17/bbl for the 2014 project sanctions. The projects also give more bang for their buck - with an Internal Rate of Return ("IRR") increase from 9% to 16%.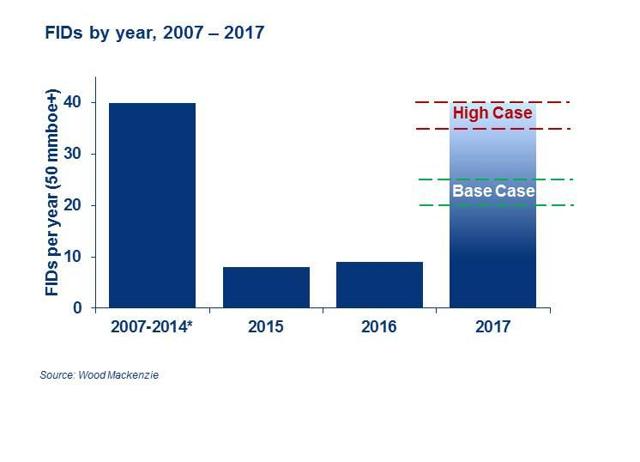 This is not an immediate relief for offshore drillers as many unaware investors may think wrongly. The recovery of the offshore drilling industry is coming, but not before the E&P majors will recover first and allocate enough exploration CapEx. This is true for the shallow waters and the deep waters offshore. Again, Offshore drilling is a "service" that does not benefit immediately from the oil prices increase.
As an example of this situation is what has been said by Paragon Offshore (OTCPK:PGNPQ) which is still struggling with chapter 11 and probably will not make it.
Is the recently announced OPEC agreement helpful to Paragon's case?

The recently announced agreement by OPEC to limit production has had a positive impact on oil prices. Over time, if the agreement is implemented and adhered to by the participating countries, commodity prices could continue to increase and drive industry activity, including offshore drilling. Nevertheless, we do not believe the mere announcement of this agreement will have a significant impact on offshore drilling activity in the very near term.
While waiting for concrete signs of new tendering activity, it is important to look at what is actually the areas where exploration will provide for the deepwater and ultra-deepwater business. One important area is the North Sea sector (Norway), which is the topic of my article today.
Commentary: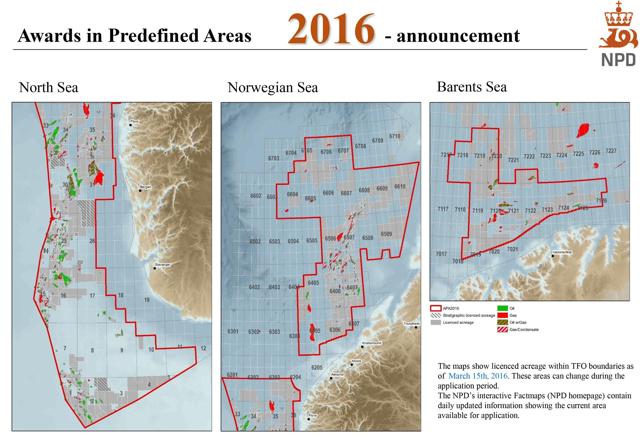 Courtesy: Norwegian Petroleum Directorate.
According to offshoreEnergyToday,
The Norwegian government on Tuesday, January 17 informed that offers for 56 new production licenses on the Norwegian continental shelf will be sent to 29 companies.
Norway's new Minister of Petroleum and Energy, Terje Søviknes said:
I am proud to offer a large and diverse group of oil companies participating interests in 56 new production licenses in our best known exploration areas. This illustrates how many companies see significant, long-term business-opportunities in the petroleum resources on the Norwegian Continental Shelf, and that this government's policies work as intended.
Location:
The 56 new production licenses are spread to three main sectors as seen on the map above.
North Sea (36)
Norwegian Sea (17)
Barents Sea (3)
A total of 33 companies applied for production licenses in the APA 2016 licensing round and 29 different oil-companies will be offered awards in one or more license, and 17 of these will be offered one or more operatorships.
The APA rounds start with an assessment of potential APA-area expansion. For APA 2016, an area-expansion proposal was sent out on public consultation with deadline January 8, 2016. The licensing round was subsequently announced March 17, 2016, with application deadline on September 6, 2016. Once the companies have accepted the offers made to them, final awards will be made by the King in council.
The licenses were awarded to 17 operators:
| | | |
| --- | --- | --- |
| Operator name | Number of Licenses awarded | Additional information |
| Aker BP ASA | 13 | 10 June 2016 - BP and Det norske oljeselskap today announced the creation of Aker BP ASA |
| Capricorn oil | 2 | The company was incorporated in 2006 and is based in Edinburgh, United Kingdom. Capricorn Oil Limited operates as a subsidiary of Cairn Energy plc. |
| ConocoPhillips (NYSE:COP) | 3 | |
| DEA | 1 | DEA Deutsche Erdoel AG is an international exploration and production company for oil and gas with headquarters in Hamburg, Germany. |
| ENGIE | 1 | The French GDF SUEZ is now ENGIE since April 2015. |
| Eni | 1 | |
| Faroe Petroleum | 2 | Faroe Petroleum is an independent oil and gas company focusing principally on exploration, appraisal and production opportunities in Norway and the UK. |
| Lundin Petroleum AB | 2 | Lundin Petroleum is a Swedish independent oil and gas exploration and production company |
| MOL | 1 | MOL Group is a leading integrated Central & East European oil and gas corporation headquartered in Budapest, Hungary. |
| PGNiG | 1 | PGNiG Group is the leader of the Polish natural gas market |
| Shell (NYSE:RDS.A) (NYSE:RDS.B) | 4 | |
| Statoil (NYSE:STO) | 16 | |
| Suncor Energy (NYSE:SU) | 1 | |
| TOTAL (NYSE:TOT) | 1 | |
| VNG Norge AS | 2 | |
| Wellesley Petroleum | 3 | Wellesley Petroleum is focused on hydrocarbon exploration in Norway. |
| Wintershall | 2 (5) | After the award Wintershall will hold around 60 licenses in Norway, with over 50 percent as operator. The company remains one of the major license holders on the shelf. |
Note: I have sent a request to OffshoreEnergyToday because Wintershall indicates 5 licenses and the article indicates only 2?
17.01.2017

WINTERSHALL AWARDED FIVE LICENSES IN THE APA 2016 LICENSING ROUND
Conclusion:
This is another step in the right direction and the cascade of events will probably lead to a full recovery in the offshore drilling industry, in due time. The question is not if but when?
Investors should not be too impatient and let the natural process follows its course without making illogical assumptions and understand what is at stake.
It means that 2017 -- probably a large part -- will be another painful year for the offshore drilling industry, most likely, and the companies who are in trouble now will not survive without a painful but necessary restructuring. Companies such as Ocean Rig (NASDAQ:ORIG), Pacific Drilling (NYSE:PACD) and Seadrill (NYSE:SDRL) are about to announce a restructuring and I believe Atwood Oceanics (NYSE:ATW) is also a candidate depending on the timing of the recovery. Already Hercules offshore is in the process of being liquidated and potentially Paragon Offshore or Vantage Drilling Inc (Private) will be liquidated as well.
As an investor, this situation may offer soon an opportunity to build up a significant offshore driller portfolio at a large discount. All you need is patience and understanding of the actual situation.
Important note: Do not forget to follow me on the oil sector. Thank you for your support.
Disclosure: I/we have no positions in any stocks mentioned, and no plans to initiate any positions within the next 72 hours.
I wrote this article myself, and it expresses my own opinions. I am not receiving compensation for it (other than from Seeking Alpha). I have no business relationship with any company whose stock is mentioned in this article.
Additional disclosure: I own many offshore drillers and trade as well.
Editor's Note: This article covers one or more stocks trading at less than $1 per share and/or with less than a $100 million market cap. Please be aware of the risks associated with these stocks.