After CEO Joe Papa and the management team successfully sold assets at up to 10x revenue, Valeant Pharmaceuticals (NYSE:VRX) all but gave up its gains on the week. The looming inauguration of Trump is spooking investors. Rising generic drug prices are on Trump's radar. Upon digging in the details, the incoming Republican Party will realize high Medicare prices are due to multiple factors. As drug pricing concerns dissipate, Valeant's stock will begin its ascent. There are five reasons Valeant's business is on the mend.
1/ Asset sales exceed expectations
Markets did not get the sale it wanted but Salix's enormous size will mean Valeant needs time to find the right buyer. For now, markets are only pricing in Valeant's sale of Cerave, AcneFree and Ambi and Dendreon. The company will receive $2.35 billion in proceeds. After adding another $350 million in asset sales where Valeant did not issue a press release nets $2.7 billion in total asset divestitures. Recall that Valeant already paid its amortization schedule for 2017. More asset sales and a return to positive cash flow will facilitate payments for debt obligations in 2018.
Joe Papa committed to cutting debt by over $5 billion within 18 months from August 9th, 2016.
2/ Lower sales force turnover
At the JPMorgan health care conference, CEO Joe Papa said that the company lowered its sales force turnover from 11 percent down to 6 percent.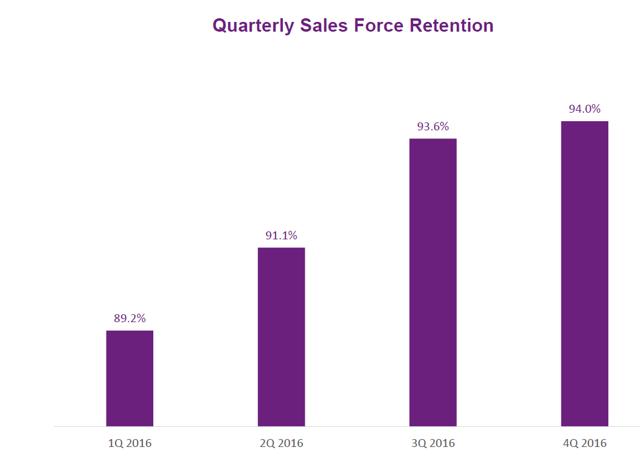 Source: Valeant Pharmaceuticals
With new management in place, the new leadership in the sales division will reinvigorate revenue growth at Salix. Already, the company projects a 17 percent Y/Y growth in Xifaxan sales. Prescription growth is lifting sales: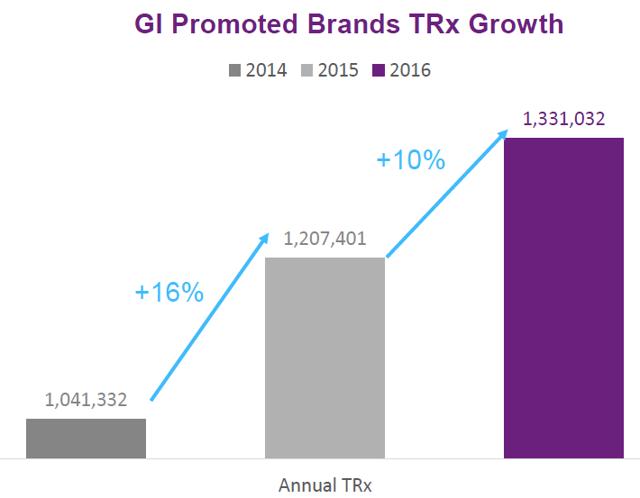 Source: Valeant Pharmaceuticals
3/ B+L
Having sold its skin products to L'Oréal, Valeant's management will double-down on its efforts in growing B+L's eye care. Papa noted that people at and over the age of 65 use eye care products seven times more than the average.
Market chatter over Valeant selling B+L makes little sense. The unit is growing sales at 7.1 percent. In the last quarter, Valeant reported flat growth at the unit: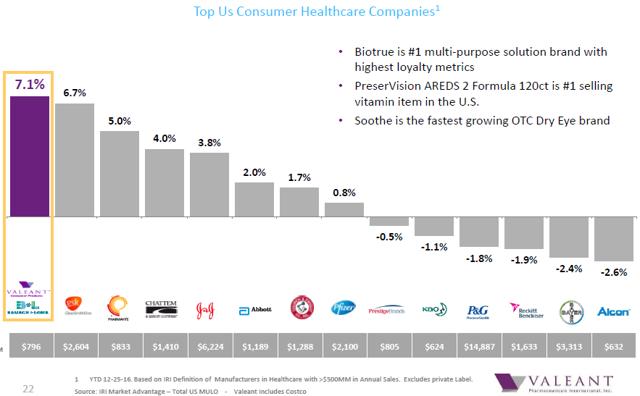 Source: Valeant Pharmaceuticals
B+L is outpacing even GlaxoSmithKline (NYSE:GSK), Abbott Laboratories (NYSE:ABT) and Johnson and Johnson (NYSE:JNJ).
4/ Strong pipeline in 2017
Papa highlighted the company's growing efforts in R&D. It has 43 R&D facilities and expects to spend 38% more year-over-year. Of the nearly 135 active projects, Valeant expects over 50 new products launching in 2017. Most of the 50 launches will be in markets outside of North America, such as the Middle East.
Brodalumab is Valeant's most promising drug set for launch in the second half of this year. In the United States, approximately 7.5 million people suffer from psoriasis.
Investors should be made aware that this drug treating psoriasis will have a suicide label warning. Brodalumab's active ingredients are a retinoid and a steroid. The key date for Brodalumab is the PDUFA Date: February 16, 2017.
The other notable drug launches this year are:
Stellaris Elite™ - H1
Next Generation Thermage - H1
Vitesse - H1
Latanoprostene Bunod (Vyzulta™) for reduction of IOP in ocular hypertension or glaucoma - H2
Bausch + Lomb ULTRA® and Biotrue® ONEday toric lenses
5/ Valeant still misunderstood
Valeant tarnished its reputation through its association with Philidor raising drug prices. This year, the company is committed to limiting U.S.-Branded Rx price increases in the single digits. More importantly, the company does not rely on the U.S. prescription market for earnings growth. Around 87% of B+L's EBITDA is uncorrelated to the U.S. prescription pricing model.
Valuation
By assuming a discount rate of between 10% - 12% and a revenue exit multiple of between 3x - 3.7x, Valeant is worth between $15.34 - $37.78 per share. The mid-point of that range is $26.21 per share.
Source: finbox.io
| | | | |
| --- | --- | --- | --- |
| | Low | Mid | High |
| Selected Discount Rate | 12.00% | 11.00% | 10.00% |
| Implied Fair Value | $15.34 | $26.21 | $37.78 |
| Implied Upside / (Downside) | -0.10% | 70.60% | 145.90% |
Source: finbox.io
An interactive version of the model is available here.
Please [+]Follow me for continued coverage on pharmaceutical value stock ideas. Click on my name next to my avatar at the top of the article. Valeant is on this week's action list.
Disclosure: I/we have no positions in any stocks mentioned, and no plans to initiate any positions within the next 72 hours.
I wrote this article myself, and it expresses my own opinions. I am not receiving compensation for it (other than from Seeking Alpha). I have no business relationship with any company whose stock is mentioned in this article.