By Parke Shall
It's only 7:30AM here in Manhattan and already two retailers have come out with disappointing holiday numbers this morning. Both Target (NYSE:TGT) and children's toy retailer Toys 'R' Us released holiday sales numbers this morning, and they were both ugly. Based on numbers provided by Seeking Alpha, here's a wrap up of what both stores released.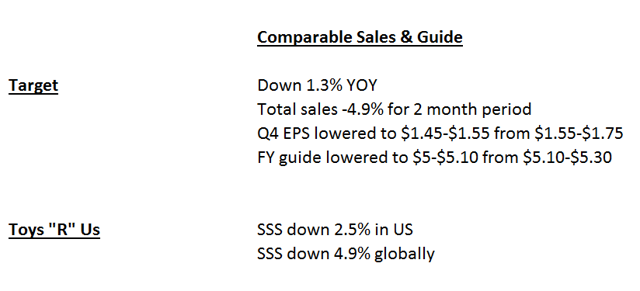 These two disappointments come after an expanding line of retail names that have all posted worse than expected results coming out of the holiday season. Before Target and Toys "R" Us, we were treated to poor holiday sales numbers from Macy's (NYSE:M), Kohl's (NYSE:KSS), GameStop (NYSE:GME) and a couple other smaller retailers. We think that this is a clear indication that investors should be reevaluating their retail portfolio, at least until the aftershocks of the holidays are out-of-the-way.
Dump Your Retail Stocks?
There are a slew of companies in the retail space that have yet to report on their holiday numbers, some of which have partially reported or have simply reported holiday sales. A good starting list of retail companies that we would look at includes Nordstrom (NYSE:JWN), Dillard's (NYSE:DDS) J.C. Penney (NYSE:JCP), Cato (NYSE:CATO), Tailored Brands (NYSE:TLRD), L Brands (NYSE:LB), Ascena Retail (NASDAQ:ASNA), Francesca's (NASDAQ:FRAN), Stein Mart (NASDAQ:SMRT), Stage Stores (NYSE:SSI), Urban Outfitters (NASDAQ:URBN), DSW (NYSE:DSW), Express (NYSE:EXPR), Citi Trends (NASDAQ:CTRN).
For those companies that have yet to report their holiday numbers, we can't help but believe that this pattern over the last two weeks is telling us that results are not going to be good. If you own brick-and-mortar retail that has yet to post their holiday numbers, this may be a time to reconsider your investment, at least for the short term as cheaper prices may present themselves for investors who are looking to hold onto these companies for the longer-term.
It isn't really worth going into the argument as to whether or not Amazon (NASDAQ:AMZN) has picked up the slack that brick-and-mortar retailers lost over the holidays. We know that Amazon has probably taken a good portion of the business that has been missing from brick-and-mortar retailers, but it isn't worth trying to parse out exactly how much of this year's disappointment was due to Amazon and how much was just due to an overall lower take by retail for the holiday.
We don't usually go out of our way to point out trends and patterns unless we feel like we have enough data to confidently see to it that we are reassured in our assumptions. We have monitored retail carefully this holiday season, like everybody looking for buying and selling opportunities, and there simply has yet to be one brick and mortar name that has truly surprised the street. We feel confident at this point that the entire holiday season is just going to go down as a disappointment for the sector.
Like we wrote about GameStop days ago, we do believe there are probably bargains in the industry. And that is not to say we are not long any retail names, as we have very small portfolio allocation positions in Macy's, Bed Bath and Beyond (NYSE:BBY) and GameStop. However, we think this is a great time to look at several factors in any brick-and-mortar retail stocks you own.
What Do We Look For In Retailers We Buy?
First, what kind of a price to earnings ratio is the company trading at? Most premium retailers are only afforded a valuation of about 14X earnings right now. We would feel much better purchasing retail stocks well under 10X earnings, as we did with GME just days ago. It is a sector in distress and therefore its corresponding valuations also need to be in distress. Paying 10X-12X and above for retail stocks right now is simply just too expensive, no matter how big the name.
Second, is your company carrying a lot of debt? Many retailers have levered up over the last few years with interest-rates being low and operations struggling. Are the leverage ratios of the retail stocks that you own under control? GameStop, for instance, has almost enough cash on hand to manage almost all of its debt. On top of this, it generates cash consistently. Companies with lots of leverage in the space should be avoided, as they will be the first to fall under severe financial distress when the consumer stops spending or the sector lags even further.
Third, is your company generating cash? The good thing about a lot of these retail companies is that they are still generating a lot of cash. However, in a declining environment, it is important to take a look at the declining rate of cash that companies are generating. If a company generated great cash over the last 12 months but is falling at a 50% year-over-year clip, it is far more important to know the run rate then it is to know the trailing metrics.
Fourth, does the company have a plan for the future? Many retail names have laid out 3-5 year plans for readying them for the changing shift in the sector? Does your company, like Macy's, at least have a plan to downsize and potentially monetize and unlock all assets available to it?
We believe if you keep these four simple questions in mind that it'll be easy to find retail opportunities coming out of this holiday season. However, given the standard that has been sent by numerous other companies already, we can't help but believe that this may be the perfect time for investors to check and double check their retail holdings.
Disclosure: I am/we are long M, BBBY, GME.
I wrote this article myself, and it expresses my own opinions. I am not receiving compensation for it (other than from Seeking Alpha). I have no business relationship with any company whose stock is mentioned in this article.
Editor's Note: This article covers one or more stocks trading at less than $1 per share and/or with less than a $100 million market cap. Please be aware of the risks associated with these stocks.