With the latest rumblings of a "hard Brexit" hitting the wires, the cable or GBPUSD has hit fresh lows. So I thought it would be worth reviewing an interesting chart of the sterling or pound as it's also known. The chart below shows the GBPUSD along with a simple measure of valuation that assumes long-term mean reversion and long-term reversion to/through PPP (purchasing power parity) implied levels. Also shown is perhaps more of a sentiment measure; speculative futures positioning. Together the indicators tell a very interesting tale of the Brexiteered currency.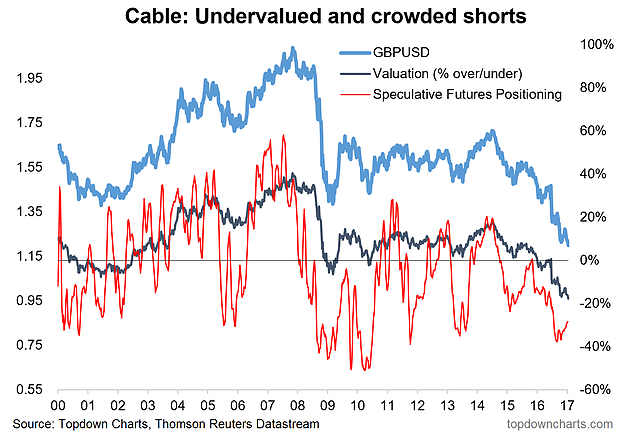 The valuation indicator shows the pound as increasingly cheap against the US dollar, while at the same time, speculative futures positioning remains materially net short. In other words, it is undervalued and unloved - something that should appeal to your inner contrarian (at least it makes my inner contrarian take notice). Indeed, in the past, when there has been a pairing of extremes in valuation and positioning, it has marked turning points for the GBPUSD exchange rate.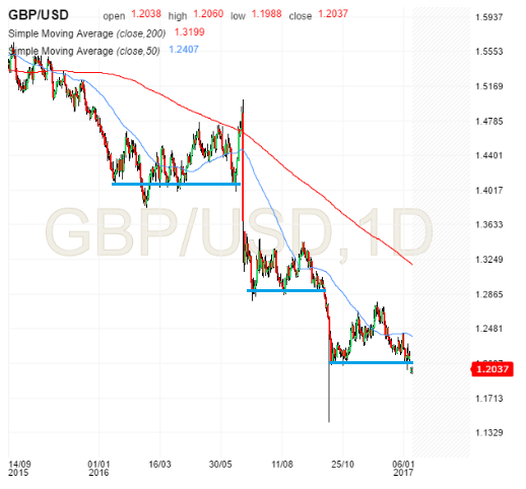 The trouble is, of course, that there is no lower bound for exchange rates and it could keep going. The graph above shows the cable trading comfortably below the 50 and 200-day moving averages; both of which are sloping down - strong downtrend signal. Also worth noting is that the latest news or noise has sent the sterling below support of 1.21, and in recent history, breaks of support e.g. 1.29 and 1.41 have been followed by significant moves. So while the first chart says we could be nearing a turning point, the technicals say not so fast...
This article originally appeared here.
Disclosure: I/we have no positions in any stocks mentioned, and no plans to initiate any positions within the next 72 hours.
I wrote this article myself, and it expresses my own opinions. I am not receiving compensation for it. I have no business relationship with any company whose stock is mentioned in this article.