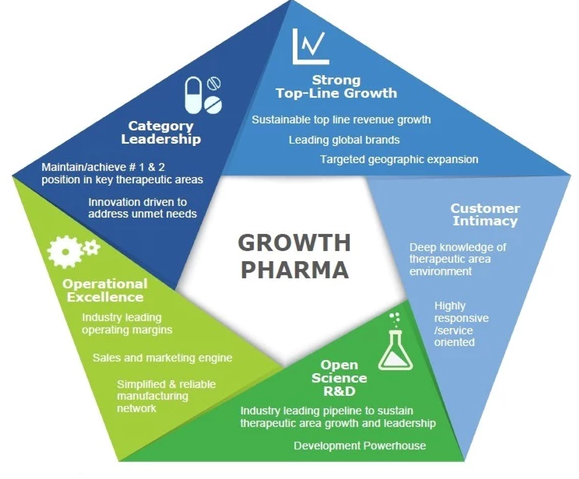 After adopting a new operating model last year, Allergan (NYSE: AGN) continues to prove that it will be one of this year's most captivating growth stories. However, it appears that the market isn't still fully convinced, going by the company's share price, which in spite of registering a positive uptick over the past month is yet to get back to highs posted in July last year.
The new model dubbed 'growth pharma' is based on identifying five characteristics that will make the company grow at a higher rate and differentiate it from the slower growing big pharma companies. In addition to this, the company reclassified its operations into three segments: U.S General Medicine, U.S Specialized therapeutics and International Business. A quick review of the company's financials indicate that all three segments reported higher revenues for the first nine months of 2016.
During the past year, Allergan also completed the sale of its generic drug business to Teva Pharmaceuticals for $33.4 billion in cash and $5.4 billion in Teva's stock and keeping in line with its new model, the company has scooped up a number of R&D stage assets since then.
While this acquisition spree hasn't been too popular with some investors, considering that a large number of them prefer a capital allocation strategy that involves a more immediate return on their invested capital, the company recently indicated that it would be changing tactics.
At the recently held 35th annual J.P Morgan Healthcare Conference, Allergan CEO Bret Saunders revealed that the company would be shifting its attention to accretive M&A and away from early stage pipeline acquisitions with the goal of striking a strong balance between R&D deals and accretive deals.
Going forward, I expect this new strategy to drive shareholder value in the long-term based on the new acquisitions as well as Allergan's new product launches.
Allergan's growth drivers in 2017 and beyond
Allergan has a robust and promising pipeline of therapeutic products which includes six therapies in Phase 3 development. According to Saunders, the company believes that these therapies have the ability to generate about $13 billion in peak sales. The therapies include Rapstinel for adjunctive treatment of Major Depressive Disorder (NYSEARCA:MDD) which is Allergan's first drug to receive FDA breakthrough status.
Estimates place the number of people living with MDD to be around 16 million in the U.S alone. There remains a significant unmet need in the space as more than 70 percent of MDD patients partially or entirely don't respond to first-line therapies which include Selective serotonin reuptake inhibitors (SSRIs) such as Prozac.
Another important drug for the company is Esmya, a uterine fibroid therapy which is expected to break into the American market if it reports positive data from the second of Phase 3 trials expected in the first half of this year. The trial marks Allergan's second attempt to get FDA approval in the U.S after withdrawing an earlier application filed in 2012. According to results released so far, the drug has met all co-primary and secondary endpoints and has had a good safety profile with no serious side-effects.
To better illustrate Esmya's potential, Umer Raffat, a senior analyst at Evercore ISI said this is in a note to clients last year: "This drug is already approved in Europe and Canada. However, the indication is limited: pre-operative treatment only. On the other hand, FDA is allowing Allergan to enroll patients with signs and symptoms but not necessarily preparing for surgery. This greatly expands the target population for Esmya."
If it gains FDA approval, Esmya could become the first non-invasive long term treatment and the biggest selling uterine fibroid drug with estimated sales of $500 million to $1 billion.
Allergan's also recently announced positive data from trials evaluating its Linaclotide colonic release - 1 or CR1 and CR2 formulations in patients with irritable bowel syndrome with constipation (IBS-C) and those without constipation. As the company expects to begin Phase 3 clinical trials by the second half of the year, this has the potential of becoming another win for the company.
In fact, analysts at Credit Suisse reiterated their positive outlook on the company following the release of the results and according to their statement: "Given the current valuation, we see the potential for significant upside for AGN in 2017 if expectations are properly reset, new products continue to deliver and investors begin to appreciate the value that we see in the AGN pipeline."
Aside from this, Allergan expects that its new product launches from 2015 and this year will generate about $5 billion peak sales as revenue from immunosuppressant Restasis stabilizes. Furthermore, the solid performance of Namzaric should help off-set the expected weakness from sales of Alzheimer's drug Namenda.
In terms of M&A activity, the acquisition of Tobira Therapeutics, a liver disease focused biopharmaceutical company for an upfront cost of $595 million along with a potential consideration that could end up adding to $1.1 billion also bodes well for the company. It adds Cenicriviroc and Evogliptin, two differentiated complementary development programs for the treatment of multi-factorial elements of NASH including fibrosis, inflammation and metabolic syndromes to the company's gastroenterology pipeline.
In conclusion
Currently, there is a dark low hanging cloud over the broader healthcare sector due to pricing concerns. President elect Donald Trump has criticized drug makers by saying that they are "getting away with murder" by charging too much for their products, which has caused a level of uncertainty with regards to future regulations in the industry.
Back in September last year, Allergan rolled out what it called a social contract with patients and a key part included keeping price increases below 10 percent in a move which Saunders hoped would inspire other drug makers to follow suit. If such a measure is adopted by the industry, we should definitely expect to see significant margin contraction and slower growth across the board.
However, Allergan will remain a sustainable long term growth company as a result of its low exposure to the pricing given that ~40 percent of the company's top line is from outside the U.S as well as the fact that its key product portfolio has an exclusivity period for the next decade.
Disclosure: I/we have no positions in any stocks mentioned, and no plans to initiate any positions within the next 72 hours.
I wrote this article myself, and it expresses my own opinions. I am not receiving compensation for it (other than from Seeking Alpha). I have no business relationship with any company whose stock is mentioned in this article.