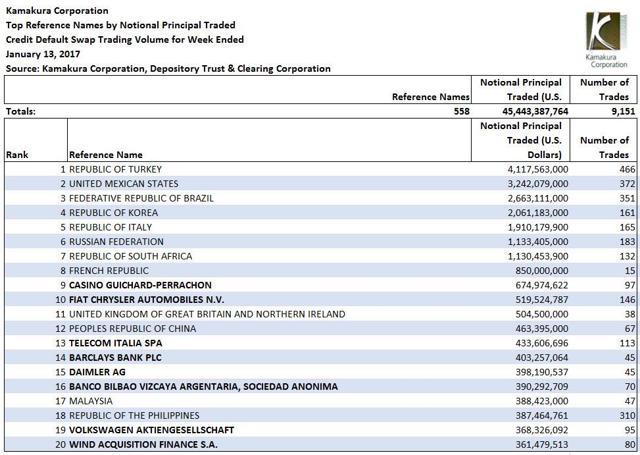 The credit default swap market is normally a hotbed of mixed signals, as we have noted in a long series of comments on implications of trading volume. This week's signals are pretty hard to miss, as 16 of the 17 most heavily traded corporate reference names were firms based in Europe. All 8 of the corporate names in the top 20 volume rankings from Kamakura Corporation were European firms, with retailer Casino Guichard Perrachon (OTC:CGUIF) on top of the list. Fiat Chrysler Automobiles (NYSE:FCAU) and Telecom Italia (NYSE:TI) ranked second and third among corporate reference names. The data analyzed by Kamakura Corporation was released Tuesday afternoon by the Depository Trust & Clearing Corporation.
The concern on the part of traders wasn't limited to the corporate sector, as Turkey, Italy, France and the United Kingdom were ranked among the 10 most heavily traded sovereign credits.
As always, we note that a high level of trading volume doesn't necessarily illustrate that a counterparty has a high level of default risk. What it does indicate, however, is that there is a high degree of difference in market participants' opinions on the most heavily traded names.
While decisions should be made on a case by case basis, a retail investor should generally avoid corporate reference names which consistently appear among the most heavily traded firms in the CDS market. Active traders in the CDS market have much greater access to information than a retail investor and they typically have a much greater tolerance for idiosyncratic surprises in the credit market than a normal retail investor would. Caution is called for with respect to both specific names on the list and the eurozone in general.
Disclosure: I/we have no positions in any stocks mentioned, and no plans to initiate any positions within the next 72 hours.
I wrote this article myself, and it expresses my own opinions. I am not receiving compensation for it (other than from Seeking Alpha). I have no business relationship with any company whose stock is mentioned in this article.
Editor's Note: This article discusses one or more securities that do not trade on a major U.S. exchange. Please be aware of the risks associated with these stocks.