Every month, I give a breakdown of the regional FED surveys like the Empire State Manufacturing Survey. I do this because they add valuable information to the big economical puzzle. In addition to that, they are leading the ISM index. These indicators are able to predict the direction of the ISM index and are very reliable once all regional surveys are put together at the end of each month.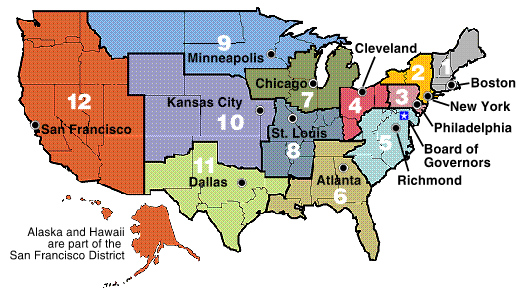 Source: Federal Reserve
This article gives a breakdown of all important parts of the Empire State survey, conducted in the New York district.
The most important manufacturing number came in at 6.5 versus 7.6 in December. The fast upswing is taking a break as it seems. The index is currently at Q2/2016 levels and has to break out to confirm further growth acceleration.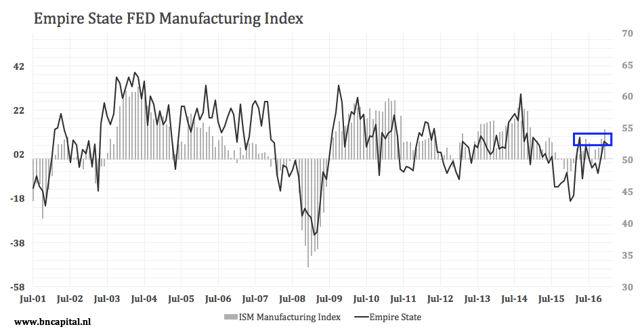 New orders dropped from 10.4 in December to 3.1 in January. The bad news is that the strong reading in December has completely been erased. The good news is that this index is very volatile. There have been terrible numbers even in strong years like 2013. That's why I use the average of all regional numbers to get a better outlook.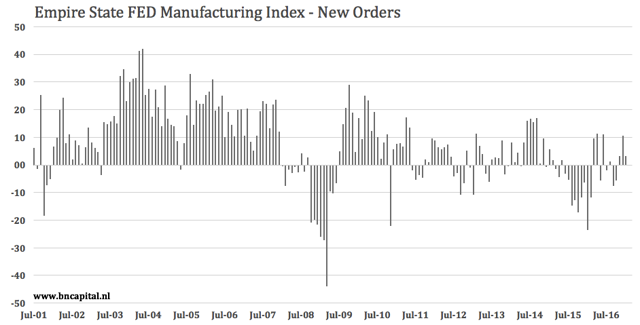 Shipments declined from 8.6 to 7.3. Shipments indicate moderate growth but no massive expansion as we saw multiple times since the crisis.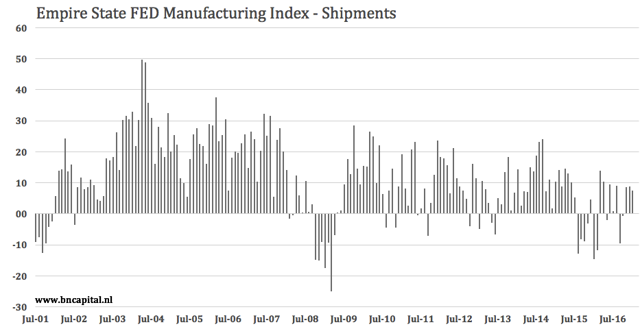 The good news is that employment is only down 1.7 points versus -12.2 in December. Employment has been a big problem since the slowdown in 2014. Since then, we haven't seen a recovery. I hope that this is the first sign of a rally in positive territory.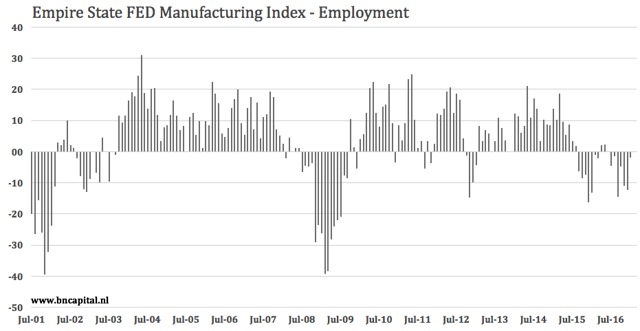 The best news in this report is that future capital expenditures are at 25.2 versus 21.7 in December. Capex is a very good indicator of economic trends. I am therefore very happy to see that we have reached one of the highest levels since 2012.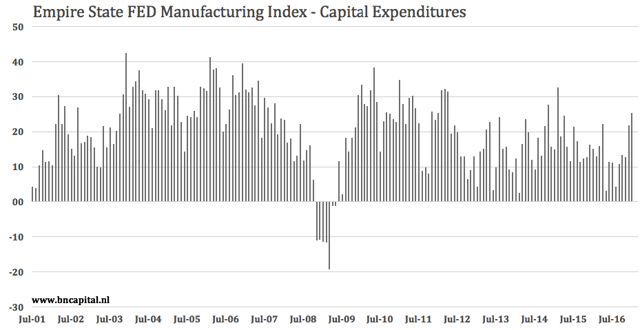 The January report of the Empire State district shows that growth has paused in the first month of the new year. New orders and shipments confirm this. I do not believe that the rather bad new orders numbers are a warning sign. They are just too volatile. The fact that future capex is growing at one of the fastest levels since 2012 is an indicator of an extended period of growth. Even employment is almost positive. The next regional reports will give us more information and hopefully confirm the willingness of companies to invest (capital expenditures).
Many thanks for reading my article. Please leave a comment below if you have questions or remarks.
Disclosure: I/we have no positions in any stocks mentioned, and no plans to initiate any positions within the next 72 hours.
I wrote this article myself, and it expresses my own opinions. I am not receiving compensation for it (other than from Seeking Alpha). I have no business relationship with any company whose stock is mentioned in this article.