Horizon Pharma (NASDAQ:HZNP) gave a presentation at the J.P. Morgan Healthcare Conference last week and I heard mostly good things. The primary care business is positioned for strong growth considering the substantially improved managed care access and the orphan business should also do well in 2017. Krystexxa and Pennsaid 2% remain the strongest growth assets while the company is making significant efforts to grow Actimmune sales now that the FA indication is off the table. Although I provided my 2017 outlook in October 2016, this article sheds more light on recent developments and my thoughts on their impact on Horizon's business going forward.
Horizon gave a pretty good presentation at the J.P. Morgan Healthcare Conference last week. CEO Walbert provided a general business overview and answered questions from the audience. Overall, 2017 is shaping up to be a successful year for Horizon. All three business segments should do well this year:
The primary care business is positioned for strong growth considering the substantial improvements in managed care coverage. Horizon's products (mainly Duexis and Vimovo which were on exclusion lists in 2015 and 2016) are now on formulary at Express Scripts (NASDAQ:ESRX), CVS/Caremark (NYSE:CVS) and Prime Therapeutics. The improved access should remove the significant hurdles for these products, and we should see a stronger uptake in the following quarters. I am not expecting an explosion in demand, but rather a steady uptake throughout the year. Growth will probably be back-end loaded as the company gets used to the new way of selling the products.
The rheumatology business (Krystexxa and Rayos) should grow at the fastest pace this year, and this is mainly due to Krystexxa. This product was misunderstood in the marketplace. Krystexxa is targeting a difficult-to-treat and a generally undertreated population. Physicians had very poor experience with the drug and Horizon did some heavy lifting with a substantially expanded sales force (from 15 people to 95 people) to correct the mistakes made by prior owners. CEO Walbert said that this is a "well over $250 million a year" drug in the long run.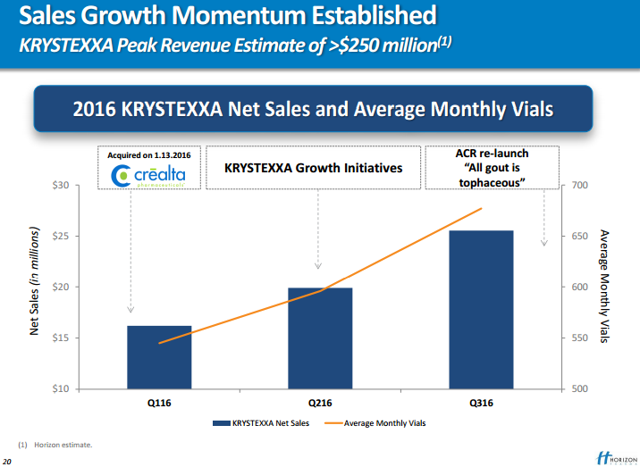 Source: Horizon Pharma investor presentation
The orphan business should also do well in 2017. The main challenge here is to find patients and to get them on treatment. The company said that Actimmune saw the best monthly growth rates in Q4 since the product was acquired. Ravicti and Procysbi should grow at a steady pace in the U.S. and outside of the U.S. as well. Quinsair is an unknown to me at this point, and I am not sure what the potential of this product is and how much Horizon will try to grow it in the future (along with its destiny in the United States). And since expectations are low, I expect only upside from Quinsair going forward.
Raptor's success in switching patients to Procysbi is also worth mentioning. 70% of patients are now on the drug, and this was achieved in less than three years. Horizon showed its confidence in the Raptor team as it is in charge of the orphan segment now. We could see stronger growth this year based on this change alone considering Raptor's success with Procysbi.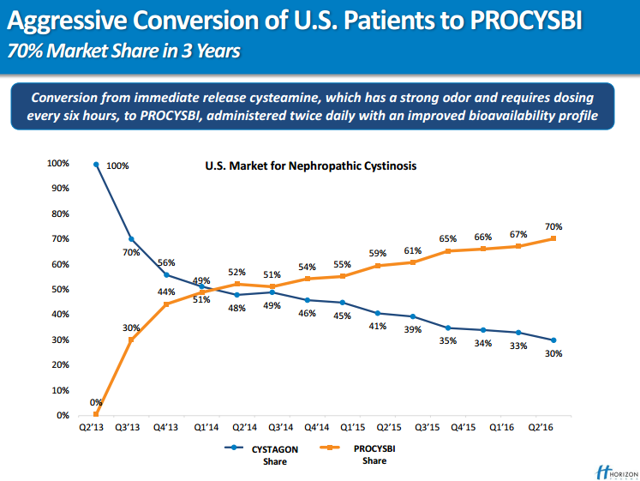 Source: Horizon Pharma investor presentation
Management was asked about whether the FA failure has changed the company's appetite for development-stage assets, and the answer was no. While marketed assets are still a priority, we should start seeing something on the development stage side during the year. The company is particularly looking to fill a market exclusivity gap in the early to mid-2020s as some of its products go off patent (Duexis and Vimovo in 2022 and 2023, respectively). Horizon is evaluating between 5 and 10 targets all the time, and the company expects to do one or two strategic transactions a year and a few smaller deals too. However, considering the depressed share price and a leverage ratio near the high end of its comfort range, the company is unlikely to do a strategic deal in the near term while tuck-in acquisitions are possible over the next few months.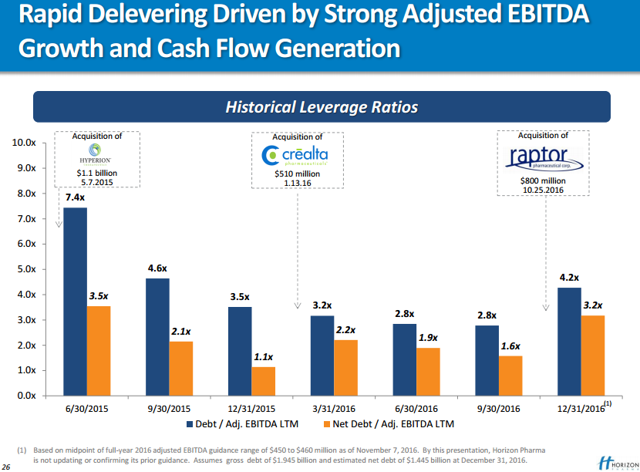 Source: Horizon Pharma investor presentation
Horizon also revealed that the primary care segment generated around $600 million in net sales in 2016, which means that the segment did around $178 million in net sales in Q4, a solid improvement over $161.4 million in Q3.
On the negative side, cash and equivalents at the end of Q4 were around $500 million, down from $549 million in Q3. The decline was the consequence of significant investments in three areas: Actimmune (preparation for the FA launch, which is now off the table), primary care (preparations for the 2017 ramp up with new managed care coverage) and Krystexxa (the TRIPLE trial and ongoing commercial initiatives). We might not see Horizon's full margin potential this year due to the Raptor acquisition (Raptor was generating losses before the acquisition and full synergies should not kick for a few quarters) and probably due to the investments in the primary care business, and perhaps due to potentially higher R&D costs if the company acquires a development-stage asset. But overall, I continue to see the potential for solid margins in 2017 and beyond considering the continued focus on high-margin assets (orphan and specialty).
And finally, Horizon reiterated its 2020 net sales outlook of $2 billion, which it expects to achieve with the existing product portfolio. I suspect the company could do significantly more with acquired products over the next three years. I believe the company has the capacity to do between $500 million and $1 billion a year and assuming it pays 6x to 7x sales (I suspect we will see more orphan asset acquisitions), it could add between $300 million and $500 million in annual sales through M&A by 2020. Of course, this estimate is under the assumption that the company does only acquisitions of marketed orphan products and only with the use of cash/debt. If the stock heads higher in the following quarters, the use of equity will be a possibility and would boost the company's M&A capacity. Acquisitions of specialty assets which carry somewhat lower multiples could bring in more revenues while acquisitions of development-stage assets would impair revenue generation over the next few years, though it would probably add pipeline value to Horizon's valuation.
I am keeping my 2017 revenue estimates unchanged and believe that Krystexxa and Pennsaid 2% hold the most potential to deliver upside surprises. I am still not sure how well the primary care segment as a whole will do this year considering the change in strategy and the fact that Horizon guided (perhaps too conservatively) for primary care sales of $800 million in 2020, but believe we could see 15-25% Y/Y growth for the segment.
Conclusion
2017 is shaping up to be a good year for Horizon Pharma. The first half of the year will probably be about execution and setting up the primary care segment to take advantage of the significantly improved managed care coverage, continued and steady growth of the orphan segment and very strong growth of Krystexxa. We should also see robust free cash flow generation in 1H 2017 and higher TTM EBITDA, leading to a lower leverage ratio and we should see a deal or two in the summer or in late Q3 and perhaps a tuck-in acquisition or two in the meantime. 2017 could also be a year of complete transformation for Horizon. The company was a plain primary care company with two marketed products back in 2013 and has become a diversified pharma company, predominantly focused on orphan products (though primary care products still generate more than 50% of revenues). In 2017, Horizon could start building a pipeline, thus completing this transformation and adding significant shareholder value along the way. Drug pricing and political pressure on the industry remain the main risks to my thesis on Horizon.
Author's note: Growth Stock Forum subscribers had an early look at this article, and have access to regular exclusive updates on every stock I am covering. Readers are invited to take a two-week free trial in the Seeking Alpha Marketplace.
Disclosure: I am/we are long HZNP.
I wrote this article myself, and it expresses my own opinions. I am not receiving compensation for it (other than from Seeking Alpha). I have no business relationship with any company whose stock is mentioned in this article.
Additional disclosure: This article reflects the author's personal opinion and should not be regarded as a buy or sell recommendation or investment advice in any way.