Banks bull run: where are we in Asia?
The bull run of financial stocks around the world, which started roughly around April 2016, has gained traction progressively and, as usually happens with quick movements of underpriced securities driven by expectations and greed, bulls have not done a particularly good job discriminating between the good, the bad and the ugly within the banking industry.
Since April, financials indexes KBW Nasdaq Banks and Stoxx 500 Banks have quickly bounced back 63.35% and 44.54%, respectively. Not only commercial banks prices have noticed the flow of money but every subsector seeming to be closely related to financial intermediation, including exchanges, insurance companies and investment banks.
Geographically, all major world economic areas have been impacted, from those that are currently safe investments, such as the US, to those that display worrying macroeconomic trends i.e. Hong Kong and Australia.
Since the start of the pullback from the early 2016 lows, Hong Kong banks Hang Seng (OTCPK:HSNGY), Bank of East Asia (OTCPK:BKEAY) and Australian lenders ANZ (OTCPK:ANZBY), Westpac (NYSE:WBK), Commonwealth Bank of Australia (OTCPK:CMWAY) and National Australia Bank (OTCPK:NABZY) have increased significantly their valuations.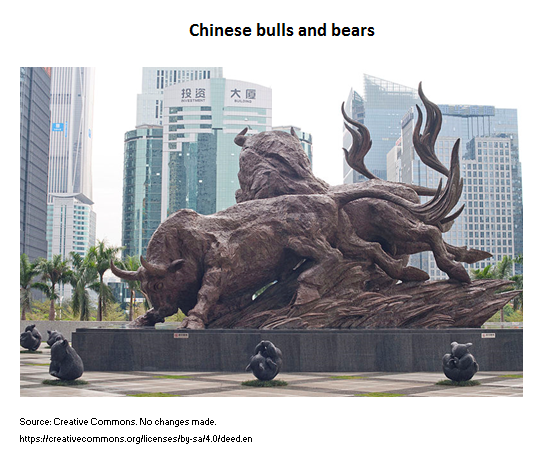 China, caught between a rock and a hard place
The situation in China could be stabilizing according to several analysts and academics in a good disposition to see green shoots; the greener they are the closer analysts' jobs are to Mainland China.
During last month, several released Chinese macro data have shown a mild exports increase of 10% monthly, increase in FDI, but after a reassessment of the underlying dynamics of the Chinese economy, it does not seem the negative trends have changed; furthermore, they are being masked with more leverage.
Chinese debt over GDP stood at 255% of GDP compared with 141% in 2008; this compared with 188% for Emerging Markets according to the Bank of International Settlements. Foreign debt has almost tripled since 2010 and private sector credit has been growing at around 14% YoY over the last five years.
Brian Pinto, former Emerging Markets Chief Economist at GLG and World Bank expert on Emerging Markets, summarises very well the problem: over-investment in fixed capital to keep employment stable has generated strongly negative return rates in many segments of the economy. This phenomenon has become stronger together with the generation of bigger real estate and financial bubbles, particularly on the coast.
Inflating the economy with more debt will only make these problems worse, generating more overcapacity - funded by Chinese banks - and making dangerous bubbles even more dangerous. Fearing this unsustainable situation, capital from Mainland China is leaving the country, contributing to the depreciation of the RMB/USD exchange rate. But a RMB depreciation, which traditionally would smooth China's economic travails via exports, will certainly not appease the new Trump Administration that could retaliate with trade restrictions in the case of a significant fall of the Chinese currency.
Therefore, China is now between a rock and a hard place, unable to move in a clear direction, and to a significant extent, at the mercy of economic forces it cannot control.
Australia, the slowdown has become endogenous
In our view, market indexes and financial securities gains in Australia during the banking bull market are not justified by the fundamental macroeconomic evolution of the country and the high financial risk embedded in the balance sheets of Australian banks.
The fall in commodities prices over the last two years has punctured real estate and financial bubbles developed in Australia during this time, initiating a slowdown that has probably become endogenous in the Australian economy.
Main components of Australian GDP - Construction with 25.11% and Mining with 22.19% - are already on a marked contraction; manufacturing - 19.21% of GDP - has been declining since 2008. The only GDP factor that keeps the macroeconomic situation of the country stable is the Public Sector, fuelled by a notable increase in public spending and public debt, which is, however, still very reasonable at 36.8% of GDP.
In our first article "Australian banks revisited: a good moment to increase the short" we compared the Australian economy in 2015 with that of Spain in 2007, but without the manufacturing sector and technological expertise Spain had at that time that helped the South European country to overcome the crisis through exports. We still believe it is a good comparison.
However, the latest economic data from the Australian economy has been reasonably good. A surprising AU$1.24bn trade surplus in November was reported in early January, driven by an improvement in the terms of trade due to increases in commodities prices. Exports - iron ore and coal - jumped 8% compared with the year before.
Despite these short-term green shoots, it looks likely that the country is living on the last bits of the real estate bubble. Structural GDP trends are negative and will act as a further shock to the notable real estate and financial bubbles developed in Australia over the last 20 years amplifying the incipient economic decline.
When will the slowdown accelerate and make shorts profitable? From a Minskyan perspective, the exact point in time in which the slowdown will break stock prices is extremely difficult to forecast, particularly if we take into account the capability of the Government to keep the economy stable for a while inflating it with debt and depreciating the Australian dollar.
It looks like the unwinding of the cycle is happening already and, until the banks bull run, having a significant impact on the technical evolution of Australian banks prices. Nevertheless, the whole process is not clearly perceivable as yet.
What we know for sure are three things: 1) the Australian economy is at the top of the cycle or already going down the line 2) banks prices do not reflect the high risk of their balance sheets and 3) the critical point in which the acceleration of the decline gains traction and has a notable impact on stock prices of banks should not be far away.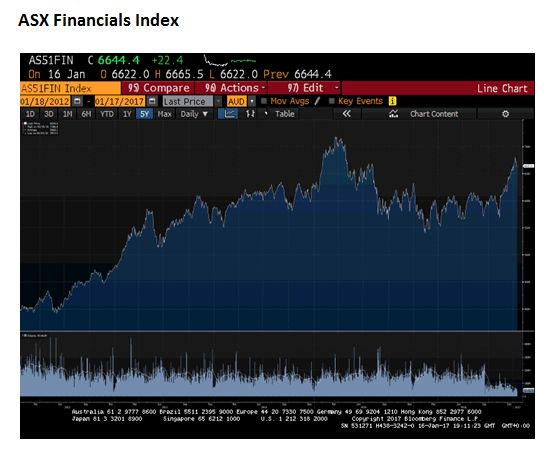 Conclusion: increase the short
As we have seen, the global banks bull run that has increased the valuation of Asian banks is not warranted by the negative evolution of the macro fundamentals of the area in which they operate and the consequent increase of financial risk embedded in their balance sheets.
During the bull market, Commonwealth Bank of Australia has increased its price 19.74%, Westpac 17.6% and National Australia Bank 21.79%.
In Hong Kong, increases have been far more moderate; Hang Seng Bank increased 15.18% during the period and Bank of East Asia did not change at all.
Consequently, taking into account the economic situation, whose strongly negative macroeconomic dynamics in China and Australia continue developing, the recent banks bull run has increased short opportunities in East Asian banks.
It is, therefore, a good moment for a prudent banks investor to open or increase short interests in Hong Kong and Australian banks on a 2-3 years' horizon.
Disclosure: I/we have no positions in any stocks mentioned, and no plans to initiate any positions within the next 72 hours.
I wrote this article myself, and it expresses my own opinions. I am not receiving compensation for it (other than from Seeking Alpha). I have no business relationship with any company whose stock is mentioned in this article.
Editor's Note: This article discusses one or more securities that do not trade on a major U.S. exchange. Please be aware of the risks associated with these stocks.