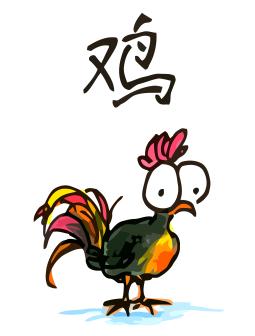 Welcome to the dividend edition of the Weekly Restaurant Report. This week begins a series of 2017 bold picks and predictions we like to call Year of the Rooster! Throughout the month of January, we plan to reveal a series of picks, restaurant stocks with some upside left in the tank. Despite the Trump rally, some analysts suggest news of policy changes feel priced in, and this bull market looks wobbly in the legs. We always like to play with a margin of safety, and dividends help ease the pain should that correction finally come. Predicting broad market direction, however, is not our game. So with that we will focus on everything restaurant, get some other opinions, and see what happens next.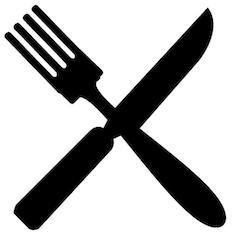 Take Out: ICR Conference Winners & Losers
As analysts congregated this week in Orlando, Florida, the ICR conference produced many upgrades (and downgrades) as restaurant companies and groups presented their case for future investors. Looking at the list only proves our theory that each stock contains its own story, and analysts provided some of the bullish narrative associated with such upgrades, which should be taken with the customary grain of salt. Some themes emerged from the conference, and trendy growth stocks in the fast/quick-casual segment stole the show. Let's see what they said.
Panera Breads (NASDAQ:PNRA) garnished the most as far as compliments go, and the company received bullish commentary from many analysts as the week progressed. Obviously, Panera Breads hits all the recent trends of quick and healthy food, and the company recently added technology to its arsenal with an overhaul of operations on a digital scale, aptly called Panera 2.0, which produced bullish calls from the conference (emphasis mine):
Jeff Bernstein, Barclays, "Panera Bread remains our top pick in the restaurant industry. Fundamentals are at an inflection point, with comps outsized and 2.0 transition / support costs beginning to crest. Otherwise, short-term strategic initiatives (leverage, share repo, refranchising, and G&A reduction) provide near-term EPS and valuation support, resulting in a favorable risk-reward."
Andrew Charles, Cowen and Company, "Additionally, we believe opportunities to further return cash to shareholders beyond what has been announced offers downside protection below 25x, or $190 based on 2017E. We view Panera as the only stock under our coverage to fit both of our investment themes of using guest-facing technology as well as transparent food sourcing."
Alex Slagle, Jefferies, "We think PNRA can be a good counter-cyclical stock and perform well at a time when the rest of the restaurant industry could be facing a re-set in growth as the broader industry growth cycle comes to a close. Our PT is $245 PT is based on 13x '17 EBITDA, which is inline or a slight discount to its mid-to-large cap peers in the fast-casual/limited-service categories."
Nicole Miller Regan, Piper Jaffray, "We maintain our positive outlook on Panera and are highlighting the company's shares as a focus name for 2017. Longer-term, we continue to believe brand modernization efforts position the company to drive consistent restaurant-level performance and that early stage CPG and digital ordering efforts can drive ancillary earnings benefits."
The analyst community has spoken, and Morgan Stanley also chimed in with a positive note and a $235 price target, which represents the Street average. With no dividend coverage, and PNRA currently trading at 35x last year's earnings, the upside seems limited. Despite the technology buzz, we fear the risk/reward equation skews toward the downside. Next catalyst, earnings on February 7th, and we will be watching only.
Potential growth for Habit Restaurants just getting started?
Habit Restaurants (NASDAQ:HABT) comes in at number two on the list, and a favorite among several analysts. The Habit story is a relatively new one, and we aren't biting just yet. Valuation metrics of 63x last year's earnings, and 51x next year's earnings aren't justified with poor operating margins of 4.7%, and profit margins of 1.4%. However, remarkable growth numbers exist, and the company wooed analysts at the conference (emphasis mine):
Paul Westra, Stifel, "We are impressed by HABT's segment-leading unit-growth potential and encouraged by likely above-peer comps going into 2017. At this stage, we are bullish on (1) HABT's concept positioning, which we believe is representative of an up-and-coming "second wave" of quick-casual restaurants that are destined to dominate the restaurant landscape over the next 30 years, characterized as single-product-line specialist concepts capable of delivering the "Big-Three Outputs" that we believe are absolutely required for any restaurant brand in any category to achieve a structural competitive advantage: which are high sales mix percentages of "dinner, dine in, and female/ family guests;" and (2) HABT's company story, where we view management as one of the most capable, operations-focused teams, and believe that management is successfully embedding an inclusive "how company" culture within today's "how economy."
Nick Setyan, Wedbush, "We expect comp outperformance relative to lowered 2017 expectations and less non-wage labor expense headwinds than in 2016 to lead to unit-level margins >20%, above current consensus."
Extremely optimistic statements like "dominant the restaurant landscape for the next 30 years" signal caution. The quick-casual segment of the industry continues to spark analyst enthusiasm despite concerns of over-capacity, competition, and margin pressure due to rising rents and wages. Next up for HABT, earnings report on February 1st, stay tuned.
The Dave & Buster's (NASDAQ:PLAY) story was featured in our Santa Clause edition, and the company reported blockbuster earnings in December with numbers like 18.7% revenue growth. Analysts took notice, praising the company's unique concept (emphasis mine):
Andy Barish, Jefferies, "Our favorite new unit growth story with an underappreciated, differentiated brand and business model with no real direct competitors. We expect this to work to PLAY's advantage as we move later in the cycle, which along with continued focus on new, proprietary games/amusements backed by marketing, should drive growth and broad-based brand awareness to support incremental SSS and margin leverage on 50%-60% flow-through. New unit growth of 10%+ has been very productive as well."
Sharon Zackfia, William Blair & Company, LLC, "With about half of its revenue stemming from games, Dave & Buster's has an inherently experiential nature that has been a strong driver of same-store sales gains and traffic well ahead of the industry average over the past several years. We expect this momentum to continue in 2017, with the company's comps potentially poised to accelerate against easing comparisons while yielding double-digit earnings growth with potential upside. We also believe the stock valuation remains palatable with room for expansion given the company's differentiated concept, strong sales momentum, and opportunity to more than double the unit base."
Bam! There you have it. Half of the revenue coming from games sounds delicious as far as margins go, and PLAY possesses big potential for 2017. As long as the concept travels as well as the company plans on taking it, we see the same potential. However, we are not as hung up on the concept as Andy Barish, and will sit this one out for now (staying on the sidelines).
Other notable mentions include burgers and wings, specifically Red Robin Gourmet Burgers (NASDAQ:RRGB) and Buffalo Wild Wings (NASDAQ:BWLD).
RRGB received a 2017 top pick from Raymond James, who views the company "as materially undervalued with significant opportunities to improve four-wall execution (kitchen display systems, improved throughput) and build off-premise sales (currently well below peers) in 2017 and beyond."
Matt DiFrisco, Guggenheim Securities, LLC, provided some specifics for BWLD (emphasis mine):
2017 is setting up to be a year of greater growth with a return to positive SSS and margin leverage cultivated from efficient labor usage. We reiterate our $188 price target and anticipate positive SSS leading to improving sentiment. BWLD targets a 20% Restaurant Margin in 2018 through reductions in relative COGS, labor, and operating expenses. We model a 19.2% Restaurant Margin in 2017 with 50bps of labor leverage based on the company adopting efficient franchisee labor strategies, including lunch counter service. During the August Analyst Day, management highlighted 4 SSS drivers: Lunch, Takeout/ Delivery, Value and Loyalty giving tangible progress updates. In our opinion, these categories should differentiate BWLD and if executed, meaningfully reverse the negative 2016 SSS compares."
That's a lot to chew on Matt DiFrisco, and we will check back after the Super Bowl. The new BWLD ad campaign captures the mood and ambience of a sports bar, and the commercials contain some humor. Unfortunately, the wings don't really look that appetizing on television, and the reliance on annual sporting events like March Madness as well as local competition in most markets make BWLD a tough stock to value. Currently, the stock is struggling (RSI = 32.05) with the company set to report on January 25th, which all point to a wild ride in the coming weeks.
The ICR conference produced some downgrades, and none bigger than Chipotle Mexican Grill (NYSE:CMG). The company reported its same-store sales earlier this week, and Raymond James analysts Brian Vaccaro and Alex Marty had this to say (emphasis mine):
We reiterate our Underperform rating on CMG and are lowering our EPS estimates to reflect lower-than-expected 4Q comps that were pre-released earlier this week at the ICR conference. CMG shares were up earlier in the week, which we attribute to short covering in light of a return to positive comps in December. However, two-year trends remained sharply negative in December (and also deteriorated sequentially on a geometric basis), which supports our core thesis that there has been a 15%+ sales loss due to a permanent change in consumer behavior/frequency. We continue to see a sharply negative risk/reward skew as consensus estimates seem overly aggressive and believe the stock's historical valuation (35x+) will be difficult to recover (growth algorithm from normalized EPS base likely in upper teens). Our bull/bear analysis suggests a negative risk/reward from current levels (downside $225-300; upside $412, in-line with current stock price)."
With December's activist drama in the rear view mirror, CMG has traded well since the New Year, and maybe a turnaround is in the cards for Bill Ackman's latest target. However, we agree with the downside projections, and continue fading the burrito.
Year of the Rooster! Dividend Pick: Cracker Barrel Old Country Store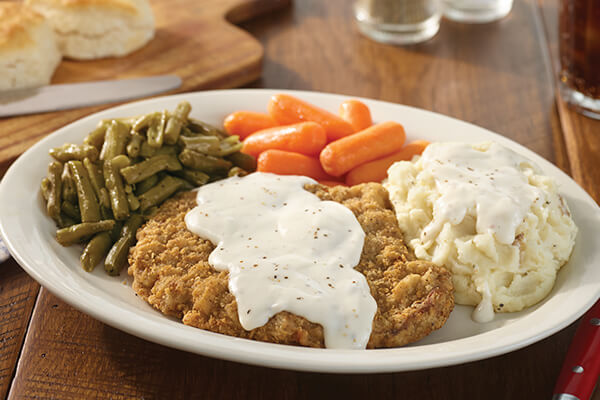 After sifting through the yields, payout ratios, and growth potential, Cracker Barrel Old Country Store (NASDAQ:CBRL) wins our Dividend pick for 2017! If you are unfamiliar with CBRL, the company recently told its story to ICR Conference analysts.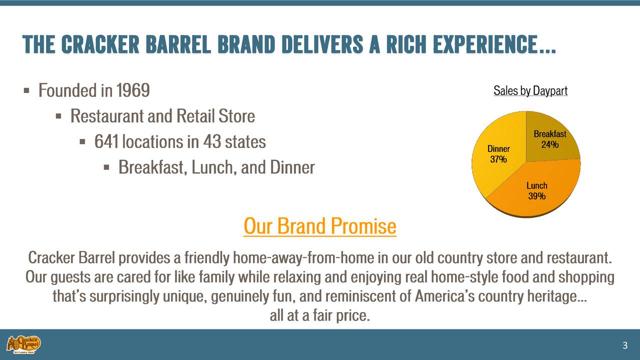 Southern-style down home food with an adjacent gift store, where customers ideally wait for a table, and spend additional money on the way in or out of the restaurant. The concept is nothing new, or revolutionary, but has mad potential with proper execution regarding product mix, food quality and value, as well as location. We have seen this strategy play out in truck stops and diners during road trips throughout the country, and CBRL managed to grow this concept from its Southern roots into the dynamic company it is today, thanks largely to its leader, President and CEO Sandy Cochran.
Reason for the Bull: Solid margins, ROE, low-beta, and positive sales growth.
Bearish concerns: Valuation, and maybe, same-store retail comparable sales decline.
Let's face it, the last couple of months and quarters have been tough for the retail sector (NYSEARCA:XLY) as the consumer spent less discretionary dollars leading up to, and following the election. Finding a restaurant stock with consistent positive sales growth is not easy, and CBRL reported 10 consecutive positive growth quarters, and counting. Regardless, the stock suffered with most the retail slash restaurant sector throughout the summer as industry-wide numbers and outlooks began to erode.

Chart courtesy Scottrade.
The latest quarter reported positive same-store restaurant sales, but declines in the retail segment of the business remains something for bulls to monitor moving forward. In the last two quarters, the restaurant industry (NYSEARCA:MENU) experienced across-the-board declines in traffic, CBRL included. From the call:
Regarding our retail business, this quarter proved to be very challenging period both within Cracker Barrel and within the retail industry as a whole. We had fewer restaurant guest visits with fewer of those guests purchasing a retail product. And for the first time since the second quarter of fiscal 2014, we reported negative quarterly retail sales."
The fickle consumer continues giving the retail sector a mixed bag of goods. The struggles with the retail segment overshadow the success of the restaurants, and the company raised 2017 guidance with a note of caution (emphasis mine):
As we announced in this morning's release, we are raising our full year earnings guidance. We now expect to report earnings per diluted share for the 2017 fiscal year of between $8.10 and $8.25. We continue to expect total revenue of between $2.95 billion and $3 billion. We continue to anticipate comparable store restaurant sales growth for the full fiscal year in the range of 1% to 2%. We now expect our fiscal year performance to be in the lower half of that range driven by a modest expectation for traffic improvement in the second half and the planned second half pricing deceleration."
That's right, price deceleration, meaning the company doesn't want to alienate their customer base with price increases, especially in the midst of slower traffic. CBRL emphasizes margins each and every quarter, and continues identifying specific cost-saving initiatives across the board. As labor costs rise, management strives to find operational synergies in every corner.
The operations team made significant progress on our identified cost reduction initiatives during the first quarter. As a result of, we changed the structure in our retail sales and service functions and now cross-train our retail sales associate and cashier positions. This system-wide change allows us to deploy fewer associates during our low volume hours reducing store hourly labor by between 25 hours to 30 hours per week. We believe this initiative will be a significant contributor to our fiscal 2017 cost savings. Additionally, we continue to see favorability in our restaurant cost of goods line driven by our targeted food management initiative as well as in our utilities line from the implementation of LED lighting, which is currently being installed on the exterior of our stores."
Details, details, details! Restaurants run on details, and margins live or die in the execution of daily strategy, and CBRL management continues thriving in this category. Back in 2011, the company targeted future operating margins of 9%, and now sees double digits on the horizon. From the company's Annual Shareholder Report, and the ICR Conference presentation: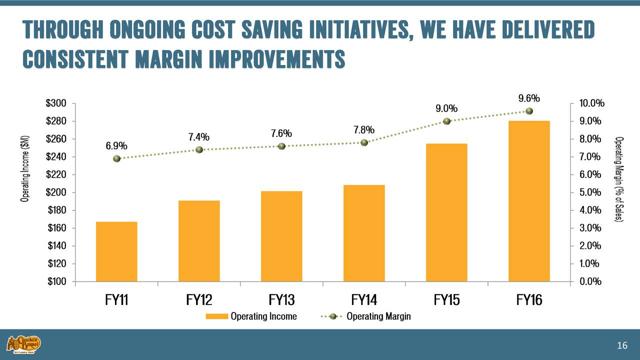 Yes, these numbers clearly show that they have delivered on margin improvements. Impressive. But we like dividends, and as shown below, the company takes shareholders seriously despite ambitious growth initiatives. Just imagine what your Yield-On-Cost would be after a couple of years of holding this stock.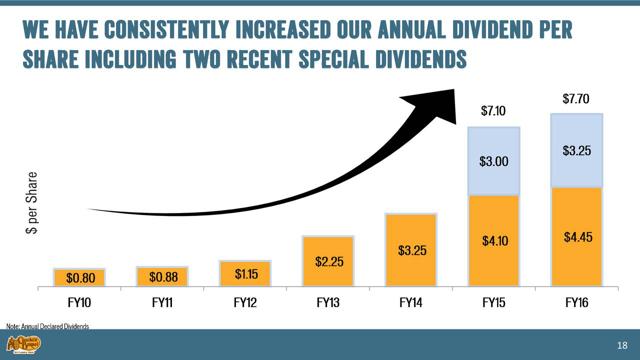 Currently, the dividend yields nearly 3%, and CBRL sits in the sweet spot: Double-digit EPS growth coupled with a generous capital allocution policy. Another nice element, CBRL is a low-beta (0.39) stock, which can be an attractive feature for dividend investors looking for steady growth, or income.
However, no story is perfect, and CBRL carries significant debt, and that always remains a risk for any growing company, but a risk worth taking if you like stories featuring solid management, and a compelling product and market. Some valuation metrics suggest caution, as well as some insider selling, but a Return-on-Equity of 35.60% signals effective leadership across-the-board (numbers via Finviz).

The best part of this story at the moment is that CBRL dipped recently and sits at nearly 9% off its December highs, and may fall even further with the upcoming inauguration and earnings season on deck. Looking at the charts you wouldn't think CBRL as a low-beta stock, but when searching for value, the lower the price the better. Steady she goes.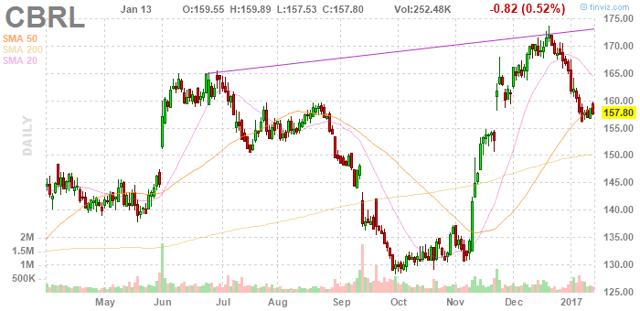 At the moment, CBRL appears trendless, and watching that 200-day moving average at $150 per share is a good place to start looking for support should the stock continue sliding. CBRL got red hot after the election (Trump stock) before finally cooling off towards the end the year. The high-dollar share price makes utilizing options as a long strategy expensive. For example, selling a cash-secured put at the $150 strike price costs $15,000, which is not for everyone.
We only use or recommend cash for options as we never want to borrow money from our broker. However, the combination of the dividend, and strong, shareholder friendly management suggest buying the stock in increments as a strategy to protect against the downside. Simply put, buy some, and if it gets hit, buy some more, rather than buying it all at once. Only fools call bottoms in stocks. Could CBRL drop significantly in price from here? We sure hope so.
We currently have no position in CBRL, and no plans of changing that in the next 72 hours. However, we do plan on building a position throughout the course of the year on significant dips, and will buy the stock in increments as to mitigate risk. The broad market (NYSEARCA:SPY) must deal with Inauguration Day before (or if) Dow 20K becomes reality, and like most bears, we like to keep a low profile during the winter months. We usually prefer options to initiate a position, but because we are after the dividend, buying the stock outright sounds like the best strategy.
Alerts & Updates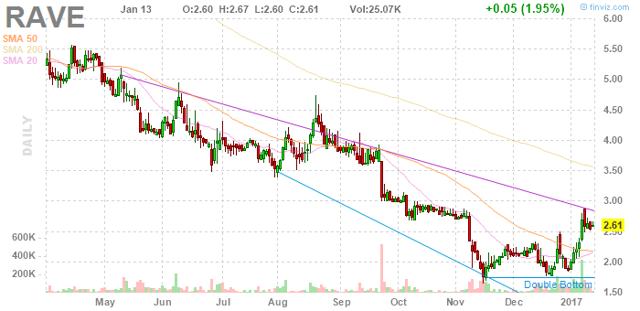 Double Bottom Alert
The WRR recently predicted Rave Restaurant Group (NASDAQ:RAVE) as a possible penny-stock candidate for 2017, but some recent news may have changed that direction. We never disregard technical analysis, especially when it intersects with fundamentals, which seems to be the case here. On January 9th, RAVE announced that its board appointed Scott Crane, as Chief Executive Officer, effective immediately.
Crane, former CEO of Smashburger, succeeds Interim CEO Clinton Coleman, who will remain in his role as a member of the board. What this means for the future of the company remains to be seen, but the stock looks good for traders and speculators.
Updates & Previews
As we move through the month of January, look for an extra edition of the WRR as part of our Year of the Rooster series, which includes an Activist Pick, a Contrarian Pick, and if time allows, a Bonus Pick. We are not finished with the ICR conference, and plan to include Morgan Stanley's take on everything restaurant, so look for that in the next edition. Keep in mind, the WRR remains a work-in-progress, and we may never actually get to any specific day of the week as far as publication goes. We're okay with it if you're okay with it. The important thing, however, remember to eat well, be merry, and prosperity is yours!
In case you missed it:
Weekly Restaurant Special Report: Industry Interview With Dan Weiskopf
Weekly Restaurant Report: Generational Shifts, Leadership Changes and McDonald's
Disclosure: I am/we are short CMG.
I wrote this article myself, and it expresses my own opinions. I am not receiving compensation for it (other than from Seeking Alpha). I have no business relationship with any company whose stock is mentioned in this article.
Additional disclosure: This article is intended for information, engagement & entertainment purposes only, and is not meant as investment advice or direction. Shorting stocks can be dark business. Investors are strongly encouraged to perform due diligence and/or consult with their financial advisor.
Editor's Note: This article covers one or more stocks trading at less than $1 per share and/or with less than a $100 million market cap. Please be aware of the risks associated with these stocks.