Introduction
I used to own BHP Billiton (NYSE:BBL) in my portfolio until it cut its dividend. For me, a dividend cut is a sign that the management isn't responsible enough to plan ahead in a conservative manner. While BBL was my only holding in the basic materials sector, I analyzed the sub sector of industrial gases almost two years ago. I always look for decent companies in the basic materials sector, and when I find one, I will consider it for my portfolio.
Almost two years ago, when I looked at the sector, there were more companies in it. The consolidation trend that started over a decade ago accelerated, and the whole market is very different now. The valuation was very high back then, but I wish to look at these companies again right now.
Air Products and Chemicals (NYSE:APD) made a major spinoff last October, and major events are always worth tracking. Sometimes, companies trade at an awkward valuation after a spinoff, because it takes time for the market to adapt to the new company. I will analyze APD in accordance to my thesis, using my flowchart that you can see below.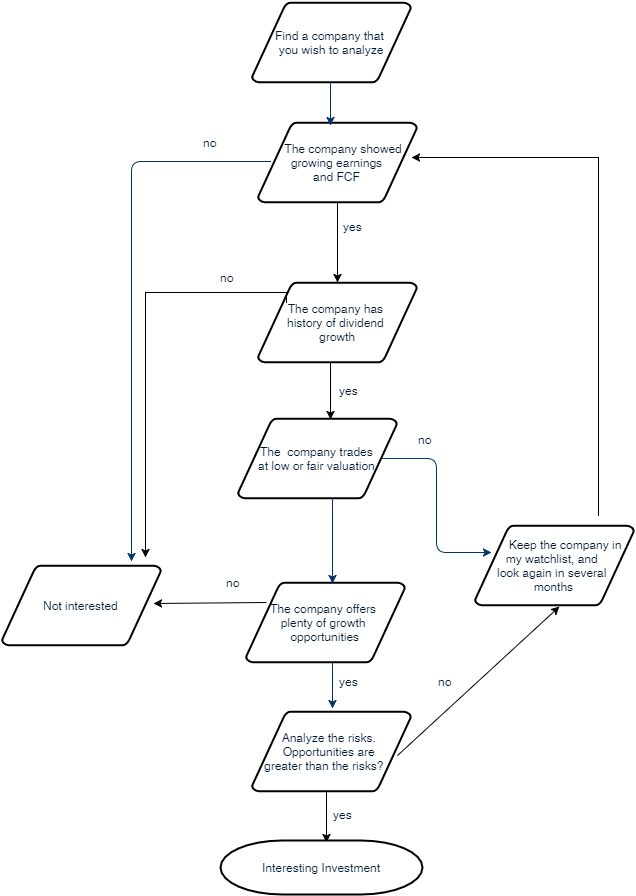 Air Products and Chemicals, Inc. provides atmospheric gases, process and specialty gases, electronics and performance materials, equipment, and services worldwide. The company produces atmospheric gases, including oxygen, nitrogen, argon, and rare gases. It also designs and manufactures equipment for air separation, hydrocarbon recovery and purification, natural gas liquefaction, and liquid helium and liquid hydrogen transport and storage.
Fundamentals
As you can see in the chart below, the FCF has grown significantly over the past five years. The spinoff had and will have a positive influence on that metric. The EPS will also be affected in a positive manner, but it will only happen next year. This year is going to be a transition year, in which APD will go through rearrangement that includes the spinoff, and cost cutting, that will improve margins and profitability.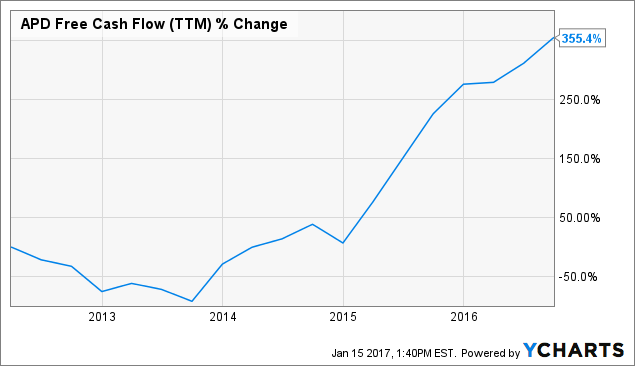 While EPS and FCF are growing, and the company has plans to keep them growing, I am more worried about the revenues. As you can see in the graph below, the company wasn't able to grow its revenues over the past five years. The spinoff for sure won't be helpful for the revenues as it divests some of them. The decline in sales will continue in 2017, and the company expects minor sales growth next year.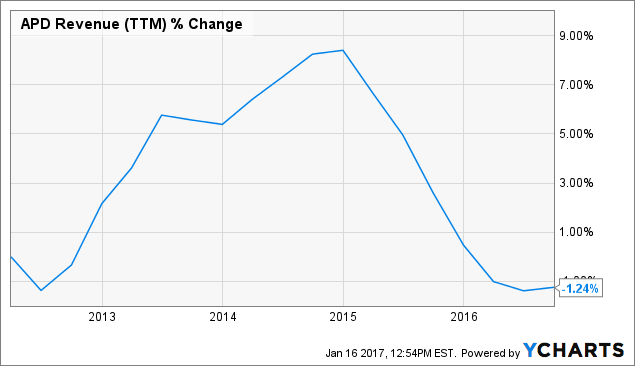 The dividend is a very positive aspect, and the current yield while it seems fair, is still lower than the five-year average. The payout ratio is sustainable. The figure of 114% is not based on the FCF, which actually pays for the dividend. We have a growing dividend, with sustainable payout. On the hand, the yield is not as attractive as it was just several months ago. If you look for income with modest growth, APD will serve you well.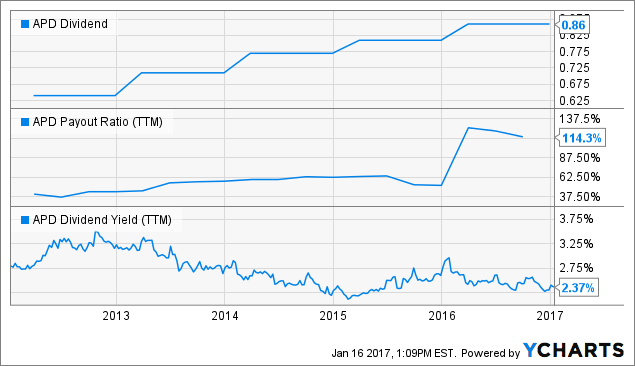 You probably know that I like it when companies take advantage of lower valuation to buy back their own shares. APD isn't cheap, so I wouldn't expect a massive buyback plan. However, I don't want the companies I invest in to dilute me as a shareholder. Companies that don't put emphasize on buybacks should at least buy enough shares to negate the compensation to the employees that dilute the investors.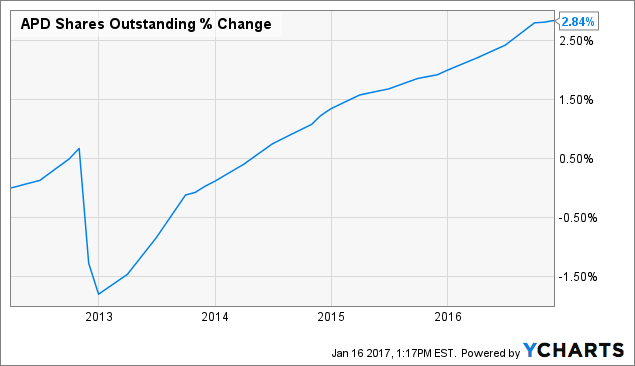 Valuation
While the fundamentals are not great, they have some strengths, like the FCF and the dividends. If fundamentals are not very attractive, the valuation should suit a company with just OK fundamentals. Look at the P/E below, it has actually been expanding over the past year. It is very hard for me to justify the expanding valuation as the fundamentals are not that great.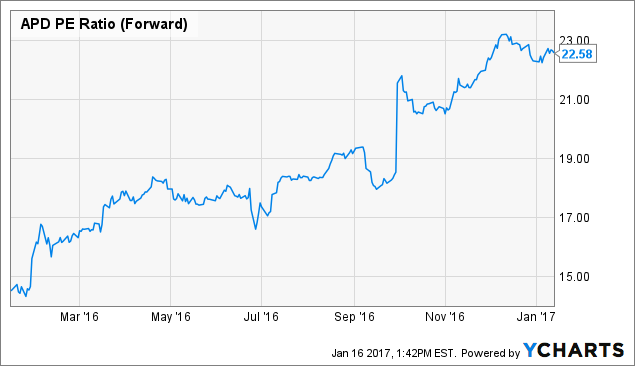 As you can see here, even when I use the P/S and P/B ratios, the valuation seems to be expanding for an unknown reason. The basic materials sector is very cyclical, and therefore sometimes you can see major gaps in P/E. Over the past five years, you could find oil super majors trading for P/E of 8 and P/E of 30. However, APD is a different case. Its EPS isn't falling due to the cyclical nature of the business. In fact, the EPS is actually as high as it ever was.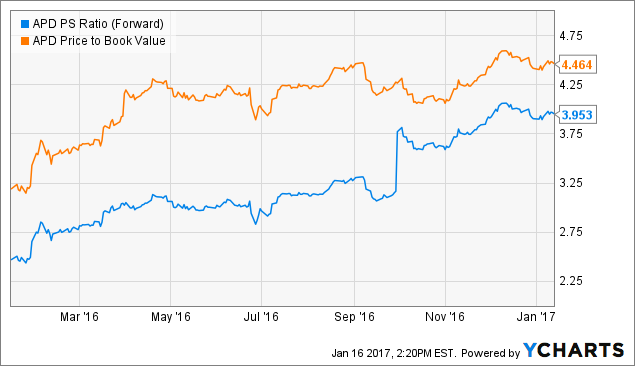 When I look at the FCF to analyze the valuation, the company does seem a little bit more attractive, but still valued at a pretty high valuation. With P/FCF at almost 22, when FCF will decline after this record year (but is forecasted to keep growing) it's hard to justify the current valuation. In order to be really attractive solely on valuation and fundamentals point of view, the P/E and P/FCF will have to be at around 15-16 in my opinion.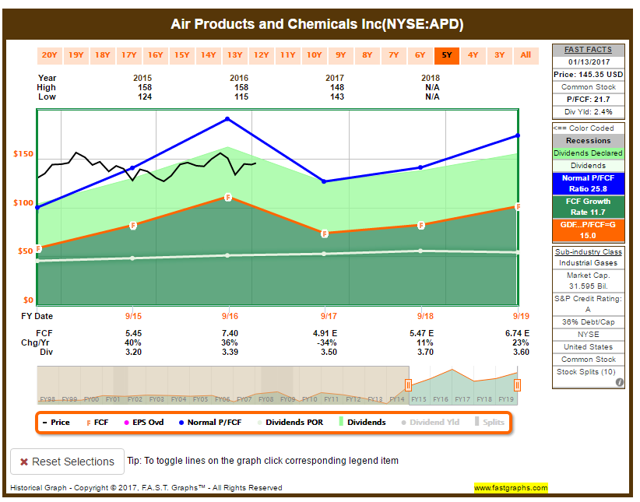 Opportunities
The first opportunity is the consolidation in the market. Competition always poses a risk for businesses, and as it grows and rages, it becomes much more difficult for the average business. Over the past several years, we saw some major consolidations in the sub sector. Airgas is gone as it was acquired by its peer, and Praxair (NYSE:PX) declared a huge merger that will decrease once again the number of competitors. With less competition, there will be less pressure on APD.
While the market is consolidating, APD is expanding its business to the emerging markets, where the demand for industrial gases is higher. They management is making major efforts to expand to Asia. I find it very important for companies to expand internationally. It reduces the risk of regulations, and gives the company more flexibility and exposure to different economies and currencies.
Another specific advantage that the company has is its American business. Air Products supplies hydrogen to almost 90% of Gulf refiners in the United States. It also operates the only major hydrogen pipeline serving the Canadian oil sands region. It is well positioned to benefit from rising North American oil and gas production and processing. As the oil price recovers, APD will be able to generate more revenues from these operations. This is a major advantage over its peers.
Risks
The whole sector is very cyclical and is very sensitive to cycles in the economy. I wasn't cautious enough when I invested in BBL, but I learned from it that economic cycles shouldn't be underestimated in this sector. It doesn't seem like APD is at the bottom of the cycle, and therefore, I find this investment a little bit riskier than usual.
Moreover, the company has a major cost-cutting plan in place. Cost cutting plans can always impact the results in the short and medium term. In addition, APD has a pretty poor record in executing these plans in the past. Failure in achieving the plan's goal will have a negative impact on the EPS and FCF, and with no margin of safety at the current valuation, the shares might decline.
The lack of margin of safety makes APD very sensitive to market changes. I mean it is a cyclical business, that is going to execute a major cost-cutting plan, and we didn't even talk about black swans that might have a negative effect on the bottom line. Companies that offer high margin of safety probably won't suffer too much if the company is unable to deliver.
Conclusion
I must emphasize that Air Products and Chemicals is a high quality business. It was a high quality business the last time I analyzed it, and it will probably stay that way in the future. However, it is crucial for investors to make sure that they buy stocks for a suitable valuation.
The fundamentals are fair, but future growth isn't going to be rapid. Therefore, I believe that the valuation should fit the current fundamentals, opportunities and risks. Unfortunately, this is not the case here. The company trades for a very high valuation. I should have looked at it before the Trump rally started, when it traded for a more conservative valuation.
In my opinion, the best course of action is to save APD in your watchlist. If it trades in the future at a fair valuation, I will probably buy some for my portfolio. At the moment, I will just check the valuation on a monthly basis, as I do with other great companies that trade for high valuation. You can also sell puts for January 2018 with a strike price of $100, but this is a riskier strategy.
Disclosure: I/we have no positions in any stocks mentioned, and no plans to initiate any positions within the next 72 hours.
I wrote this article myself, and it expresses my own opinions. I am not receiving compensation for it (other than from Seeking Alpha). I have no business relationship with any company whose stock is mentioned in this article.