After the financial crisis, regulators put the hammer down on banks, making it more difficult to lend to heavily-indebted companies. This spurred tremendous growth as the tax-advantaged Business Development Companies or BDCs picked up a bigger share of the risky but lucrative market.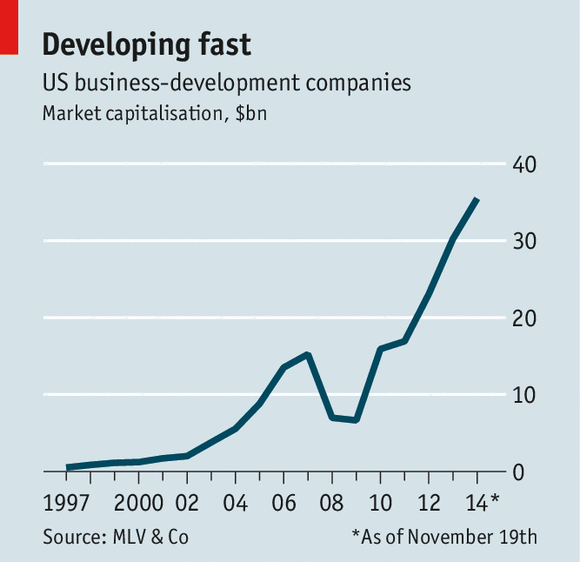 Source: Economist
One of their main attractions is their high dividends. I've sorted the universe on their trailing 10yr dividend yield from high to low. I left off one outlier and every BDC below 6.98% 10yr yield:
| | | | |
| --- | --- | --- | --- |
| Company | Ticker | Enterprise Value | TTM Dividend |
| KCAP Financial Inc. | (NASDAQ:KCAP) | 321.845 | 12.92 |
| Capitala Finance Corp. | (NASDAQ:CPTA) | 474.889 | 12.38 |
| Prospect Capital Corp. | (NASDAQ:PSEC) | 5583.945 | 12.14 |
| TICC Capital Corp. | (NASDAQ:TICC) | 624.708 | 11.6 |
| CM Finance Inc. | (NASDAQ:CMFN) | 234.194 | 11.55 |
| TriplePoint Venture Growth BDC Corp. | (NYSE:TPVG) | 219.188 | 11.55 |
| Fifth Street Finance Corp. | (FSC) | 1812.728 | 11.36 |
| Stellus Capital Investment Corp. | (NYSE:SCM) | 349.458 | 11.35 |
| Medley Capital Corp. | (NYSE:MCC) | 811.107 | 11.27 |
| Fifth Street Senior Floating Rate Corp. | (FSFR) | 551.62 | 11 |
| WhiteHorse Finance Inc. | (NASDAQ:WHF) | 384.663 | 10.86 |
| Apollo Investment Corp. | (NASDAQ:AINV) | 2269.92 | 10.85 |
| BlackRock Capital Investment Corp. | (NASDAQ:BKCC) | 839.21 | 10.79 |
| OFS Capital Corp. | (NASDAQ:OFS) | 258.768 | 10.69 |
| Horizon Technology Finance Corp. | (NASDAQ:HRZN) | 198.42 | 10.59 |
| Pennant Park Investment Corp. | (NASDAQ:PNNT) | 1034.001 | 10.58 |
| Harvest Capital Credit Corp. | (NASDAQ:HCAP) | 141.386 | 10.37 |
| Newtek Business Services Corp. | (NASDAQ:NEWT) | 400.47 | 10.36 |
| American Capital Senior Floating Ltd. | (NASDAQ:ACSF) | 222.726 | 10.21 |
| American Capital Ltd. | (NASDAQ:ACAS) | 2848.01 | 9.7 |
| Garrison Capital Inc. | (NASDAQ:GARS) | 378.883 | 9.66 |
| Gladstone Capital Corp. | (NASDAQ:GLAD) | 309.088 | 9.57 |
| Monroe Capital Corp. | (NASDAQ:MRCC) | 391.223 | 9.5 |
| OHA Investment Corp. | (NASDAQ:OHAI) | 127.581 | 9.42 |
| THL Credit Inc. | (NASDAQ:TCRD) | 624.215 | 9.4 |
| Triangle Capital Corp. | (NYSE:TCAP) | 1095.282 | 9.33 |
| New Mountain Finance Corp. | (NYSE:NMFC) | 1670.248 | 9.23 |
| Ares Capital Corp. | (NASDAQ:ARCC) | 10794.457 | 9.23 |
| Solar Capital Ltd. | (NASDAQ:SLRC) | 1031.102 | 9.04 |
| Harris & Harris Group Inc. | (TINY) | 34.865 | 9.01 |
| FS Investment Corp. | (NYSE:FSIC) | 3475.694 | 8.97 |
| Saratoga Investment Corp. | (NYSE:SAR) | 154.591 | 8.96 |
| Hercules Capital Inc. | (NASDAQ:HTGC) | 1675.774 | 8.95 |
| TCP Capital Corp. | (NASDAQ:TCPC) | 1391.998 | 8.8 |
| TPG Specialty Lending Inc. | (NYSE:TSLX) | 1800.037 | 8.68 |
| Fidus Investment Corp. | (NASDAQ:FDUS) | 532.209 | 8.66 |
| Alcentra Capital Corp. | (NASDAQ:ABDC) | 286.365 | 8.53 |
| Solar Senior Capital Ltd. | (NASDAQ:SUNS) | 121.802 | 8.41 |
| Gladstone Investment Corp. | (NASDAQ:GAIN) | 329.609 | 8.37 |
| Goldman Sachs BDC Inc. | (NYSE:GSBD) | 1323.08 | 8.2 |
| PennantPark Floating Rate Capital Ltd. | (NASDAQ:PFLT) | 581.448 | 7.72 |
| Medallion Financial Corp. | (NASDAQ:MFIN) | 409.576 | 7.52 |
| Golub Capital BDC Inc. | (NASDAQ:GBDC) | 208.789 | 7.49 |
| Crossroads Capital Inc. | (NASDAQ:XRDC) | 8.09 | 7.14 |
| Main Street Capital Corp. | (NYSE:MAIN) | 2736.513 | 6.86 |
12% or 13% per year like KCAP Financial and Capitala Finance are paying are certainly exciting. My gut is telling me be careful with these investments:
1. Wall Street is a bit too eager to get these things rolling. When Goldman Sachs (NYSE:GS) is on the other side of you, buyer beware.
2. They have to issue equity to achieve meaningful growth, which means growth can't generate returns on an aggregate basis (over all investors).
3. Even if they do grow, it's dubious if it creates wealth as the major operational cost; management fees scales with the asset base. To be fair with internal management this isn't necessarily the case.
4. If you wouldn't lend to the business they are lending too, why invest in the BDC?
We had a lot of doors slammed in our face. This company was on the brink of default. We tried every bank but no one had the risk appetite. —Kathleen McCarthy, UniTek's general counsel, via Bloomberg
5. BDCs pick up risky loans. There's some assurance to be found in the fact BDCs have portfolios of loans but often their performance is heavily correlated. More about that later.
6. BDCs seem safe only being allowed to lend an amount equal to their equity base. However, it seems they are also allowed to under-represent their liabilities. According to the same Bloomberg article, BDCs count only what borrowers have already accessed from credit lines.
Example
Although these type of companies have an interesting tax advantage, they are vulnerable to interest rate hikes. I've heard the argument BDCs that charge the companies they finance adjustable rates will do well when interest rates rise, but I'm not convinced. Up to a certain point it's true, but things can get out of control quickly.
For illustration purposes, let's look at this slide in Ares Capital's latest quarterly presentation. I'll use Ares Capital as an example throughout this article, but that doesn't mean I think it's a particularly bad one. It's somewhere in the midpoint of dividend ranges, and I'd guess many investors would feel safe with them. I've used the numbers from Ares's quarterly presentation and quarterly filings, which don't include the consolidated numbers from the American Capital acquisition yet. So don't rely on any of it to make up your mind about Ares but view it as an example of how a BDC's financials are influenced: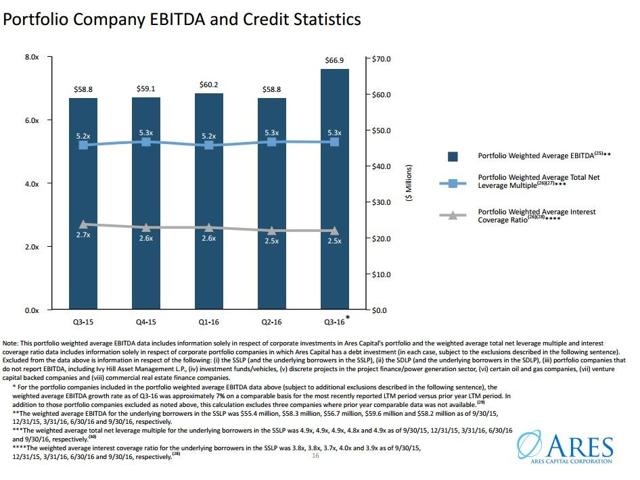 The average weighted average total net leverage of the companies it lends to is 5.3x. That means the weighted average multiple of net debt x EBITDA. That's before interest, taxes, depreciation, amortization and taxes.
Ares's average yield on assets is about 8.8%. The average yield on assets gives an idea of how risky their investments are. It's a return that's near the average long-term return on the stocks in the S&P 500 while obviously debt is higher up in the capital structure. The BDC itself borrows much more cheaply because it is somewhat diversified but also because of its equity cushion provided by its shareholders.


Source: Ares presentation
The lenders to the BDC get relatively safe returns as the equity will absorb losses first. Meanwhile, as an equity holder, you'll never make substantially more than the spread between the lending and the borrowing. After all the enterprise isn't scalable as the relationship between equity and borrowing needs to remain 1:1.
Some argue you make more if interest rates rise or if the BDC scales up while management fees remain stagnant (a rare occasion).
There's some truth to both, but an investment thesis that relies on operating leverage to reduce management fees only takes you as far as the management fee while that party is obviously incentivized not to let it happen and sits at the controls.
I'm also doubtful of the increase in income when interest rates rise even when the BDC issued adjustable rate debt. Let's say interest rates rise 1%. What happens then?
Let's assume Ares Capital can adjust all of its outstanding debt; this will raise its revenue by 11.36%. Yield on assets should go from 8.8% to 9.8%. Revenue will go up by something like $900 million.
Amazingly, Ares borrows most of its money at a fixed rate, see table above, while only its floating debt becomes more expensive. Unfortunately, that floating debt becomes 42% more expensive. It pays $26 million more for the floating portion. It does look like an interest rate hike is a tremendous boon.
But it just started charging 1% more interest to its portfolio of leveraged borrowers that only have EBITDA of 5.3x net debt (I won't go into the word "net" here, but it implies more problems).
If Ares receives $1 million in interest of one borrower:
On average that company is borrowing ~$11.37 million.
And on average it has $2.14 million in EBITDA.
If Ares raises its required interest to $1.11, it's eating up half the EBITDA.
This isn't a huge margin for error. It also assumes Ares is the only lender while companies will sometimes have other financing as well, including senior float adjusted bank debt with a lower interest rates that suddenly could go up a similar amount to the 42% Ares's own floating debt went up. The average company's EBITDA could disappear overnight, with only a 1% increase in interest rates.
Another problem is that I just illustrated the average borrower: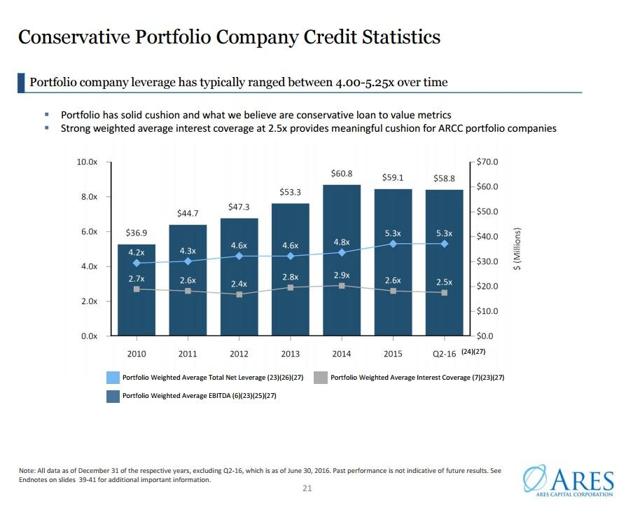 There are leveraged buyouts, rescue financings, venture financing and asset-based loans within Ares's portfolio (potentially highly levered situations). See the slide below.
Keep in mind the prevailing low interest rates since the crisis have kept alive lots of struggling (zombie) companies. It seems only logical that when 10-year treasuries hit 3% or 4%, these zombie companies won't be able to cough up the risk premia investors will demand. I'd expect an uptick in defaults, more on that later, which is a cost that will be borne mostly by equity holders. The BDC's interest will still need to get paid and the management fee will still need to be paid.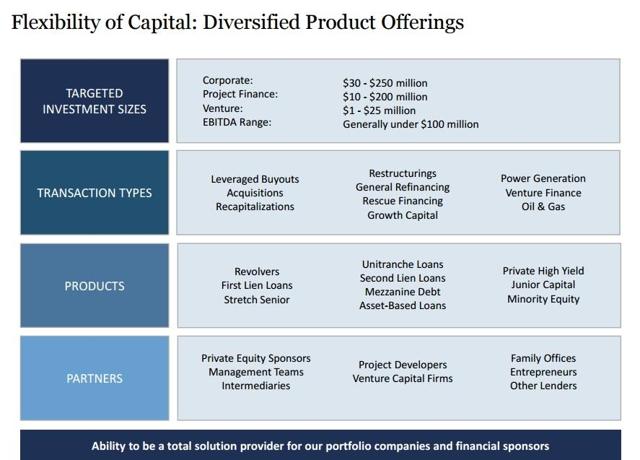 Fast forward to 2020 and some decent-sized tranches of debt mature. Coincidentally, this will be the debt Ares is paying some of the lowest yields on: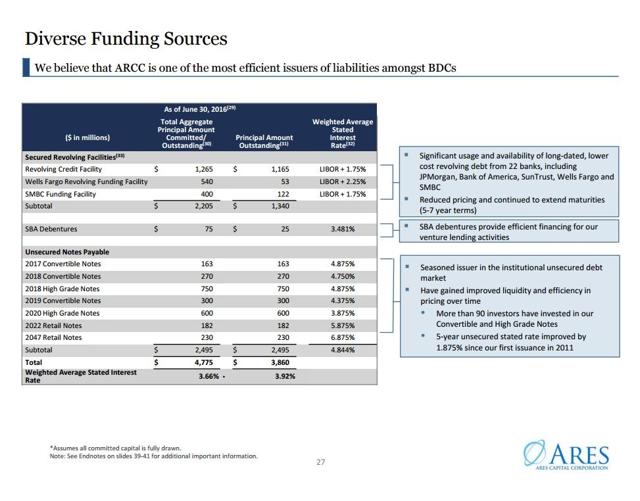 Refinancings will take place at higher rates and the "advantage" of higher interest rates is short lived.
But what happens if rates keep pushing up? I'm not saying this is a given but clearly it is a possibility. U.S. interest rates have averaged 5.83% from 1971 until 2016, which includes an all-time historical low and a high of 20% in 1980. The question isn't if rates will shoot up, but what happens if they do pass 6%-7%, barely above the long-term average?
The iShares iBoxx $ High Yield ex Oil & Gas Corporate Bond ETF (NASDAQ:HYXE), which has a similar average maturity profile sports an average yield of 6.27%, which indicates Ares's loan book is much more risky. The yield is only 3.53% above treasuries with the same maturity profile, which you could view as the risk free rate. I've captured the difference in a graph: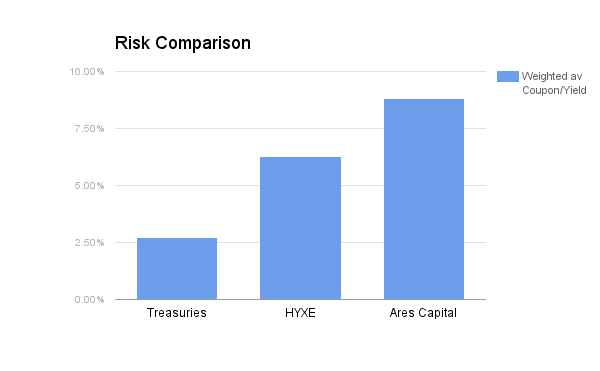 In Understanding Aggregate Default Rates of High Yield Bonds (Helwege and Kleiman 1996) wrote:
The high yield bond market has cycles of issuance that roughly correspond to returns in the market: in years when returns are strong, more firms issue high yield bonds. In addition, the market is more receptive to riskier bonds at such times. These surges in issuance of riskier bonds can lead to a greater fraction of defaults in subsequent years.
Coincidentally, we are exactly in that environment where Goldman Sachs and UBS (NYSE:UBS) couldn't get in the game fast enough. With the BDC industry being relatively nascent, we can't trust the default statistics: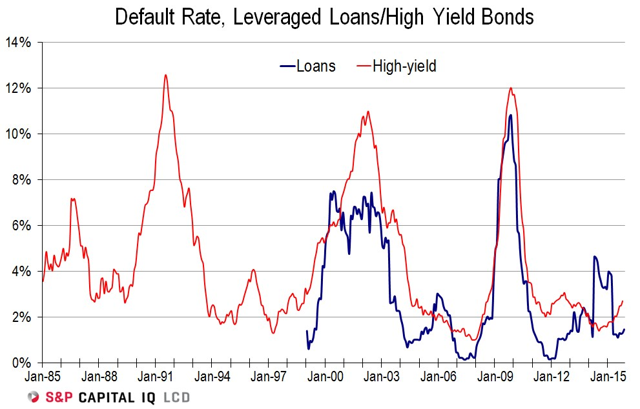 The image shows BDCs had lower defaults in 08-09, which is weird with interest rates being paid clearly indicative of a higher risk. Except at that time, banks still had a lot of those on their books and the BDC engine wasn't running yet. Now the risks have been offloaded on mostly retail shareholders while the management teams put in place by the Goldman Sachs' and UBSs of this world pick up the 2%/20% hedge funds don't even dare charge anymore.
It doesn't seem unreasonable to me to assume the default rate could spike well above 12% and perhaps up to 20% under the wrong circumstances. Imagine we go into a recession and defaults jump to 8%, spike the next year at 12% and then fall back to 6%.
These defaults hit the asset base but the damage is absorbed by the equity. Someone could argue; so what, the stock market will decline 50% from time to time as well. However, the asset base of a BDC, and consequently, the value of its future cash flows becomes permanently impaired. When Starbucks' (NASDAQ:SBUX) stock drops by 50%, it can bounce back quickly as the market changes its mind and starts to price more optimistic future cash flows.
A BDC like Ares will have lost a portion of its income-generating assets for good and would have to issue equity to regrow its asset base, which obviously doesn't help the shareholders who just suffered huge losses.
In my 50+ BDC Universe, the average 10yr yield is 8.7%. Although that's only slightly below the return of the stock market, the way they are marketed, what they actually do and the real risk of permanent impairment of capital, I'd be very surprised if that average yield holds up over the next 10 years.
Disclosure: I/we have no positions in any stocks mentioned, and no plans to initiate any positions within the next 72 hours.
I wrote this article myself, and it expresses my own opinions. I am not receiving compensation for it (other than from Seeking Alpha). I have no business relationship with any company whose stock is mentioned in this article.