Some analysts have long proffered that streaming-content guru Netflix (NASDAQ:NFLX), which reports Q4 earnings after the bell Wednesday, has been instrumental in shifting television viewing habits for U.S., and now international, consumers. Who among us, for example, knew what binge-watching was five years ago? Now it seems to be a part of everyday life, and, according to some analysts, a core element of NFLX's strategy to increase viewership numbers.
At a time when Netflix is raising prices and facing stronger competition for consumer viewing-screen time from the likes of Amazon (NASDAQ:AMZN) and even Apple (NASDAQ:AAPL), investors may want to take notice of those numbers. Did Netflix attract the 1.45 million new U.S. and the 3.75 million global subscribers that it forecast for Q4? What has been the impact of fresh shows like The Crown and popular standbys like House of Cards? Thursday's results may bolster the company's self-described claim as "the world's leading Internet television network with over 86 million members in over 190 countries enjoying more than 125 million hours of TV shows and movies per day."
Some analysts say they will be listening for more information on NFLX's plans for 2017, which represents the fifth year of its original content strategy. In Q3, Netflix said in a note to shareholders that it was planning to release more than 1,000 hours of original programming. That's more than a 66% jump from the 600 hours that were on tap for 2016. Part of the increase may come from unscripted shows like The Ultimate Beastmaster, a bodybuilding competition series that names Sylvester Stallone as its executive producer. Some analysts will be listening for clues as to how Netflix plans to promote the series, which will be released simultaneously around the world in six languages. Some may want to know how this plays into their global strategy.
Netflix also indicated in Q3 that it was planning to up its content budget by $1 billion to $6 billion this year. Are those numbers still on track? Last quarter, Netflix generated a negative $506 million in free cash flow, part of its continued strategy to invest up front for content and intellectual property. In last quarter's note it called such investments "a wise investment that creates long term value. Consequently, we plan on investing more, which will continue to weigh on free cash flow."
Besides, the company finished Q3 with $1.3 billion in cash and cash equivalents, according to the note.
For the quarter, analysts are forecasting, on average, earnings of $0.13 per share, up 30% from last year's $0.10 a share, according to FactSet. Revenue is expected to come in at $2.47 billion, a 35% increase over the previous year.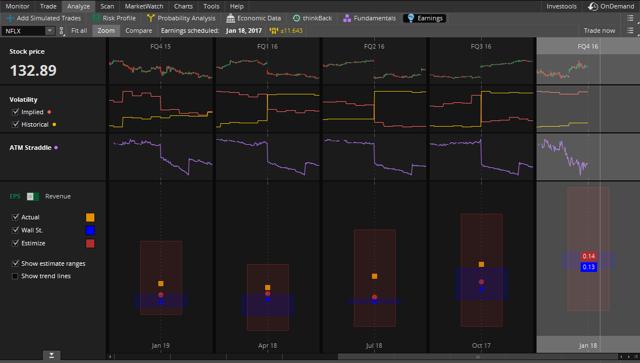 Figure 1: MOVING ON EARNINGS? NFLX shares have been volatile around earnings releases over the last several quarters, as shown in the earnings indicator on the thinkorswim platform by TD Ameritrade. To see an 8-quarter earnings history, plus price and volatility data around earnings releases, go to the Analyze tab > Earnings. Not a recommendation. For illustrative purposes only. Past performance does not guarantee future results.
Short-term options traders have priced in a potential share price move of 8.5% in either direction around the earnings release, according to the Market Maker Move™ indicator on the thinkorswim platform from TD Ameritrade.
There have been call buyers at the weekly 135-strike, with put activity seen at the 130 strike. The implied volatility sits in the upper half at the 51st percentile. (Please remember past performance is no guarantee of future results.)
Note: Call options represent the right, but not the obligation, to buy the underlying security at a predetermined price over a set period of time. Put options represent the right, but not the obligation, to sell the underlying security at a predetermined price over a set period of time.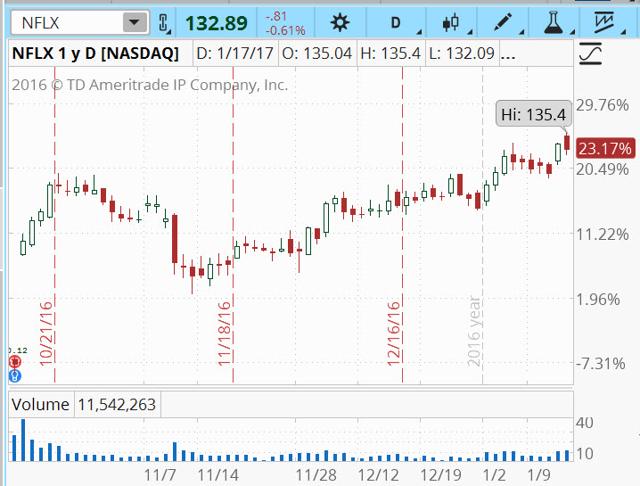 Figure 2: DELAYED REACTION? NFLX shares touched a record top in intraday trading Tuesday at $135.40 before finishing slightly to the downside. Unlike some other equities, NFLX shares initially retreated after the Nov. 8 election, but have reversed course and are now up some 7% since then. Chart source: thinkorswim by TD Ameritrade. Data source: Standard & Poor's. Not a recommendation. For illustrative purposes only. Past performance does not guarantee future results.
Probability analysis results from the Market Maker Move indicator are theoretical in nature, not guaranteed, and do not reflect any degree of certainty of an event occurring.
TD Ameritrade and all third parties mentioned are separate and unaffiliated companies, and are not responsible for each other's policies or services.
Inclusion of specific security names in this commentary does not constitute a recommendation from TD Ameritrade to buy, sell, or hold.
TD Ameritrade commentary for educational purposes only. Member SIPC. Options involve risks and are not suitable for all investors. Please read Characteristics and Risks of Standardized Options.
Disclosure: I/we have no positions in any stocks mentioned, and no plans to initiate any positions within the next 72 hours.
I wrote this article myself, and it expresses my own opinions. I am not receiving compensation for it. I have no business relationship with any company whose stock is mentioned in this article.