The latest data from the nineteen member countries of the Eurozone show an average unemployment rate of 9.9 percent. That is good news, insofar as unemployment is down from its 2013 peak of 12.1 percent. The bad news is not only how high EZ unemployment still is, but how much the rate varies among member countries.
More than fifty years ago, Robert Mundell, then an economist at the IMF, wrote a classic paper explaining when currency areas can work well and when they cannot. Among other things, he noted that an ideal currency area should have free flows of labor among members, flexible labor markets within each member, and similar exposure of members to economic shocks.
If Mundell's criteria were satisfied, unemployment rates would not vary significantly from one member of a currency union to another. Any economic shock that came along - say, the abrupt collapse of a housing boom - would, by assumption, affect all members similarly. If labor markets were flexible within each member, laid-off construction workers would quickly move to new jobs in other sectors. If that did not happen, then displaced workers would move from high-unemployment regions to those where jobs were more abundant, and unemployment rates would quickly average out.
Unfortunately, as the following chart shows, the Eurozone falls far short of the ideal. Nearly ten years after the onset of the global financial crisis, unemployment rates vary from an admirable 4 percent in Germany to a shockingly high 22.4 percent in Greece. That compares poorly with the United States, where unemployment rates range from 2.7 percent in New Hampshire and South Dakota to 6.8 percent in Alaska. Statistically, the standard deviation of unemployment rates among members of the Eurozone is four times as great as among states of the United States.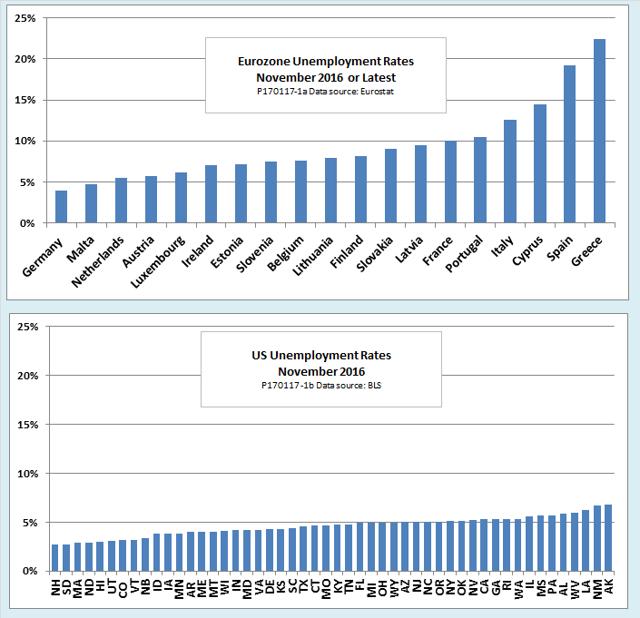 The implication is clear: As far as labor markets go, the fifty states of the United States come reasonably close to meeting the criteria for a workable currency union. The nineteen members of the Eurozone do not.
One alternative, in the face of inadequate labor market flexibility, would be to allow currencies to depreciate in countries where unemployment was high and appreciate where it was low. Exchange rate flexibility helped countries like Poland and the Czech Republic weather the initial impact of the financial crisis relatively smoothly, but members of the Eurozone gave up that safety valve when the joined the common currency.
It would take more than one blog post to list the factors that favor the US economy over that of the Eurozone, but it is worth mentioning one of them as a new Congress and administration come to power in Washington. In part, the US economy captures more of the benefits of a common currency and suffers less from its drawbacks because it has a stronger central government. When the Florida housing market crashed, the state government did not have to bear the full burden of pensions and medical care for its large population of seniors. When California banks failed, the Sacramento did not have to bear the full burden of picking up the pieces. Uniformity of federal programs and regulations make it easier for workers and employers to move from state to state in response to economic shocks that affect regions unevenly.
To be sure, the US economy has plenty of imperfections of its own, but lawmakers should ponder the benefits as well as the drawbacks of a strong central government when they look for ways to correct them. Turning everything over to state governments may, in some cases, foster innovation, but too much diversity among state policies can undermine the fluidity that allows a large economy with a common currency to survive shocks and seize opportunities.
Disclosure: I/we have no positions in any stocks mentioned, and no plans to initiate any positions within the next 72 hours.
I wrote this article myself, and it expresses my own opinions. I am not receiving compensation for it (other than from Seeking Alpha). I have no business relationship with any company whose stock is mentioned in this article.