It's sometimes helpful exploring something you don't like, because it has the effect of reinforcing what it is you're looking for. For that reason, my recent exploration of KB Home (NYSE:KBH) was instructive because it represents almost everything I dislike in an investment. The homebuilder can be forgiven for being so seasonal, but there's much that makes me want to avoid the company. I'll go through the reasons below.
Poor Showing Turning Revenue into Net Income
It seems that for years, the relationship between revenue and net income is negative at KB Home. Given that investors are ultimately compensated by net income, this trend should be worrying to shareholders. While revenue grows, the net income margin remains stubbornly steady around (an anemic sub 3%).
Investors sometimes make a great deal about growing sales, but if those sales aren't converted into the basis of our compensation, what's the point? I like companies that maintain net income in the face of falling revenue, and I really like companies that can grow net income at a faster rate than growing revenue. The financials for KB Home paint a much different picture: revenue is growing, but net income remains stagnant. This prompts the question: if rising revenue won't improve profitability, what will?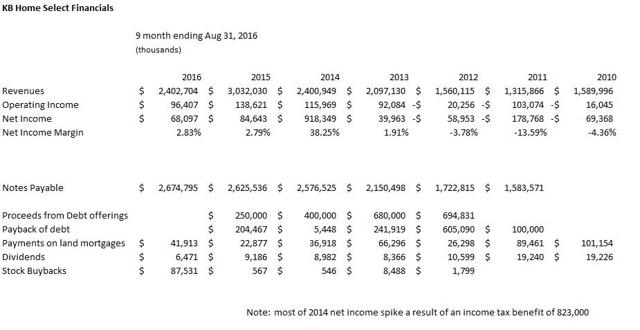 Poor Dividend Showing
During the time that the company finally turned net income positive, the rate of dividends paid to investors declined (from the period 2010-2016) at a CAGR of approximately -13.75%. I believe that companies that raise dividends are good investments. The reverse must be true for companies that lower them.
Problems With the Capital Structure
In the face of a seasonal business with very low margins, investors also have the added problem of a high level of indebtedness. From 2011 to the most recent quarter, long term debt has grown at a rate of 11.7%. The (GAAP measured) debt to equity now stands at a nose bleed 160%. I understand that some investors care more about non-GAAP measures, but in my view these give too much leeway to management to decide what constitutes "capital", and thus I pay less attention to them.
More distressing than the large debt here is the fact that the schedule of debt repayments is relatively close and the weighted average interest expense is relatively high. Fully 60% of the debt is due before 2020 and the weighted average interest rate is 6.7%.
The Stock Price: The Market is Excessively Optimistic Here
There's even more to dislike about the shares of KB Home. Not only does the company have a bad dividend track record, a high level of debt and a frustrating disconnect between revenue and net income, but also the stock is overpriced. The market is forecasting, via the forward PE, a rate of earnings growth in the order of 41%. This would be a very remarkable rate of growth for a company that has had choppy, tax payer enabled earnings, for some time.
Technical Snapshot
As per our TrendCharts Daily Price Model the daily trend for KBH turned Bearish on January 6. The stock hit a 52-week high on December 6, 2016 when it closed $17.26, and has been trending lower since then. From here we see the stock drifting down to the $15.00 level over the next four weeks. We will take advantage of today's 2% pop in the stock to purchase the KBH 17FEB17 17.00 Put Options which will provide us with approximately 10x leverage on our SHORT trade. Our initial stop-loss exit signal for the trade will be a daily close above $17.00.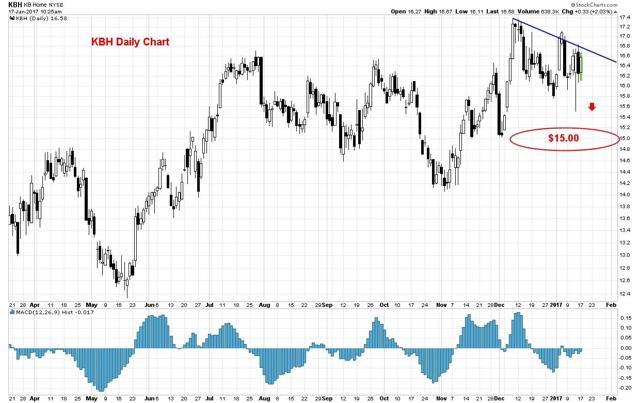 Conclusion
There is so much to dislike here, it is hard to order my reasons for rating this company a sell. The debt level is way too high for my tastes. Dividend investors should abandon this name immediately, given the history here. There's a frustratingly persistent disconnect between revenue and net income. To top it off, the stock price remains excessively priced. For these reasons I'm rating KB Home a Sell.
Disclosure: I/we have no positions in any stocks mentioned, but may initiate a short position in KBH over the next 72 hours.
I wrote this article myself, and it expresses my own opinions. I am not receiving compensation for it (other than from Seeking Alpha). I have no business relationship with any company whose stock is mentioned in this article.