As a value focused, income oriented investor, I'm always on the lookout for beaten down dividend names. When buying companies on weakness investors are able to lock in much higher yields on cost than what's usually available from a particular company and in doing so, they really jump start their long-term compounding capabilities via dividend re-investment. Jim Cramer refers to the opportunities as "accidental high yielders." Now, I know many of you out there don't really care for what Mr. Cramer has to say (I see people bashing him in the comment forums all of the time). He's a polarizing figure in the investing world without a doubt. However, I enjoy his show as early evening entertainment and while I don't always agree with his sentiment, I think he's right on with his bullish accidental high yielder views.
What's key to his accidental high yielder thesis, and my own, is that a company's weakened stock price must be related to an isolated incidence, not a systematic problem, because if the latter is the case, the yield that a company offers investors may not be accidentally high, but instead at major risk of being cut as the supporting fundamentals erode. This is the internal battle I've been having with myself these last couple of days with regard to Macy's (NYSE:M). M's stock has taken a shellacking thus far into the new year. Since the stock hit the $45 resistance level last November and didn't push through shares have been falling fairly consistently, having just recently crossed below the $30 threshold which also happens to coincide with a 5% dividend yield. This weakness isn't without merit however, and now it's up to income seeking investors to weigh the risks associated with M shares against this juicy yield.
Recapping Recent Weakness
Although M has been trending down steadily since the post election euphoria that sent the stock roaring from $35 to $45 during last November, the stock really hit a snag last week when management updated forward guidance. The press release was highlighted by less than expected top line growth for 2016, negative comps for the holiday period, and a reduction of 2016 EPS guidance from $3.15-3.40 to $2.95-3.10. Low top line growth wasn't much of a surprise to anyone (frankly put, I think any positive sales number should have been seen as a success in this environment). I think the holiday numbers were a bit disappointing for some, though it should have been obvious before last week that Amazon (NASDAQ:AMZN) was owning the holiday season. The EPS news is especially disappointing considering the fact that just a year ago in 2015, shares earned $4.22. Negative EPS y/y in one thing, but EPS down ~30% represents a major issue(s).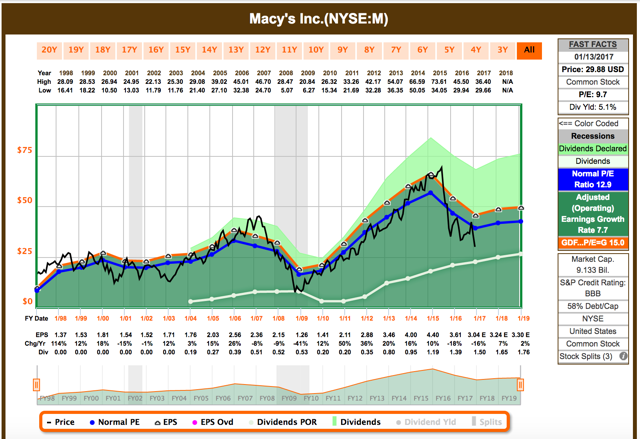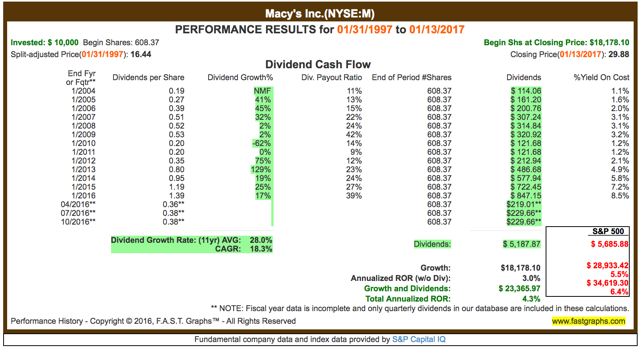 Source: F.A.S.T. Graphs
Now, this isn't the first time in fairly recent history that M has experienced EPS issues. In 2006 the company earned $2.56/share. In 2009, during the great recession, the company posted EPS of just $1.26. However, as the economy picked back up so did earnings as M generated $1.41 in 2010, $2.11 in 2011, $2.88 in 2012, $3.46 in 2013, $4.00 in 2014, and the aforementioned $4.40 in 2015. But what worries me most concerning the EPS drop in the present is the fact that this retailer isn't struggling to generate earnings when the economy is slumping and many would-be shoppers are unemployed…no, Macy's is struggling to generate earnings with full employment, rising wages, a strong stock market, and consumer sentiment at highs it hasn't seen in more than a decade. So, in this case the problem is business related rather than consumer related. Macy's doesn't have excuses in today's instance. Amazon is simply eating its lunch. This is what makes me concerned about a systematic weakness that cannot be overcome.
In the last several years leading up to 2015, EPS, along with revenues and cash flows had been rising and it appeared that M was weathering the Amazon storm just fine. Heck, two years ago was M's best holiday season of all time. In the grand scheme of things, two years really isn't all that long ago. However, it's becoming apparent that brick and mortar retailers are experiencing big problems after recent negative press releases industry wide. There is obviously a widening gap forming between the likes of Macy's and the e-commerce retailers that are meaner, leaner and taking share without any plans to give it back.
Is Macy's Restructuring Too Little, Too Late?
Macy's is trying to become leaner and meaner as well. The company recently acknowledged that it expects to see annual expense savings of $550m, above the previous estimate of $500m, meaning that measures taken throughout late 2015 and 2016 are working better than expected. As a part of this plan, Macy's plans to close ~100 under performing stores and cut ~10k jobs. It's worth noting that several days after Macy's announced these cuts Amazon announced it would be creating 100k full time jobs in America, seemingly highlighting the performance gap between these two companies. These restructuring changes that Macy's has planned are expected to have a $575 negative impact on 2017 revenues. Management highlights the fact that these massive savings will allow them to invest a significant amount of funds, ~$250m, into growth initiatives such as Bluemercury, Macy's Backstage and China.
Investors looking at this negative EPS guidance and the associated restructuring plans have to ask themselves a couple of questions:
"Have the retail tides shifted so much in favor of online shopping in the last year or so that companies like Macy's simply won't be able to compete?"

"Are the restructuring initiatives enough to return this illustrious brand name to growth?"
Macy's is growing its online sales at double digits, but they make up a relatively small percentage of the company's overall sales. Is this growth too little, too late for a company that once dominated retail? I think it's likely that AMZN already has so big of an advantage in this area in terms of its scope, scale, and ecosystem that new entries to the e-commerce market will be fighting amongst themselves for crumbs from the overall pie which is already owned by Bezos and Co.
The Dividend Is Safe, For Now...
My interest in Macy's as an investment is primarily based upon the company's yield. It's easy to see a blue chip American brand name like Macy's associated with a 5% yield and get excited. But remember, if M's negative performance isn't a short-term issue, but instead early signs of a systematic erosion of company fundamentals, then it doesn't really matter what the company's shares yield because the yield cannot be considered sustainable or safe. I think M could also be a contrarian turnaround play, though it could also be a terrible value trap. Only time will tell in this regard, but the yield is what potentially interests me most while I wait.
M isn't a dividend aristocrat. The company cut its dividend payments in 2010. It's worrisome that this company's management couldn't maintain its dividend throughout our latest bear market. Although the past is not an accurate indicator of the future, the fact the M couldn't sustain payments through the economic weakness associated with the great recession doesn't lead me to believe that it has the financial strength to reliably reward shareholders through this e-commerce restructuring either. With that said, it's difficult to find a high quality companies yielding 5% or more in today's market and income oriented investors may be tempted to partner with M, aristocrat or not.
Right now M's annual dividend is $1.51, or roughly half of the recent EPS guidance. Over the last 12 months M's operational cash flows have been ~$2b, which more than cover the ~$500m the company is expected to dedicate towards dividend payments on an annual basis. This means that management has some wiggle room with regard to dividend coverage should weakness continue. M has also been spending a lot of money on share buybacks, which it could halt in favor of maintaining the dividend should cash flows really suffer, though one has to ask if this would be the best long-term course of action that management could take with shares trading at such low multiples? If management believes they can survive and eventually thrive in the face of Amazon, buying back shares at today's valuation is a no-brainer. M's outstanding share count was reduced by more than 17% between 2011 and 2015. Right now, I think M's dividend seems safe, though like I said before, this is no aristocrat and the company shouldn't be given undue respect in this regard.
After Weakness, Macy's Is An Interesting Turnaround Play
While I say that this company's primary interest to me is its yield, the company does seem to be trading cheaply and could become a nice capital gains play should growth stabilize/return causing multiples to expand. If the company is able to earn $3 of EPS in 2016 the ttm p/e ration based upon today's $30 share price is 10x. The retailers as a group aren't trading with much of a premium in today's market, though this 10x multiple is less than several of M's peers. All a shareholder would require for a 20%-plus total return is for the multiple to expand to 12x this $3 EPS. In mid 2015, when M was a $70 stock shares traded for more than 17x earnings. I don't think investors should expect to see those types of multiples any time soon, though I think the market's recent willingness to pay 17x in the fairly recent past makes a 13-14x multiple possible should the company start to outperform recent disappointing guidance. 2016 proved that buyers are more than willing to pile into this powerful brand name should the skies part. M shares were trading in the $33 range in May of 2016 before rising above $42 in November (representing a ~30% upward move). I think this type of movement just goes to show that the market is likely irrational when it comes to Macy's shares (during both up and down swings) and investors, especially those nimble enough to track valuations closely, can do well trading in and out of a stock like M (while collecting a juicy yield along the way).
So, when asking myself the question, "can Macy's compete, or has the ship sailed," my short answer is "maybe." Anything more concrete than that would be speculative on my part. Ultimately, I do believe we're heading further and further into the digital age and this doesn't bode well for old fashioned, brick and mortar retailers. Consumers are more savvy now than ever. Basically everyone is constantly carrying around a revolutionary price checking device in the form of their smartphones. And, what's more, is that the millennial generation has proven itself to be patient enough to forgo the instant gratification of an in person sale if there is better value to be found on the internet (the fact that many e-commerce retailers oftentimes offer free and fast shipping options helps).
There are certain areas of retail that have proven to be somewhat Amazon-proof. Consumers like to try out make up and skin care products before purchasing them, for instance. Ulta Salon (NASDAQ:ULTA) has proven this to be the case as one of the best performing stocks in the entire market over the last decade or so. ULTA has been growing its top line by nearly 20% annually for five years now (EPS is soaring as well). ULTA doesn't pay a dividend, so it's not the typical kind of stock that I follow, though I think this stock is benefiting from a major secular tailwind: the selfie generation.
You see, those revolutionary price checking devices also have cameras. One of the major selling points of those devices over time has been the improvement of cameras. Today, smartphones are taking fabulous pictures, picking up details (or flaws) that would have previously gone unnoticed in more grainy, less focused images. What's more, is the rise of social media sites have made it easy to distribute these images world wide. People are becoming famous because of their Instagram accounts and the dating process doesn't begin in person anymore, it all starts with these pictures. Because of this, many members of our new digitalized society feel pressure to look great all of the time, because you never know when someone will snap a picture of you (or when that urge to take a selfie will strike). This pressure to look great has really driven sales of cosmetics and ULTA has been the biggest beneficiary. I like investing alongside macro trends and while I think the narcissism associated with selfies is likely a societal problem, I'm not going to deny myself the opportunity to profit from the trend.
This selfie aside eventually leads me back to Macy's. You see, ULTA's growth has lead to fundamental multiples that I'm not willing to pay. I keep hoping for it to miss on one of its quarterly reports but the company continually beats expectations and the share price rises ever higher. So instead, I've decided to look elsewhere in the cosmetics industry. Estee Lauder (NYSE:EL) is a beaten down option I considered, though the yield is a bit low at 1.75%. EL is trading down 18% from its 52-week high and has a very impressive five-year DGR of 22.16%, but at 18x forward earnings I still don't believe the stock to be cheap. I looked at a few others and didn't really like what I saw. I had almost given up, assuming that ULTA must have a stranglehold on the space, before realizing that Macy's offers investors exposure to the cosmetics space with it's Bluemercury stores (a company that M acquired in 2015).
Is Bluemercury A Blue Chip Asset?
Bluemercury was one of the areas that management said it planned on funneling money raised from its recent cost savings measures into as a growth initiative. Macy's claims that Bluemercy is "widely recognized as the America's luxury beauty products and spa services retailer." I imagine that the word "luxury" has something to do with this "largest/fastest growing" designation, because ULTA's 2016 sales were roughly 20x the $212m that Macy's paid for Blue Mercury in 2015. Bluemercury had 62 specialty locations in 18 states when it was acquired. Macy's plans on expanding this footprint quickly and has already began to do so. I like this move, though I still have concerns regarding the overall impact that Bluemercury will have on Macy's top and bottom lines moving forward. Like in its competition with AMZN, Macy's may be doing too little, too late in the cosmetics space now that ULTA has established itself as the clear leader (albeit, maybe not in the "luxury" space).
Discounting: An Unsustainable Means To An End
The discounters in the retail space have also performed nicely as of late, even in the face of AMZN, as well. Look no further than TJX companies' (NYSE:TJX) recent performance as proof of this. While Macy's struggled in 2016, TJX is still growing nicely, posting 6.4% revenue growth and 5.7% EPS growth on the year. M is trying to take market share in this space as well, focusing on its Macy's Backstage stores, though I'm not nearly as bullish on this imitative as I am on the Bluemercury push. Companies like TJX, Burlington (NYSE:BURL) and Ross Stores (NASDAQ:ROST) already have hold strong positions in the discounting space and I think it will be very difficult for M to take market share here without tarnishing the brand name of its primary stores in a dangerous race to the bottom. How can a company pursue a luxury image while maintaining a branded discount arm at the same time? It seems a bit desperate to me.
Trump's Tough Trade Talk Makes China Plans Risky
Since I've just gone over two of the three growth avenues that M management plans on pursuing to stabilize/inspire future growth, I think it's worth mentioning my thoughts on the third: China. Macy's, like many other western retailers, understands that the growing middle class in China is a great opportunity. However, I worry about companies that are relying on this thesis because I think it's becoming increasingly likely that the US and China will enter into some sort of trade war as the Trump administration takes hold of policy making here in the US. Last week China unexpectedly announced increased punitive tariffs on imports of US distiller's dried grains which sent Archer Daniels Midland's (NYSE:ADM) stock down sharply. I wouldn't be surprised to see the US respond in some way here, setting off a series of dominoes which won't likely bode well for US companies seeking growth via China. I could be too pessimistic here, though I just think it's worth highlighting the China risk. In the past when American companies had international growth initiatives it was widely viewed as a positive thing, though with the rising dollar and an administration in favor of protectionist policies, I'm not sure if this will continue to be the case, over the short-medium term, at least.
Macy's Is A Retailer, Not A REIT
One of the major bullish bullet points that you'll see on most Macy's analysis is the value of the company's real estate. Early last year Starboard made headlines in this report that valued Macy's real estate at ~$21b. Today, Macy's market cap is $9.16b. So, if one accepts the Starboard real estate valuation thesis, it appears that investors today can buy shares of Macy's with the retail segment of the business valued at zero dollars, or less. For instance, if M management was to monetize 2/3 of its valuable properties, even after paying all of the fees and taxes associated with real estate transactions, it's likely that the company could net $10b (and still have several billion dollars of real estate under ownership).
I think it's worth considering the value of Macy's hallmark locations when doing one's due diligence on this company, though I also believe investors go overboard talking about the value of M's real estate as if it were cash in hand. I'm a licensed realtor and although I work mostly on the residential side of things, I know that commercial sales are notoriously slow moving. So, it's not as if the company could snap its fingers and realize billions of dollars tomorrow if it needed the cash. Investors talk about Macy's spinning off the real estate in a REIT structure, though this is a complicated matter as well and by no means guarantees success when thinking about unlocking the real estate value. Management does have real estate experts on board, and I suspect that many of its urban properties could do well leasing space if the company decided to downsize the square footage of its retail operations in an attempt to better monetize its assets, though this maneuver would take time as well. Sure, the real estate could be this company's saving grace, especially if Starboard is close to being correct in its valuation estimates. However, I think at this point investors considering owning shares of Macy's should be focused on the retail operations/restructuring plans and not buying primarily because of speculative real estate related plans.
Conclusion
So, in the end, when considering a potential investment in Macy's, I think it comes down to risk tolerance. Competition is fierce here with many big box companies fighting hard for a shrinking piece of the pie. I think over time consolidation is likely in the industry and it's not clear to me at this point in time which companies (if any, other than Amazon) will come out on top. The Macy's name still carries a lot of weight in American culture, though J.C. Penney's (NYSE:JCP) and Sears Roebuck did as well and their downfall from the pinnacle of retail was widely followed. I think the 5% dividend yield is safe in the present, though long term, I wouldn't consider it, nor any future dividend growth, to be reliable. As shares fall further into the $20s, I'm becoming more and more tempted to buy shares of this company as a somewhat speculative turnaround bet with a high yield kicker. Though, I also wonder if I'd be better off putting speculative money towards Macy's rival Amazon, fearing that I'm chasing yield straight into a value trap with the former. What do you all think?
Best wishes, as always!
Disclosure: I am/we are long AMZN.
I wrote this article myself, and it expresses my own opinions. I am not receiving compensation for it (other than from Seeking Alpha). I have no business relationship with any company whose stock is mentioned in this article.