We have seen the arguments that President-elect Trump's foreign policy might affect semiconductor stocks in a cataclysmic way. Supposedly, we are to expect astronomical tariffs and even embargos of semiconductor chips to and from China.
Let's focus on a simple counterargument. Let's consider that while negotiations will continue, and yes, minor tariffs might happen, but nothing earth-shattering is going to occur. Let's glance at the history of the relationship between the U.S. and China, move through the counterargument, and then explore some of the Chinese Islands' issue. To wrap up, let's confirm that the "doom and gloom" does not affect our investments in any capacity that we cannot manage. First though, we have to look at China and how we arrived at our present state of affairs.
Economic Dependencies Equate to Peace
Back in 1949, the government of "White" China (led by Chiang Kai-shek) had fled to the island of Taiwan following their defeat by "Red" communist forces. In previous years, the dream was for the White China government to retake the mainland. Of course, this was a virtual impossibility, and instead Taiwan moved to somewhat of a military island fortress. Diplomatic relations with China were not even established at this point. However, by 1967, things were starting to warm up a bit. In the journal Foreign Affairs, President Richard Nixon penned that the U.S.
"Could not afford to have China forever outside the family of nations, there to nurture its fantasies, cherish its hates, and threaten its neighbors."
This was the first overture to China and this opened the door (slightly) for some diplomatic relations.
By 1971, famous diplomat Henry Kissinger began secret talks with the Chinese starting the official negotiation process. This eventually led to the intertwining of the US and Chinese economies - the goal being to integrate them to the point that war would be paramount to economic suicide for the U.S. or China.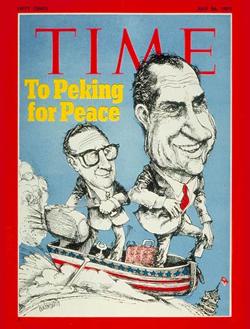 While this goal has been successfully accomplished, the relationship between the two is not without problems (hot issues include Chinese artificial islands and Taiwan). President Trump aims to make the playing field more level and for businesses that are not providing jobs in the United States, perhaps make things painful via tariffs in order to encourage them to bring jobs back.
Why is this so important? It is called strategic assets. For example - if we were to allow the Chinese to destroy our domestic steel manufacturing industry via cheap steel imports, we would be up a creek if we ever were to go to war with an adversary (due to decreased domestic supply of a critical material.)
On the flip side, if one practices extreme protectionism of our domestic industry, you encourage lack of competition. Other nations will innovate while domestic industries stagnate. On top of this, the domestic industries (due to a lack of competition) raise prices - thus harming consumers. The point being here - responsible trade is good. Fair trade is good if it is truly fair.
Jobs, Jobs, Jobs
President-elect Trump is going to play hardball with a lot of major companies to bring jobs back to the United States. So far, he has been quite successful, but Trump is no fool. To enter into an all-out trade war with China (be it stupidly-high tariffs or an outright embargo) would be economic suicide for the U.S. Not just an industry or a segment such as semiconductors - but the entire nation. It could very well plunge us into a recession (or worse). This is not Trump's aim.
Ponder for a moment just how many things are made in China: Car parts, semiconductor chips, toys, books, appliances, steel, just about all of Wal-Mart (NYSE:WMT).

Now, slap an embargo on all of that and watch prices blast off domestically as cheap sources are eliminated. Consumers will have less discretionary money to spend. This affects entertainment, Hollywood, restaurants - see the chain reaction to the economy? So can Trump negotiate and play some currency games? Sure. Can he put on minor tariffs? Absolutely.
Fair Trade?
Are things currently "fair" in our free trade? We think not. Having lived in South Korea for years, never did we see a Korean driving an American Car. Not once. Seriously, not even one single time in years. Some say it's because Koreans want to buy local, but this is not true. We knew many Koreans who wanted a Ford (NYSE:F) Mustang, but for some reason they just do not sell them in Korea. Maybe it is a VAT (value added tax)? Obviously, the Koreans have no trouble selling Kias here in the States. However, we are not alone in our assessment of the Korean car situation:
"You see a whole bunch of Korean cars here in the United States, and you don't see any American cars in Korea." - President Obama.
Island Chain Strategy
Another article mentioned the South China Sea Islands as a potential catalyst for a new trade war. Frankly, it is not going to happen. The island strategy for the PRC (Peoples Republic of China) is nothing new. In fact, concerns over the natural islands arguably date back to the late 1800s. However, the Chinese are building artificial islands in the ocean.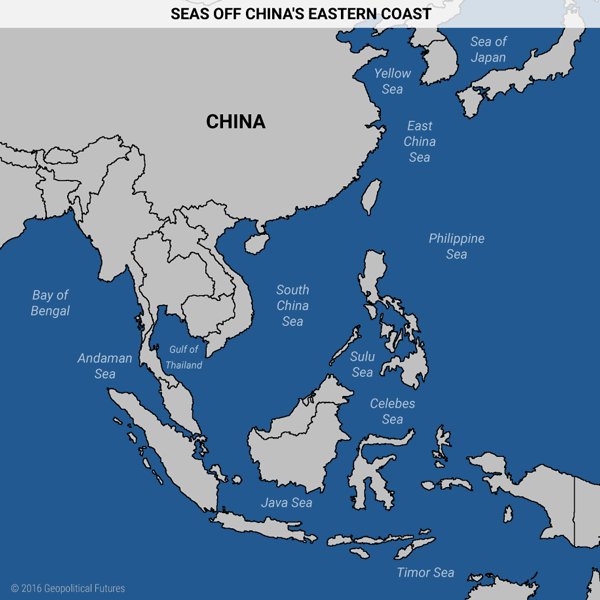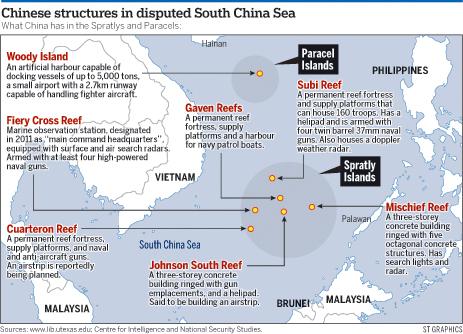 The reasons why:
Economic - The region is full of oil, minerals, and fishing rights. Per the below pictures and the link in the article, a lot of oil and natural gas flow through the narrow passages of the Strait of Malacca and by the Spratly Islands. Establishing islands here helps the position of China in its energy security. Granted they still have a problem of security in the Indian Ocean but some security is better than none. We are not alone in our assessment, Forbes writes:
"Currently, around 50% of the world's oil tanker traffic is estimated to flow through the SCS (South China Sea). By 2035, it is expected that 90% of the Middle East fossil fuel exports will be shipped to East Asia with much of it transiting the SCS en route to China, Japan and South Korea. In this context, the SCS is very much about oil and gas."
(Oil flows per - 2011)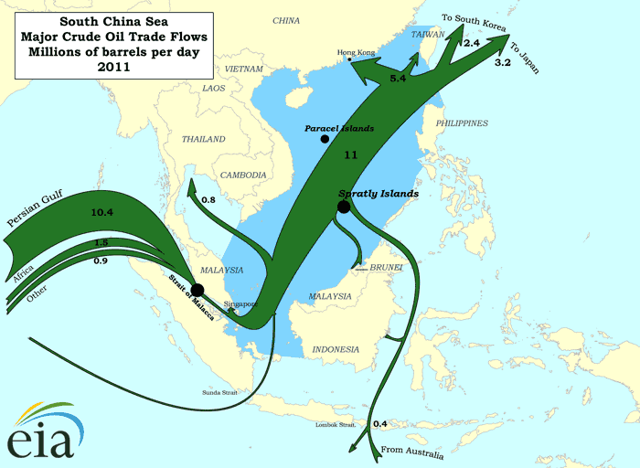 (LNG Flows - 2011)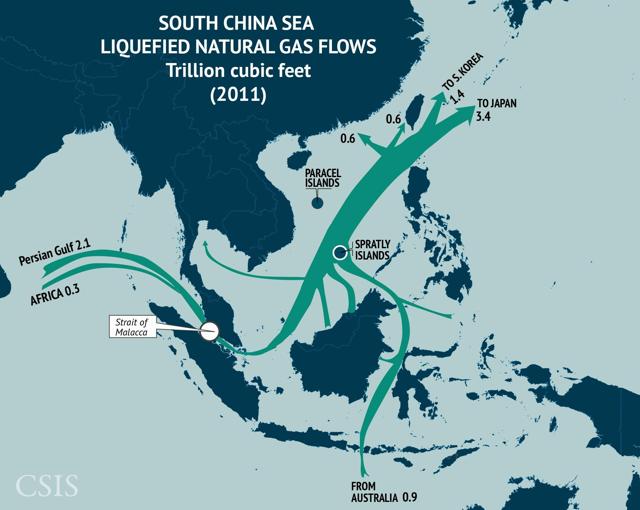 Trade Lanes - The area is home to massive trade routes in the region. Notice the narrow shipping lanes West of the Philippines. The placement of the islands here acts as a security deposit on those commercial lanes, among the artificial islands' other uses. (Track ships in real time using the above link.)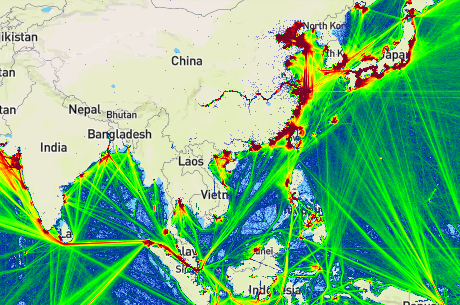 Military - It expands the area of influence and expands offensive and defensive capabilities of China. China realizes we project power through our aircraft carriers. Creating unsinkable islands allows China to extend the area its surface to ship missiles and aircraft can cover. The islands can act as a buffer to the mainland hindering or at least slowing down any enemy forces. Some nations have felt the increased pressure and have made moves to become more friendly towards the big neighbor such as the Philippines.
Why Islands Though?
Creating a deep water navy is not an overnight endeavor. It takes time, materials, support and maintenance facilities, and multi-generational training that just does not happen overnight. The long-term goal of China might be to form such a deep water navy to project power overseas. They do currently have one training carrier they bought from the Ukraine and a few more under construction but they are decades away from having a fully trained multi-generational world class Navy fully formed, experienced, with support elements in place to project power in our opinion.
(Chinese are dredging sand to create an island)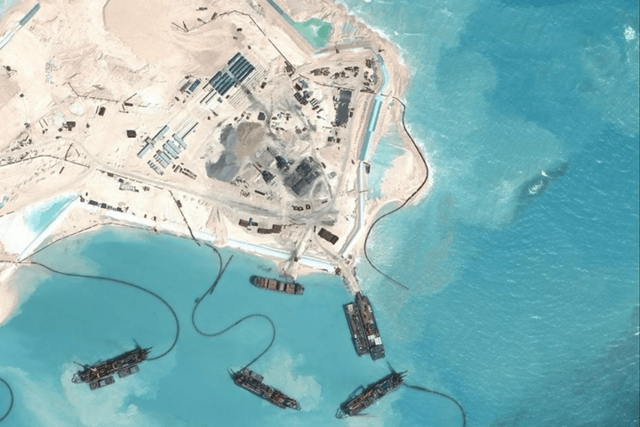 Given the above, the Chinese will not back down on the artificial islands nor will the U.S. stop sending in ships near the islands for displays of force and intelligence collection. It is a game and it will continue to be played to the fullest; however, no massive trade wars will flair because of it. Expect plenty of continued political bickering.
(Overview of Claims)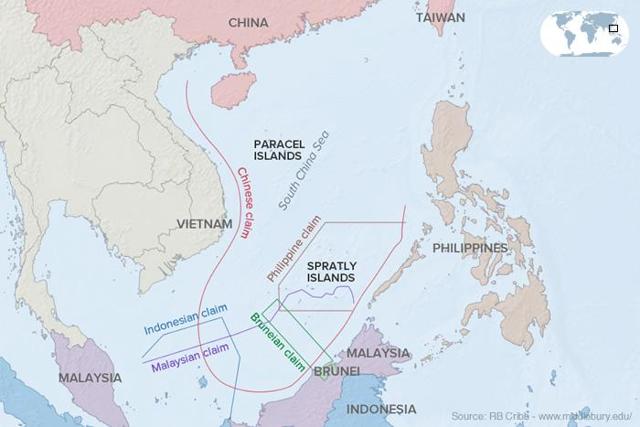 Investments
So what does all this mean for our investments in semiconductor stocks like Intel (NASDAQ:INTC), AMD (NYSE:AMD), and Nvidia (NASDAQ:NVDA)? It means little-to-no change in all likelihood. Minor tariffs at worst. Maybe a few currency games that could benefit or hinder the companies. Some companies could move more production to semiconductor foundries in the U.S. to appease President-elect Trump if need be. Global Foundries has plenty of sites not in China as well as Taiwan Semiconductor Manufacturing Company (NYSE:TSM).
Conclusion
The semiconductor industry is in no real danger of some earth-shattering cataclysmic tariffs. Life will continue as usual. Invest accordingly.
Disclosure: I am/we are long AMD.
I wrote this article myself, and it expresses my own opinions. I am not receiving compensation for it (other than from Seeking Alpha). I have no business relationship with any company whose stock is mentioned in this article.