Note: The investment thesis here remains the same as it was in Part 1.
Investment Thesis
The stock of lifestyle specialty retailer Urban Outfitters (NASDAQ:URBN) is poised for a prosperous future ahead based on the strong business fundamentals, robust financial position, very attractive valuations, and a good double-digit expected long-term earnings growth rate. The stock has returned almost 27% in the last year and still it has a long way to go. Based on the URBN's very cheaper valuations as compared to its industry peers, it has above 36% upside potential to achieve its fair value of $37 in the next one-year investment period.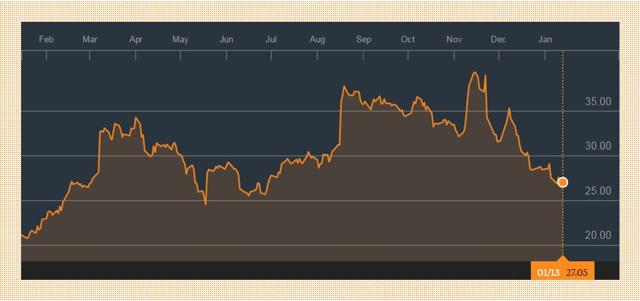 Source: Bloomberg
To keep the essence of my detailed analysis alive, I have separated the Urban Outfitters' entire study into two parts. Part 1 of the analysis covers the investment thesis only in terms of valuation point of view. Part 2 of the analysis covers the investment thesis based on the detailed analysis of the company's business fundamentals, financial position, growth prospects, potential risks to the business, etc. Both Part 1 and Part 2 are essential study for investors who are interested in considering Urban Outfitters for long-term investment. However, I want to add a paragraph here that is related to Part 1 of the analysis.
URBN's very attractive valuations make the stock a strong candidate for a well-diversified investment portfolio. I used the two relative valuation approaches to value the stock: 1) enterprise level valuation (EV/EBITDA model), and 2) equity level valuation (P/E model and P/CF model). Both valuation approaches indicated that the stock is very much undervalued and offers a strong margin of safety to prospective risk investors.
Business Analysis
The retail industry has been facing headwinds since last few quarters due to the weak and inconsistent shopper traffic along with cut-throat competition resulting from the macroeconomic susceptibilities. Consumer travel and their spending behavior remained controlled as the result of the global political and economic insecurities. URBN wasn't an exception to these headwinds and it too observed a mixed behavior in its business performance.
The company's top line has been performing nicely as it reported record sales in both quarters. According to the third-quarter fiscal 2017 results, URBN's net sales increased 5% from the previous comparable period to report total net sales of $862.5 million. Retail segment proved to be a catalyst as its sales were up 5.2%. Although the wholesale segment increased 30%, it was mainly due to the $9 million shipments related to third quarter fiscal 2016 moving to the fourth quarter of the same fiscal year resulting from the delays at the company's recently opened East Coast fulfillment center. URBN CEO Richard A. Hayne commented on the results as follows:
I am pleased to announce our teams delivered record third quarter sales. These results were driven by the third consecutive quarter of positive Retail segment 'comps' and continued strength in our Wholesale segment.
URBN's bottom line declined almost 9% to $47.4 million as compared to $52 million in the same period last year. The company reported diluted EPS of $0.40 in comparison to $0.42 in the same period last year. The decrease in net margins was primarily the result of the increase in SG&A resulting from the net effect of one-time legal settlement, new store pre-opening and staffing expenses in the large format Anthropologie stores, and the higher marketing and promotional expenditures for the customer acquisition and retention efforts.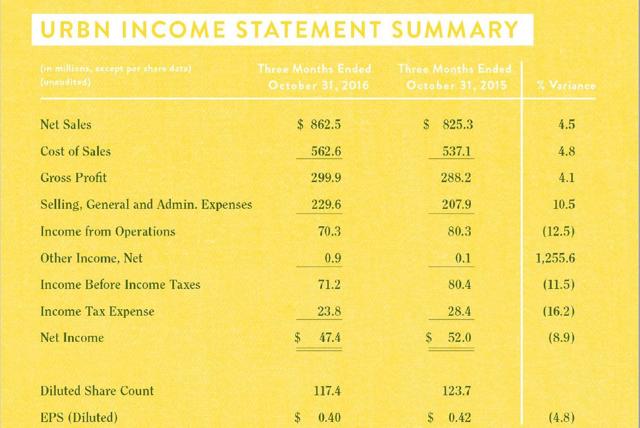 Source: Company Presentation

Source: Stockrow.com
Key Fundamentals
URBN is fundamentally a strong business. Its profitability margins and the return measures are much higher than the industry peers. The fundamentals of its business provide a kind of economic moat to the company. The table below shows some of the most important fundamentals of URBN and its peers. Except for gross margins, every profitability and return measure is superior to the competitors' average measures. You can see a solid business position of the company relative to its peers. For example, look at the EBITDA margin. URBN's EBITDA margin is 13.94% as compared to 9.90% of its peers' average margin. Companies who are able to generate free cash flow (FCF) margin of more than 5% are considered cash cows URBN's FCF is 8% vs. 4.36% for its peers' average.
In addition to the FCF margin, the other two crucial measures the capital providers are most concerned with are the return on equity (ROE) and the return on invested capital (ROIC) because these measures tell the investors how much the company is returning to its capital providers. Both return measures of URBN are much higher than the peers' averages. The Oracle of Omaha, Warren Buffett likes these three measures (FCF margin, ROE, and ROIC) very much as these are enough to identify the "economic moat" for any company.

Source: Author Calculations/Stockrow.com
Look at the table below to judge the company's financial position in terms of asset base and the leverage. URBN has a debt-free balance sheet with the vigorous cash balance of $259.53 million, which translates to a very healthy financial position. The company has a running share repurchase authorization program that was began on Feb. 23, 2015. Under this authorization, URBN still has 6 million shares to be purchased. The strong cash position provides enough flexibility to further repurchase shares to reward its shareholders, which would be positive news for the shareholders.
Alternatively, the company has the flexibility to declare a dividend or go for business expansion. Any good move would be a plus for shareholders' wealth. Additionally, URBN's liquidity position is not bad, and it has $2.20 in working capital to cover each dollar in current liabilities.

Source: Seeking Alpha
Going forward, the company is expected to grow its earnings at a good double-digit growth rate of 13.20% over a long period of time. There are few names in the retail industry who are expecting such an amazing earnings growth prospects. Therefore, URBN is well-positioned to make a growth story in the next five years. Hence, the fundamentals of URBN's business strongly support the investment thesis.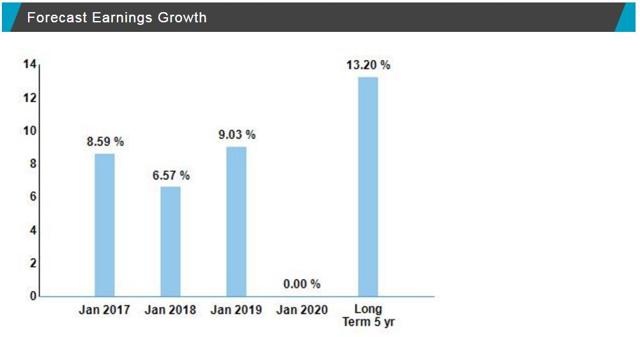 Risks and Key Takeaways
In addition to the already prevailing competitive pressures and weak tourist traffic to stores, there are certain risks that could have negative effects on the URBN's business in future. According to Moody's recent retail industry outlook for 2017, the apparel and footwear industry will be under stress as shoppers spend more on healthcare, rent, home-related goods, electronics and cars. Moreover, Macy's (NYSE:M) and Kohl's (NYSE:KSS) recent reports regarding guidance cuts based on unsatisfactory sales in the shopping season started a new discussion about the stores' business prospects.
Lastly, declining growth in major emerging economies, particularly the BRIC nations (Brazil, Russia, India, and China), is also likely to affect international tourists, which could be a headwind for store traffic. However, URBN is very well-positioned to deal with these potential threats with its strong brand recognition, excellent business fundamentals, and healthy financial position.
Disclosure: I/we have no positions in any stocks mentioned, and no plans to initiate any positions within the next 72 hours.
I wrote this article myself, and it expresses my own opinions. I am not receiving compensation for it (other than from Seeking Alpha). I have no business relationship with any company whose stock is mentioned in this article.