North Atlantic Drilling (NYSE:NADL) has just announced that its semi-sub West Phoenix was awarded a one-well contract for the work in the United Kingdom West of Shetland.
As a result of this development, North Atlantic Drilling adds $17 million to the backlog. Total (NYSE: TOT) has previously awarded an identical contract to North Atlantic Drilling, so this is a direct continuation of the work.
Analyzing this in the context of North Atlantic Drilling alone is a waste of time. North Atlantic Drilling is set to be reabsorbed by its parent Seadrill (NYSE: SDRL) in the upcoming restructuring as it is not viable with the current capital structure and has little if any prospects to improve the situation.
The market understands it and trading volume vanished from North Atlantic Drilling stock, which will most likely be mostly dead until the restructuring details are announced. Therefore, we should look at this contract as if Seadrill itself, which now owns 70.4% of North Atlantic Drilling and will own 100% in due time, got the contract.
First of all, any contract is good news nowadays as a contract keeps the rig in the active fleet and the driller does not have to pay warm stacking costs.
Also, the new contract highlights the fact that North Sea continues to produce some contracts, a trend that was evident during the third-quarter earnings report season.
North Atlantic Drilling was created for harsh-environment drilling, but ran into big trouble as oil prices plummeted and Russia left the scene due to sanctions.
Activity in the North Sea is theoretically positive for North Atlantic Drilling, but, given the amount of work and the dayrates achieved, it will not change the company's fate.
Sporadic contracts don't change the big picture - work is scarce when oil is under $60 per barrel. Another concern are the dayrates, which remain at the very bottom and are unlikely to rebound in the near-to-medium term.
As the new North Atlantic Drilling contract is identical to the previous one, the dayrate is roughly $189,000. West Phoenix is a six-gen UDW semi-sub drilling in the UK, so the dayrate is really low.
Anyone thinking that OPEC/non-OPEC deal was an immediate game-changer for offshore drilling companies should reassess their stance to incorporate real life facts.
Stocks, including Seadrill, reacted positively to the deal as oil prices rose, speculators took part in the rally and shorts rushed to exits. However, this activity was present exclusively in the stock market.
Real market changes will take significantly more time to develop. As I'm writing this, WTI oil (NYSEARCA:USO) sells for $52.92 per barrel while Brent oil (NYSEARCA:BNO) trades at $56.05 per barrel. As we see, these numbers are good enough to get some work at rock-bottom dayrates but nothing more, at least in 2017. Oil should be above $60 per barrel for real improvements.
For Seadrill, this contract follows the extension of AOD III with Saudi Aramco. In my view, the company will need more than AOD III extension and a minor deal with Total to improve its negotiating position in the upcoming restructuring.
Last time, Seadrill stated that we will know the results of restructuring negotiations by the end of April 2017, so there will be plenty of time for creditors to assess whether OPEC deal had a significant impact on the offshore drilling market.
I acknowledge that OPEC/non-OPEC ability to cooperate and cut production is positive in the longer run, but time could be an issue for Seadrill as it is unlikely that the company will be able to kick the can down the road and postpone its restructuring again.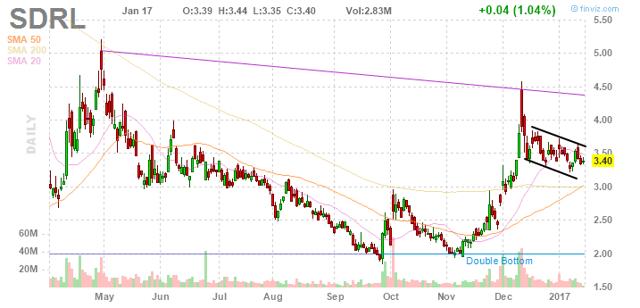 From a practical point of view, Seadrill shares are slowly descending with lower highs on each rebound attempt. The new contract announcement will not break this trend as the bottom line impact is minimal. To break out of this downtrend before the restructuring, Seadrill needs Brent at $60.
Disclosure: I/we have no positions in any stocks mentioned, and no plans to initiate any positions within the next 72 hours.
I wrote this article myself, and it expresses my own opinions. I am not receiving compensation for it (other than from Seeking Alpha). I have no business relationship with any company whose stock is mentioned in this article.
Editor's Note: This article covers one or more stocks trading at less than $1 per share and/or with less than a $100 million market cap. Please be aware of the risks associated with these stocks.