Zendesk's (NYSE:ZEN) shares have continued to underperform since early November (-14%) amidst an environment in which broader indices and sectors like the S&P 500 (NYSEARCA:SPY) and the Technology SPDR ETF (NYSEARCA:XLK) have gained ~6.5% and ~4.3%, respectively. Much of the decline can be attributed to the lack of sufficient internal execution in the third quarter along with a major salesforce restructuring. However, the re-rating of the stock over the past three months appears overdone in my view given that the company continues to scale the product as a complete customer service ecosystem/platform rather than a one-dimensional ticketing system, evidenced by its expansion of Zendesk Explore and Connect.
With full-year revenue growing ~65% from 2014/2015 and management guiding for growth north of 48% for FY 2015/2016, I believe Zendesk is mispriced and isn't receiving proper attention from investors and the Street, trading at only 4.8x FY2017 EV/revenue. Assuming management is able to deliver on FY2016 guidance, I believe shares are primed for a rebound as 2017 progresses as top-line growth continues to arrive in at +30%, gross margins continue to expand and an expanding product portfolio enhances the ability to cross-sell products.
Worries Over Slim Third-Quarter Top-Line Beat Are Overdone
Given that Q3 had been (and typically is for SaaS companies) a seasonally strong quarter, the company's top-line surprise of a mere 2% invited a cloud of worry and questions surrounding the sustainability of its core product line and ability to fend off Freshdesk and Desk.com by Salesforce.com (NYSE:CRM). Expanding upon the reorganization of a major portion of the sales team that began in Q3, management described the shift as a change from the "hunter-farmer" method to a territory-based system, which caused some turnover and in turn slippage of deals.
On a broader business perspective, losing connection with hot and primed leads that are expected to be turned over into "accounts" definitely has an effect on corporate guidance and is never healthy when evaluating a business. However, I believe that the attractive and "sticky" nature of the Zendesk suite acting as a near necessity for companies as customer service becomes an increasingly large area of focus should aid in keeping the deal pipeline warm for the company and potentially expect the "slippage" from Q3 to translate into Q4 sales, making up for the disappointment in Q3. Additionally, the change in sales management/executives should result in lower sales and marketing expenses/COR (cost of revenue) over the next few quarters as we see a gradual decline in employee turnover, which territory-based systems are supposed to mitigate.
For reference, sales and marketing expenses came in at ~54% of revenue in Q3, up 200 basis points on a y/y basis likely due to the shakeup. Moreover, one of the more encouraging trends from the quarter was the consistency in share of accounts paying for greater than 100 seats (users), coming in at 33% for the third straight quarter. Given that ZEN's primary audience isn't larger enterprise players, I think the move from 23% of total MRR (monthly recurring revenue) back in September 2014 to 33% signifies that the company has developed a larger brand and product awareness amongst larger corporations and built stability into a conventionally volatile merchant base.
Below, I have provided an updated table of metrics for cloud software peers:

One of the more encouraging trends from the quarter was the re-acceleration in total merchants signing up for core Zendesk Support, which in turn also drove up total accounts growth. Specifically, total paid accounts were up ~36% on a y/y basis. This trend is encouraging on two fronts: 1) Alleviating any concerns I briefly touched upon earlier regarding a degradation in customer satisfaction, retention, or company ability to attract customers and 2) reinforces the thesis that a turnaround in internal execution will drive revenue growth back to previously seen rates (+30% y/y, +7-8% q/q) given that the core business fundamentals are intact. Readers familiar with my work are likely aware of my preferences of breaking revenue down to the smallest bit, especially when analyzing SaaS models that are traditionally highly profitable (gross) in the long run.
Like most firms in the sector, Zendesk provides a rough count on customer metrics and most recently disclosed a paid customer count of over 87,000. Growth in average revenue per customer account (ARPCA) slowed to single digits (7%) y/y compared to 24% in Q3 2015. Once again, I think it's fair to attribute the slowdown due to the operational inefficiencies outlined and is not an issue that I believe will persist given that growth in actual accounts grew, placing all of the focus on internal fixes. Working with a crude forecast, assuming ARPCA growth returns to double digits (10%) in Q4 and surpasses the $1,000 mark, the company will have over 30% of its customer base paying over $400K/year in subscription fees (assuming largest 30%+ customers purchase 100-plus seats). Any growth in accounts in other suite products such as Chat, which saw accounts growth of 27% y/y in Q3, would serve as the upside scenario.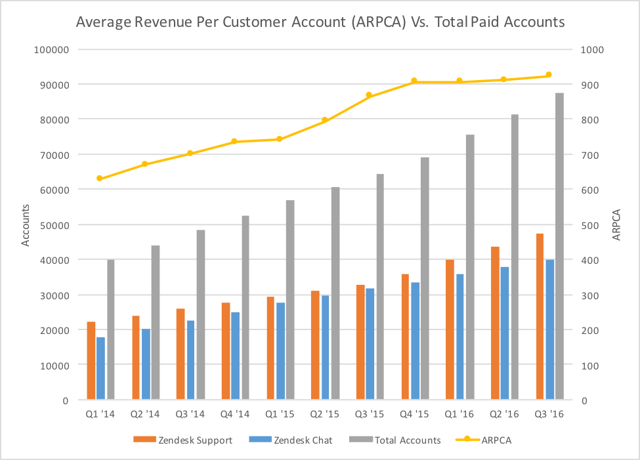 (Source: Company filings)
Returning to the valuation perspective, I believe that the primary reason Zendesk trades at a discount to its peers and remains punished following the Q3 report revolves around internal execution and lack of confidence in management's ability to re-accelerate growth and reach the $1 billion revenue milestone that was reiterated this past quarter. Moreover, I think that the company still has significant room to expand operating margins notably in the near term as the sales team "cleanup" concludes. Specifically, GAAP operating margin only improved by around 1.5% this quarter (y/y), likely again due to the lag in sales the company foresaw with the shakeup. Placing the $1 billion milestone into perspective and assuming FY 2016 revenue comes in at ~$311.4 million (just above guidance range of $309-311 mil.), the company would have to grow its top line by 34%, 36%, 34%, and 31% from 2017-2020, respectively, to fulfill its long-term guidance.
Additionally, I believe that as the company maintains a top-line growth rate of over 30% and matures, the primary focus should shift to scalability and focus on cash flow maximization. The model pictured below takes this into account, starting with a gradual reduction in COR, R&D, and G&A (2-3% through 2017) which results in the company turning a profit in Q3 2017. Management recently guided and confirmed its expectations of being FCF positive for FY 2017.

(Source: Personal estimates)
Valuation and Forecast

(Source: Company filings, personal estimates)
Above I have modeled the company's income statement through 2020. For the fourth quarter of 2016, I am projecting q/q sequential growth of 9% from Q3 and am within management's guidance range of $86-88 million for the quarter. Additionally, I am marginally above the consensus estimate of ~$87.5 million for Q4. Similarly, I am above consensus by around $1 million for full-year 2016. That said, I project full-year 2016 revenue to come in at ~$311.4 million, slightly above the upper end of guidance.
Regarding 2017, I expect q/q sequential growth rates to gradually accelerate from 6% in Q1 to 9% in Q4, allowing time for the new sales organization to settle in. Collectively, I am projecting the company to be profitable on a non-GAAP basis for FY2017 - $0.02/share. Given that the restructuring began sometime in July and assuming that it will take, or would've taken, six to nine months (worst case nine) to complete, I expect that most or all of the inefficiencies that plagued the company starting in Q3 should be behind it/soon will be, allowing it to refocus on growth. Consensus estimates for FY2017 are ~$405 million, around 3% lower than my expectations for the year. In the event that the company guides FY2017 revenue in line with consensus estimates (that have been revised lower since Q3), I'd expect downside to be capped at ~$21/share (applying 4.5x multiple to FY2017 revenue estimates).
As mentioned above, I project y/y full-year revenue growth to come in around 30-35% through 2020 which should push the company slightly over its goal at $1.004 billion.
Shares took a sharp hit yesterday (Jan. 17) on a downgrade/note from JMP Securities that mentioned a possible disappointment in Q4 billings ($96 million consensus) when the company reports in early February. For clarification, billings are referred to the collection of payments after providing SaaS services.
Ultimately, it appears that views on the timeline of Zendesk's sales restructuring vary significantly and have many puzzled, however, I believe that the concerns are nearing exaggeration and many investors are forgetting that the total addressable market for the company's suite is too large to quantify given the necessity of a customer service platform in a digital age. I derive my 12-month target of $28 using a 2017 EV/revenue multiple of 6, representing upside of ~26% from current levels.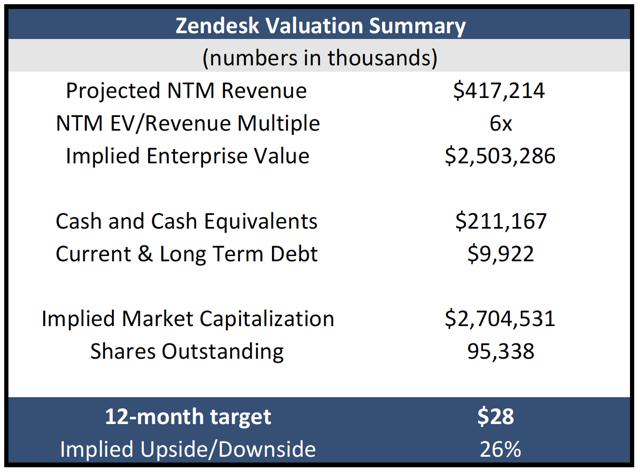 (Source: Personal estimates)
Note: Data as of market close, January 17th, 2017.
Disclosure: I am/we are long ZEN.
I wrote this article myself, and it expresses my own opinions. I am not receiving compensation for it (other than from Seeking Alpha). I have no business relationship with any company whose stock is mentioned in this article.