In the first part of this article, we looked at Barrick Gold (NYSE:ABX) from a fundamental perspective, as an investment. We determined that while ABX has a significant opportunity cost, it also offers a risk/reward profile in favor of the bulls. Today, we are going to look at the seasonal pattern that makes ABX highly playable, for both investors and traders.
Let's begin.
A look into the data of ABX's seasonality shows an interesting pattern. It's a pattern with clear bull and bear markets, making it playable (for traders) and applicable (for investors, via the timing of protective options measures or dollar cost averaging - i.e., setting times to buy more). The statistics show that ABX's pattern that is tradable and/or investable because it is statistically "a thing" (i.e., the data are statistically non-random, giving a high confidence of a phenomenon at play rather than a coincidence or a trick on the human brain).
Here it is: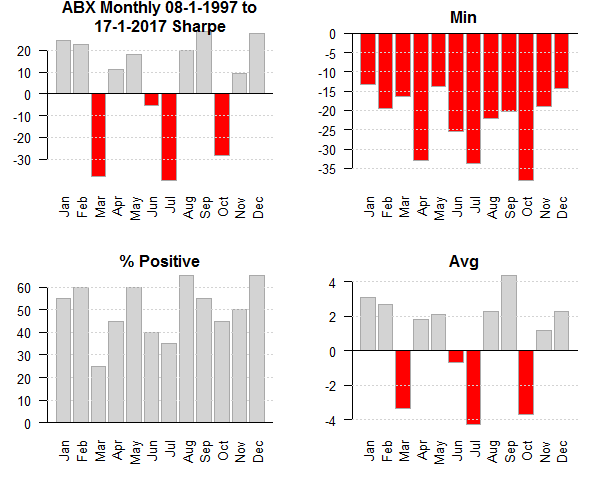 Note that this is based on 20 years of data. The pattern is statistically significant and therefore highly unlikely to be a coincidence. Clearly, ABX undergoes a intra-year cyclical trend of three bull markets and three bear markets.
When we delete the older data, we find the trend holding but becoming more intense during specific bear markets. Since 2008, the March bear market has intensified, and the bear markets afterward have weakened successively. If anything, this should teach ABX investors to avoid March: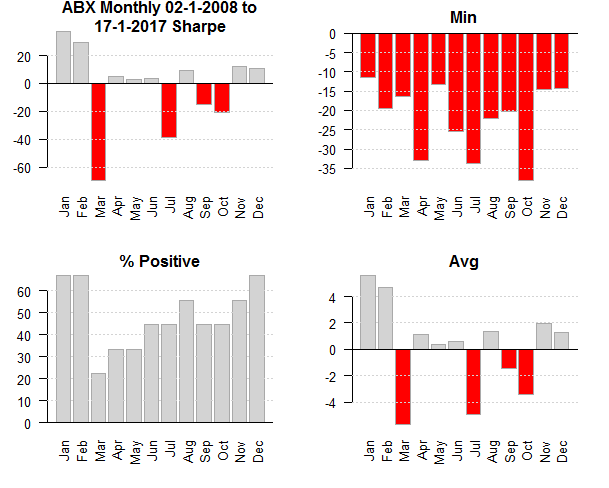 If we cut older data so as to start the analysis at the newest volatility regime, which I define as 2012, we see a more interesting pattern that falls within the larger pattern but might be too new to trust:
Here, again, we see a strong and stable winter bull market, followed by a up/down cyclical pattern. Because I rarely see such a pattern, a common fundamental explanation eludes me. Usually, we see three-month patterns, which follow quarters; here, we see up/down swings, which are common to technical traders, who would explain the above as oversold-overbought swings, but uncommon to fundamental investors.
For now, I recommend we ignore the month-to-month swings shown in the 2012 onward data and rely on those patterns that have stood the test of time. In terms of investment and trading strategies, we have a large list of possible tactics:
Investors should:
Avoid March, selling if possible.
Buy protective options strategies in March, July, and late August.
Set their dollar cost averaging strategy for late October.
Just buy and hold from November to February.
Here's what the results of that strategy, employed over the past 20 years, would look like: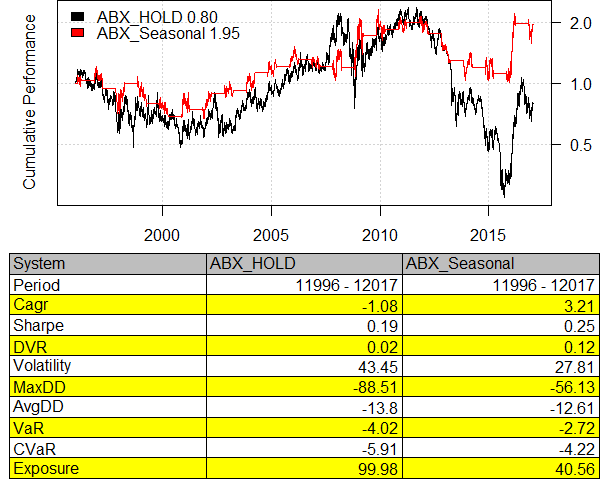 Traders should:
Take short option positions for March.
Open long position trades from November to February.
With ABX on an EPS upswing, I'm quite confident that we will continue to see winter gains. ABX reports earnings in February, and I'll be running an in-depth earnings report on the stock for Exposing Earnings. The preliminary data is encouraging for ABX longs; just remember: March is coming.
Note: All unlabeled figures were created by me from data pulled from Yahoo and ADVN through R. Charts with blue backgrounds are from Etrade Pro. Fundamental charts are from a paid subscription at simplywall.st.
Get my articles as soon as they are published by clicking the big orange "follow" button at the top of this page. Make sure you choose "real-time alerts." Trade alerts sent through "Copy My Trades."

Learn More about Earnings
Exposing Earnings - my earnings prediction newsletter - is now live, here on Seeking Alpha. In this newsletter, I employ both fundamental and pattern analyses to predict price movements of specific companies after specific earnings. I offer specific strategies for playing those earnings reports. To date, it is 94% accurate on earnings report predictions.
Disclosure: I/we have no positions in any stocks mentioned, and no plans to initiate any positions within the next 72 hours.
I wrote this article myself, and it expresses my own opinions. I am not receiving compensation for it (other than from Seeking Alpha). I have no business relationship with any company whose stock is mentioned in this article.