Recent Downward Trend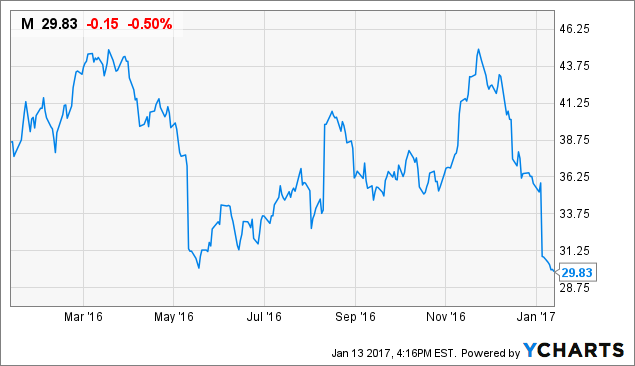 Source: Yahoo Charts
Macy's (NYSE:M) is currently trading at $29.90 a share, just off its 52-week low. The price dropped recently off weak store sales over the holiday period. Macy's recorded a 2% decline in sales compared to the same period last year. This trend was actually a significant improvement on previous quarters of the year and Macy's e-commerce wing continues to grow rapidly.
Strong Dividend Yield With A History Of Payment
Macy's has consistently recorded strong free cash flow which has allowed it to increase its dividend consistently over the last five years without missing a payment. The current dividend yield is 5.1% with a dividend coverage ratio of 2.4 (any dividend coverage ratio of above 2 is healthy and sustainable).
Cyclical Troubles Which Should Fade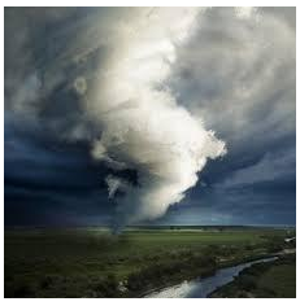 Like Kohl's (NYSE:KSS) and Nordstrom (NYSE:JWN), Macy's has fallen foul of cyclical trends in retail, such as poor shopping figures over theChristmas period, which have depressed sales. The strong dollar in particular has resulted in weak tourism spending as tourists' purchasing power has rapidly declined compared to previous years. The inclement weather in much of the United States hasn't helped. Part of the problem for Macy's lies in its large number of stores allowing it little room to adapt to these cyclical shocks to physical retail. However, these problems are not indefinite and it is doubtful that this unusually bad combination of factors will continue to persist.
Management On The Right Path
Macy's management is adapting well to a changing retail world. The company has embarked on significant store closures consolidating around its strong sales particularly in private label goods, which account for 20% of its sales, and jewelry products. It is also encouraging that management is embracing e-commerce and focusing heavily on online sales, which have seen double-digit growth annually for several years.
The Current Environment
On December 14th 2016, the Federal Reserve raised the federal funds rate by 25 basis points and forecasted healthy economic growth in the year ahead. In tandem with this, President Trump takes office on January 20th promising a hefty tax reform and regulatory changes.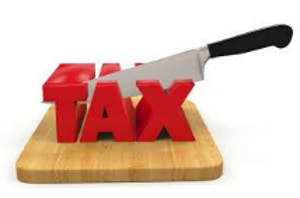 In this risky climate, depressed blue chip equities with strong cash flows and high dividends are likely to surge. Retailerssuch as Macy's will greatly benefit from tax cuts. First, it will benefit directly from the corporate tax cut from 35% to 15% that Trump has pledged. Secondly, Trump has also pledged to cut income tax, which will indirectly benefit Macy's through increased sales in the retail space. Given a Republican Congress, both of these tax reforms should pass comfortably.
If we only consider the corporate tax cut, as the latter cut is harder to quantify, the value is easy to see. In FY 2016, Macy's paid $608 million of tax on an income before tax of $1,678 million giving them an effective tax rate of 36.2%. Therefore, if Trump were to follow through on his corporate tax rate pledge, Macy's would save roughly $350 million in taxes alone next year.
Of course, we can't assume revenue to be constant next year though. Macy's itself forecasted it will lose $575 million in revenue due to store closures. If we combine this with an overly bearish 4% decrease in revenue next year, Macy's would record revenue of $25,400 million. Assuming an operating margin of 7.25% and a 15% tax rate, Macy's would record a net income of $1,560 million, an increase of roughly 45%.
Valuation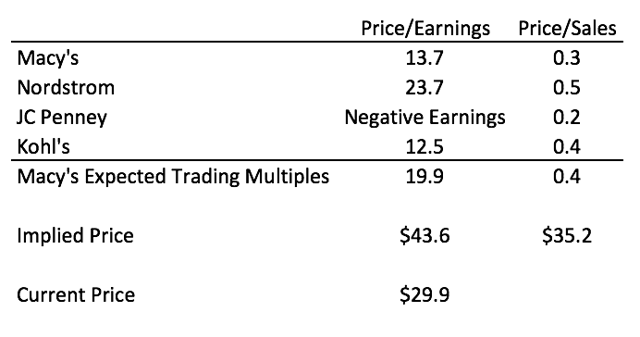 In the above analysis, Nordstrom is given twice the weight of JC Penney (NYSE:JCP) and Kohl's as, like Macy's, it has unusually high margins for the retail space, and is more similar in composition to Macy's than the other two. Therefore, we get a range for Macy's stock of $35.2-$43.6, trading around a conservative fair value of $38 a share.
In Summary
At a 52-week low, Macy's currently low share price presents a unique buying opportunity. I believe that the stock will quickly return to the $35-40 range as the cyclical winds pass by giving investors an expected return of 25% on the stock appreciation and 5% on the dividend over the next year. Moreover, if the Trump administration follows through on the corporate tax cut, we should expect Macy's stock to break through the $40 barrier.
Disclosure: I am/we are long M.
I wrote this article myself, and it expresses my own opinions. I am not receiving compensation for it (other than from Seeking Alpha). I have no business relationship with any company whose stock is mentioned in this article.