The Trump Rally
In contrary to what most polls predicted, the US chose Donald Trump for President on the 8th of November 2016. This surprise caught investors off-guard and their initial reaction pushed the Dow Futures down by 800 points during the night of the election. But don't be mistaken to think that this was due to the absence of buyers. Instead, it was due to the big amount of sell orders as volumes on the S&P 500 (SPY) (VXX) (IVE) (SH) (VOO) (SSO) (SDS) (IVV) (SPXU) (UPRO) (QQQ) (DIA) (DOG) (UDOW) (SDOW) (DDM) (UDPIX) (UWPIX) (UDPSX) futures were 17 times above the average daily volume.
I was a bit surprised by Trump's victory but I was astonished by the market's reaction. I mean, I (still) share the view that Trump's unpredictable, reactive and unstable character is not good news for the US and global economies, but I never imagined this kind of panic in 1 single night. Nonetheless, I avoid making investment decisions under these systemic risk-off events (neither buy nor sell), so I took a deep breath and waited for calmer days to figure things out.
I didn't have to wait long. In fact, the panic didn't last and the S&P 500 jumped 7% since the election. I confess that I initially saw this run as a relief rally after a dramatic overnight panic reaction and that I was surprised with the new all time highs in the stock market. Still, I was happy with the year-end return boost and took the opportunity to take some money out of the table.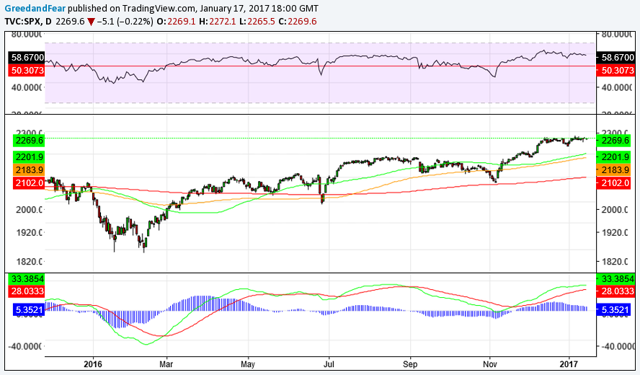 Source: Trading View
In the end, the S&P finished 2016 with a price gain of 10%. This is in line with several statistical data. In fact, in a total of 22 election years (now 23) since 1928, the S&P 500 was down only in 4 of them. Also, the election year posts on average the 2nd best performance of the 4 years of the presidential cycle. Finally, the S&P 500 performance on election years is usually better if Republicans win the presidency.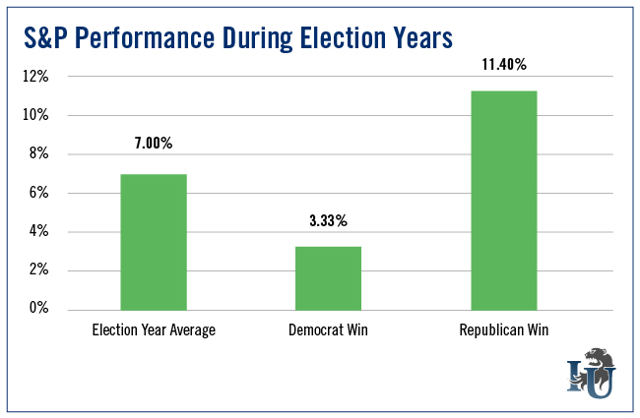 Source: Market Oracle
Using statistics to help us looking forward into 2017, don't forget that the post-election year historically underperforms the remaining years of the presidential cycle.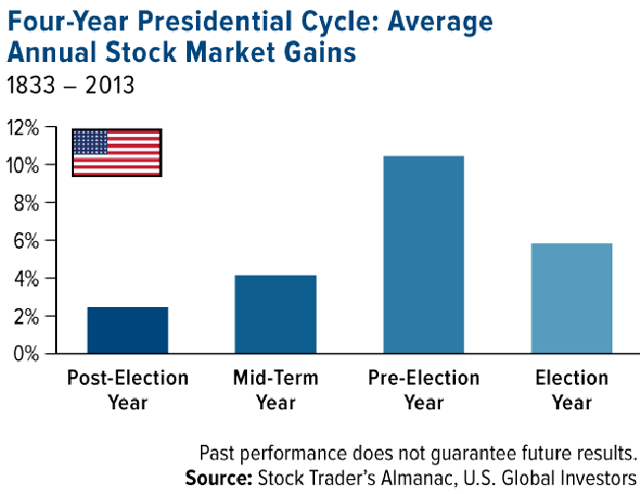 Source: Stock Trader's Almanac, US Global Investors
The Market Is Trading In Bubble Territory
Despite all the sudden enthusiasm about Donald Trump, the truth is that this rally is all about promises and expectations of a "Great America again".
As a consequence the valuations that were already very expensive are now in what I consider to be bubble territory. Sure, they can remain this way for a long time and valuations can even get richer than they already are, but sooner or later reality always kicks-in. In fact, a trailing PE of 26 is an outlier rarely seen in the long term history of the US stock market, whose mean is a PE of 15,6 and whose median is a PE of 14,6. With the markets priced for perfection (or even beyond that), the current valuation puts tremendous pressure both on the new President to deliver his election promises and on Companies to increase their earnings in 2017.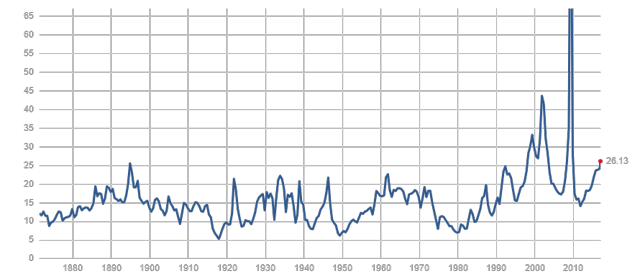 Source: Multpl
Note that I'm not saying there aren't good investments out there (mostly overseas and to a lesser extent in the US). There's always a bull market starting somewhere. What I'm saying is that as a stock picker it's getting really difficult to find decent companies at decent prices in the American market. I'm also suggesting you should avoid passive investment strategies at these extreme valuations and that it's not a bad time to reduce your exposure to US equities, considering the rally has lost its steam and the markets have been flat lining for the last 4 weeks.
In Summary
The inauguration of Donald Trump as the 45th President of the United States will take place on Friday, the 20th of January. The rally of promises will soon come to an end. Afterwards, the focus will be on delivering what was promised. With the markets priced for perfection, any mistake or delay will be costly for investors. This doesn't make me comfortable with my US equity exposure and makes me very doubtful of the bullish year end predictions for the S&P500 (especially considering this is the 1st year of the presidential cycle). That's why I took some skin out of the game.
Disclosure: I/we have no positions in any stocks mentioned, and no plans to initiate any positions within the next 72 hours.
I wrote this article myself, and it expresses my own opinions. I am not receiving compensation for it (other than from Seeking Alpha). I have no business relationship with any company whose stock is mentioned in this article.