With the market near all-time highs, it is becoming more difficult to find stocks that offer investors a good solid entry point for significant gains. I found one such company in the technology sector that I believe the market is overlooking, Himax Technologies, Inc. (NASDAQ:HIMX).
The stock price has been in a steep decline since late September when it earned a downgrade and a $10.20 price target from Nomura's Donnie Teng. The reason for the downgrade was weaker-than-expected shipments from Microsoft's (NASDAQ:MSFT) HoloLens AR headsets.
Fast forward three and a half months to today, and the stock is trading at the $5.60 level, a number nearly 50% lower than its 52-week high.
Lowered Guidance
In October, the company guided lower on revenue from some of its products in the AR space and explained that it was due to slower-than-expected sales coming from Microsoft's HoloLens.
The market is focusing on a decline in sequential growth in large panel IC drivers even though the YoY numbers are showing growth. Himax is expecting double-digit increases of up to 50% in other areas of the business, such as driver ICs used in automotive applications.
CEO Jordan Wu reinforces that driver ICs used in tablets will continue to grow in the double-digit range throughout Q4.
Wu also states that the company has seen significant traction, customer adoption and design wins of its on-cell solutions. Notably, a leading Chinese smartphone manufacturer is featuring its solution on a newly launched flagship tablet. I encourage interested investors to read the earnings call transcript here.
Why I Am Buying This Level
I believe Himax is near its bottom at $5.60. Now it becomes a battle of wills between the bulls and the bears. In my opinion, the selloff is way overdone, and I see limited downside from this level and the potential for significant gains going forward.
Look at this three-year weekly chart: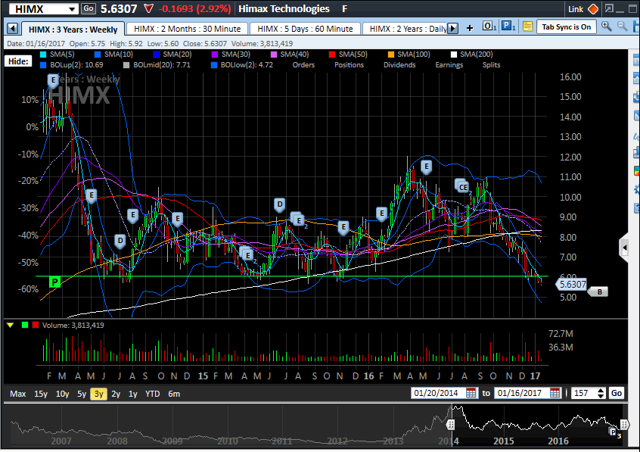 To my eye, this is the notorious selloff from the last earnings report that has, in my view, become a little ridiculous. These are computer algorithms that do what they are programmed to do, which is go to extremes.
This morning, the stock traded $.04 below the August 2015 flash crash price, giving investors what I would call "an investable bottom."
Shares are trading at a long-term level of support, and the company's business model is making a profit. This is not a company in distress, and it is not dumping shares on the market in secondary offerings.
The company's share count was unchanged at 172.4M in the last earnings report.
Himax Has Zero debt and is Growing YOY Profits
In the third quarter, management saw revenue grow 31% YoY to $218M. Revenues from the non-driver business increased to $46.8M, up 51% YoY. Investors can view the earnings report here.
Contrary to an article I read yesterday, the company's inventories actually declined from increased sales.
Here is a clip from the Q3 earnings report:

If you believe (as I do) that the VR world is going to continue to grow and that automotive touch screens will gain in popularity, then Himax may be a good play to add to your portfolio. I have added to my position at the current price and will continue accumulation on any weakness.
Finding a Good Entry Point
A look at a 60-minute chart: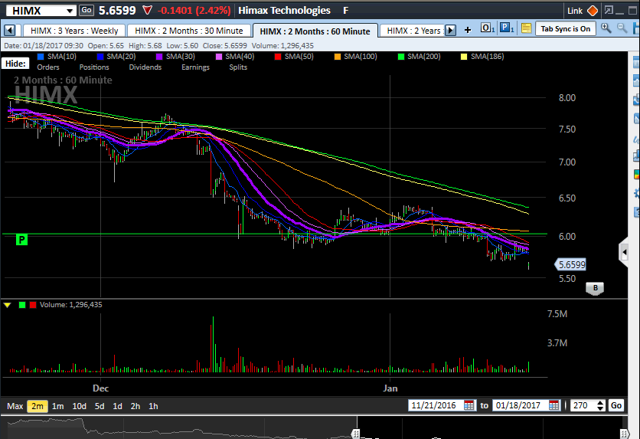 Contrarian Point of View
Multiple downgrades and the lack of analyst recommendations to buy Himax have me considering that I might be a little early in my call, however, I do think that the yearly low is at hand.
The final reason why I like the entry point right here is that the stock recently experienced a long and painful selloff and hit a level of strong support. Every time the stock has traded at this level, it has rallied back to $8.50 or $10.50, representing a 40% to 60% upside.
I like to buy low and sell high and, from looking at the chart above, one can see today is the best opportunity to buy low. I believe downside is limited here.
Earnings Catalyst
The company is scheduled to report earnings on February 2nd. Many investors may choose a wait-and-see approach which is understandable. However, I believe that the stock is a buy into earnings, and today is a great day to buy the stock with a 12-month perspective.
Expectations are low, and the company has the possibility of surprising to the upside. Investors can expect a mixed bag of results with growth in some segments and a pause in others.
It will be interesting to hear about the progress from Microsoft and its sales numbers for the HoloLens. Any positive news here could cause a significant rise in the share price.
Conclusion
Himax Technologies is a growth company that is having a slight pause in the rate of growth in a few segments, but is still growing revenues and net profit YoY.
A 50% decline in 115 days on a solid growth company with zero debt, growing revenues, and bottom-line profits is simply overdone. Fears of a slowdown in AR will likely prove to be overblown, but the company will have to prove itself going forward.
Near-term price target is $8.
Earnings are just two weeks away, and the stock may be in the final bottoming process as we speak. The process takes time, and investors sometimes get multiple opportunities to scoop up good, quality companies at bargain prices.
My belief is that lowered earnings expectations are priced into the stock, and it is a good opportunity for the astute investor.
As always know your exit point before making any trade.
Disclosure: I am/we are long HIMX, LYG, CHK.
I wrote this article myself, and it expresses my own opinions. I am not receiving compensation for it (other than from Seeking Alpha). I have no business relationship with any company whose stock is mentioned in this article.