This morning we learned from the Labor Department that the Consumer Price Index rose 0.3% in December. The cost of living in the US rose 2.1% on a year-over-year basis, led by increases in healthcare, rents and energy costs. Of course, this is being interpreted as good news by Wall Street.
In what is typical one-dimensional Wall Street analysis, a senior economist at Jefferies LLC in New York opined that "we're seeing broad-based, modest increases in prices. The Fed is going to be pleased" with these numbers.
As usual, the financial press made virtually no mention of the separate report that was released by the Labor Department in conjunction with the Consumer Price Index - real average hourly earnings. Real earnings simply take the average hourly earnings data for December, reported along with the payroll data, and adjust it with today's reported inflation data. This real earnings report also factors in any changes to the length of the workweek to arrive at real weekly take-home pay, but this detail is rarely ever reported.
I have been expressing my concern about the deterioration in real earnings for months and today's report reflects my worst fears. Real income for the majority of US workers, which includes production and non-supervisory employees, is now declining on a year-over-year basis. This may seem trivial to investors who have disposable income and savings for investment, but real income growth is the lifeblood of our consumer-based economy. This decline does not bode well for US economic growth in 2017.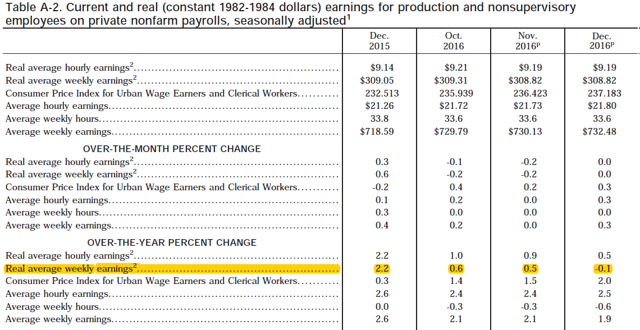 Note that I am focused on the line item that factors in the year-over-year change in hours worked, which has been declining, to arrive at a 0.1% decline in real (inflation-adjusted) weekly earnings. When we include supervisory personnel, the increase is a paltry 0.2% in real weekly income growth.
Should the Fed continue to raise short-term interest rates this year to stem the rise in inflation, my concern is that the tightening in financial conditions that will result will slow what nominal wage growth we are seeing today, leading to a further decline in real wages. As for the increase in the minimum wage that took effect in 19 states at the beginning of the year, this change doesn't move the dime on overall income.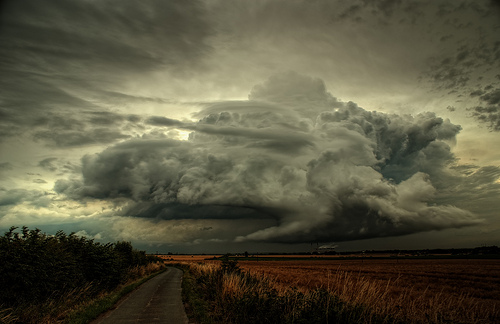 The implications of this foreboding development are many, none of which is good. It will be a significant headwind for consumer- spending growth, which in turn will slow the rate of economic growth. That will have negative ramifications for corporate revenue and profitability in 2017. The sectors that are likely to face the most serious headwinds to a decline in real income are the consumer discretionary (NYSEARCA:XLY) and consumer staple (NYSEARCA:XLP) sectors. Ironically, the consumer discretionary sector is leading all others within the S&P 500 (NYSEARCA:SPY) in terms of performance in 2017. A decline in real income is a very foreboding sign at the latter stages of an economic cycle.
The DIY Investing Summit is a joint project of Seeking Alpha and SA contributor Brian Bain. The Summit brings together 25 of the top SA contributors for in-depth interviews with tips for successful investing in 2017. Normally, the Summit requires a fee, but for a limited time you can obtain free access by clicking on this link.
Disclosure: I/we have no positions in any stocks mentioned, and no plans to initiate any positions within the next 72 hours.
I wrote this article myself, and it expresses my own opinions. I am not receiving compensation for it (other than from Seeking Alpha). I have no business relationship with any company whose stock is mentioned in this article.
Additional disclosure: Lawrence Fuller is the Managing Director of Fuller Asset Management, a Registered Investment Adviser. This post is for informational purposes only. There are risks involved with investing including loss of principal. Lawrence Fuller makes no explicit or implicit guarantee with respect to performance or the outcome of any investment or projections made by him or Fuller Asset Management. There is no guarantee that the goals of the strategies discussed by will be met. Information or opinions expressed may change without notice, and should not be considered recommendations to buy or sell any particular security.