By Paul Price of Arrow Loop Research
In recent years retail's sweet spot has been "off-price" merchandise. That means high-quality, yet deeply discounted goods. People want nice things but are insisting on bargain prices.
Ross Stores (NASDAQ:ROST) and Costco (NASDAQ:COST) are businesses that have prospered along with that trend. Both companies appear on track to post all-time record earnings in their current fiscal years. Shares of each have risen significantly since the end of The Great Recession.
These firms make money because educated consumers know what things are worth and appreciate getting them at marked-down levels.
Should you be buying, or holding these stocks now, with the expectation of further gains?
Those who buy stocks in the way consumers buy other items won't be purchasing Ross or Costco at today's quotes. Neither appears to offer much upside over the coming year. Both ROST and COST are pricey versus their historical valuation metrics.
The 2008-09 recession left ROST available to investors at a single-digit forward multiple. ROST sold at P/Es ranging from 10.5x to 14.0x during each of the next four calendar years (green-starred below). Its asking price escalated in recent years as momentum chasers continued to jump on board.
From 2010 through 2016 ROST sported an average multiple of 16.9x. Its typical yield was about 1.05%.
Prior to 2017, there were three previous periods of clear overvaluation (red-starred). Pullbacks started at P/Es ranging from 20.0x to 22.6x. Ross Store's Jan. 13, 2017, multiple of 21.4x its FY 2017 projection (ends Feb. 3, 2018) falls right in the midst of that "toppy" zone.
ROST's long-term holders saw eventual gains. Failure to sell at overpriced valuations forced them to sit through drawdowns of 25.1% (from $35.40 to $26.50), 24.6% ($41.00 to $30.90) and 23.3% ($56.70 to $43.50) over the following 6 - 9 months.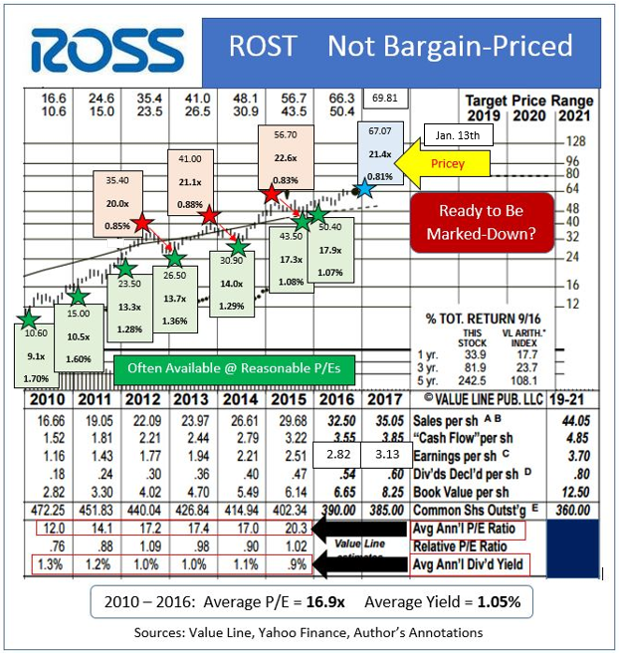 A regression towards a more typical P/E could send ROST back to the $53 - $60 range, even if the coming year plays out well. Unforeseen adversity could make things even worse.
Independent research house Morningstar sees it similarly. They carry ROST with a 2-star, out of 5, sell rating. Their fair value estimate sits at $59, about 12% below last week's quote.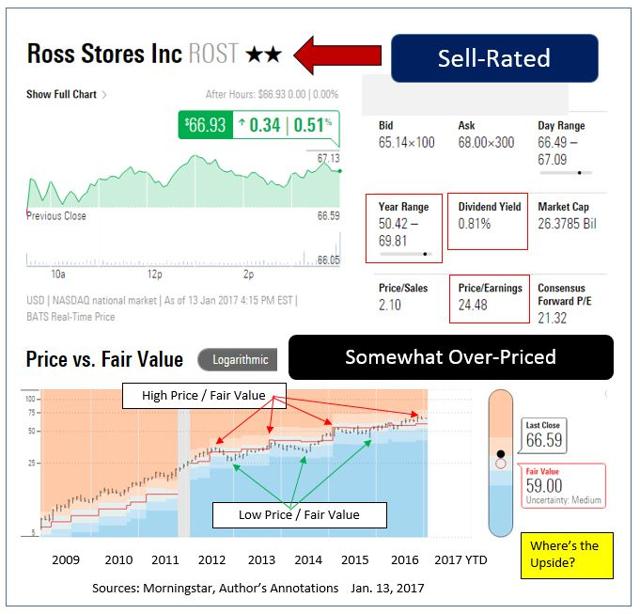 Costco is a terrific operator which prices product aggressively. COST makes virtually all its net profits from recurring membership fees. High customer loyalty allows management to raise those fees about 10% about once every two years.
The company's good characteristics are well known and appreciated, though. Costco was so beloved by investors that, late in 2015, its share valuation ventured to north of 32x (red-starred below). That valuation represents a 38% premium to Costco's 10-year average P/E of 23.2x.
Paying too much achieved the expected result. While profits trended higher over the ensuing thirteen months, COST shares traded last week around $7.70 per share lower.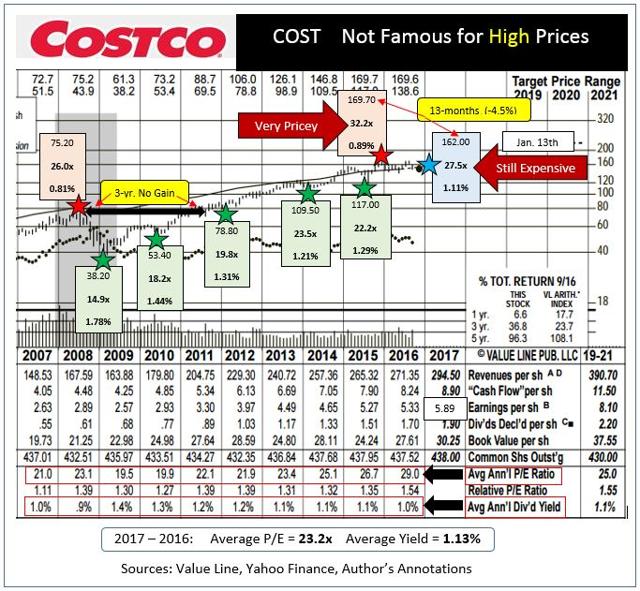 Costco's best entry points, during 2009, 2010, 2012 and 2015, came at below average multiples. Current yields at those moments (green-starred) were all higher than average as well.
As of Jan. 13, 2017, COST still fetched a pricey 27.5x its FY 2017 (ends Sep. 2, 2017) estimate of $5.89. Consensus views for FY 2018 now center on a rise to $6.54 per share. Applying a normalized P/E to Costco's forward estimate would only support an 18-month target price of about $152.
Could COST really see multi-year growth without parallel share price movement? A peek at the chart shows that's exactly what happened from the top in 2008 through the first half of 2011.
Once again, quantitatively-based Morningstar seconded my conclusion. They rate Costco with just 2-stars while calling fair value as $149, around 8% below the current quote.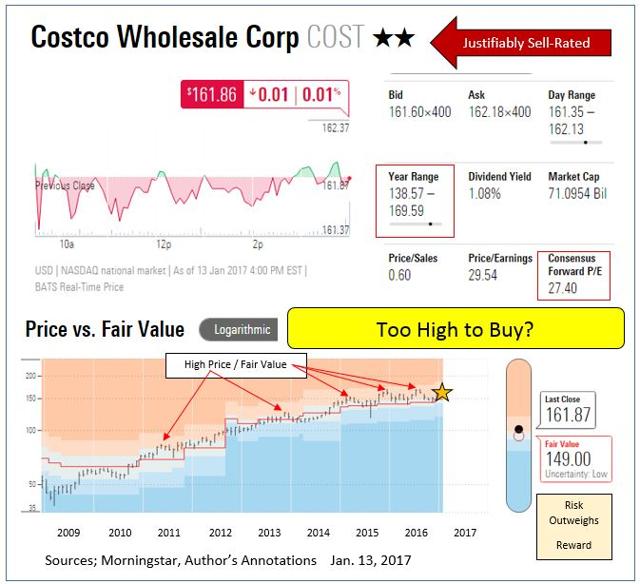 Why be the chump who pays top dollar to get stocks which are fated to go on sale later?
There will likely be much better future opportunities to get into Costco shares. It appears appropriate for value-conscious holders of both ROST and COST to be taking profits.
Both are great examples of good companies, trading at bad prices.
Take a free trial to Arrow Loop Research's Actionable Trade Ideas. Click here to get started.
Disclosure: I/we have no positions in any stocks mentioned, and no plans to initiate any positions within the next 72 hours.
I wrote this article myself, and it expresses my own opinions. I am not receiving compensation for it. I have no business relationship with any company whose stock is mentioned in this article.