Disney (NYSE:DIS) has been a solid investment through the years, with things plateauing over the last couple. This comes as ESPN has been a real overhang. However, there could be a catalyst to finally push Disney over $120 a share.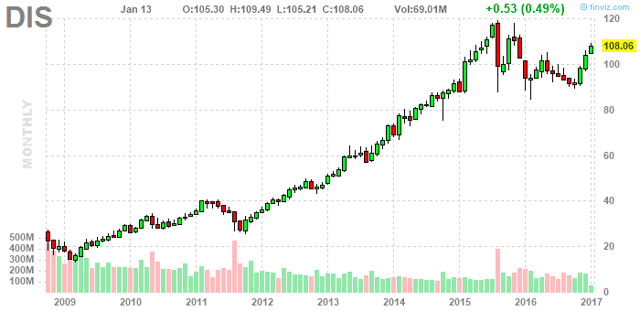 Various streaming options and decreasing interest in major sports has caused an exodus of ESPN subscribers. Yet, the theme park and movie studios businesses are still going strong. Some may argue that there are benefits to keeping the company "intact," i.e. diversification benefits. Yet, to an activist investor, the TV business is simply holding Disney back. The consumer products (read: toys), movies and theme parks go together nicely.
We could well see an activist, or Disney could become its own activist, and spin off the TV business, which generates some 40% of revenues. With that, the underperforming business will be gone, and it should trade at higher multiples.
The original "cable cowboy" John Malone has said of an ESPN spinoff - "If I had to guess, what you will see is a split of Disney with ESPN spun off and, probably, ESPN could be owned and protected by a distributor in the U.S." The TV network is too costly for Disney to keep running. And most agree with Malone, at least in terms of Disney needing to rid itself of ESPN. In a Citi conference survey, 84% of attendees said that what keeps them from owning Disney is they are unsure how Disney manages the pay-TV ecosystem.
Then, without ESPN, Disney could become very interesting, In particular, as a acquisition target with a stronghold in consumer experience - an area that the likes of Apple (NASDAQ:AAPL) might find itself looking to get a more diversified presence in. Or, Disney would be free to tackle new markets, such as buying up Netflix (NASDAQ:NFLX) for streaming or even looking at toymaker Lego.
The counter argument is that Disney can still use the cash that ESPN generates to invest in its other businesses as well as keep its buybacks and dividend intact. For now, as well, with CEO Bob Iger hoping to retire next year, it's unlikely that Disney does anything aggressive until a new CEO can step in. By that time, ESPN may have "righted" itself. The division still brings in a lot of money via advertising and the worst could be over, as ESPN finds a bottoming in its subscriber count. ESPN also has a couple catalysts as well, including moving to being included in smaller TV packages, as well as streaming. It's already moving toward taking content directly to consumers with its investment in BAM.
Disney is still one of those long-term holdings, being inherently diversified, and having a stronghold in various consumer-related businesses. I think the prospect of a Disney without ESPN is very appealing and a key catalyst for the company. Yet, even if this takes awhile (until after Iger retires and a new CEO has had a few years to settle in) Disney might be worth a look in the interim.
Disclosure: I/we have no positions in any stocks mentioned, and no plans to initiate any positions within the next 72 hours.
I wrote this article myself, and it expresses my own opinions. I am not receiving compensation for it (other than from Seeking Alpha). I have no business relationship with any company whose stock is mentioned in this article.