This week, I'm traveling through Europe. I do this occasionally to get a bird's-eye view of the European economy and reactions to various global events. This week, Brexit and President-elect Trump are in focus. However, Europeans seem more fixated (and/or concerned) with the latter. Thus, that will be the focus of this missive.
Since Election Day, selling pressure has been gated by hopes surrounding the looming capital gains tax cuts. After all, why sell something at a profit today when you can just wait a few months and pay a lower tax rate?
My "Trump Trades" series on Seeking Alpha has tracked this and other themes surrounding the incoming administration. This article will provide an update on a number of stock selections, along with a road map of what to expect in from broader markets in the coming months.
Stock Selection Update
On November 14, in my first Trump-inspired article, I presented Ten Trump Trades. Four of the selections have delivered 20% gains in the interim and half remain up a double-digit percentage.
For those who jumped in, I would be taking extraordinary profits along the way. QAD Software (NASDAQ:QADA), Glu Mobile (NASDAQ:GLUU), Celsius (NASDAQ:CELH), and Attunity (NASDAQ:ATTU) are the ones that have qualified thus far. Of those, I have since jumped back into GLUU on the pullback from its initial price spike.
I would also cut bait on Top Image Systems (NASDAQ:TISA) and Smith Micro (NASDAQ:SMSI) for the time being, in light of due diligence we have since conducted. Specific to TISA, we are bullish on the new management team, but turnarounds take time. We hope to return to that name later in the year.
We would also take profits (or completely sell) Radware (NASDAQ:RDWR) and seek entry at a more favorable Risk/Reward level: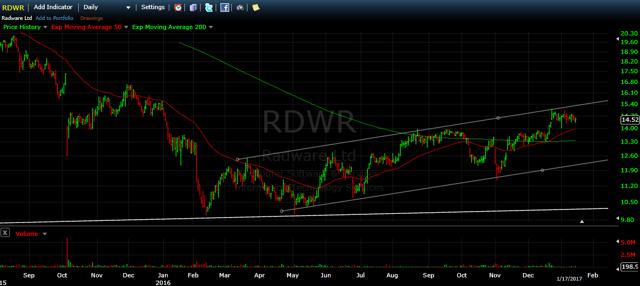 We remain bullish on the remaining names (in alphabetical order):
MATR, and RDCM are long-time members of my flagship "Official Portfolio".
MRIN was added to my Official 1% Portfolio on Dec 29. It has potential to be uplisted to the Official Portfolio, but it's a little early. The potential lies in its rearchitected product, which should be fully-integrated and available within a few months.
The company has invested $60M into R&D over the past two years. Yet, its current enterprise value is just $53M. At that level, the stock is discounting MRIN's current revenue stream (close to $100M annually), customer base, and leadership position.
Immediately following its IPO in 2013, the stock traded in the high-teens in 2013. We don't foresee a rebound to those levels. However, a DCF analysis implies that the shares could achieve a $300M valuation if the new platform is well-received. For now, our official position is small, but stay tuned for updates.
Getting Back To The Tax-Cut Theme…
Looking back in history, tax cuts have often been retroactive, but only to the date when the proposal was introduced in Congress. For example, the 1997 and 2003 tax cuts were retroactive to May. In 1981, the lower capital gains rate was retroactive to June 9.
Because of this, many investors are delaying planned stock sales. This sets us up for a market correction when the tax cut proposal gets introduced in Congress. After the 1981 proposal was introduced, the market dropped immediately. By September, the market had fallen nearly 20%.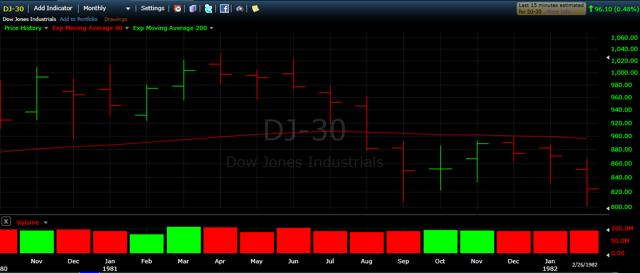 Investors should remain vigilant for a repeat of this.
However, until the tax-cut measures are introduced into Congress (months from now), the market has the potential to creep upward. Risk/Reward is elevated, but there's some still room for the Dow (NYSEARCA:DIA) to rise: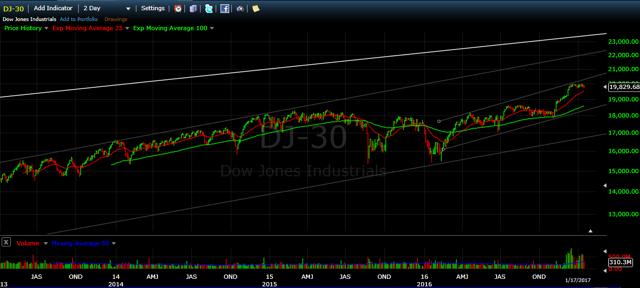 Relative to the 10-year Treasury yield, there's even more room to move: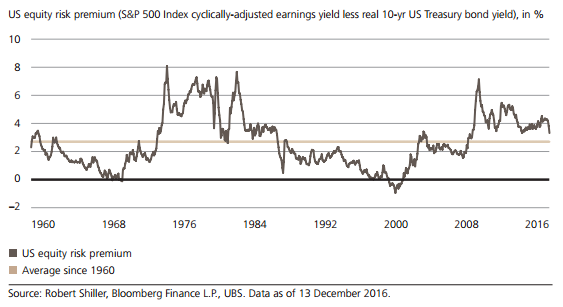 As you can see, risk-premium peaked in 1974, 1980, 1982, and 2009. All four peaks preceded big upward moves for the stock market. Conversely, the lows established in 1968, 1987, and 2000 all presaged market corrections.
At present, we are sitting on the safe side of the historical average. However, I would caution that the current 10-year yield has been artificially held in check by the Fed (and is now on the rise).
Still, there is no denying that the 10-year rate and stock market risk-premium both remain reasonable on a nominal basis. However, investors should note that the U.S. dollar and stocks have been moving in close concert of late. If this continues, a market correction could occur before tax-cut initiatives are introduced into Congress: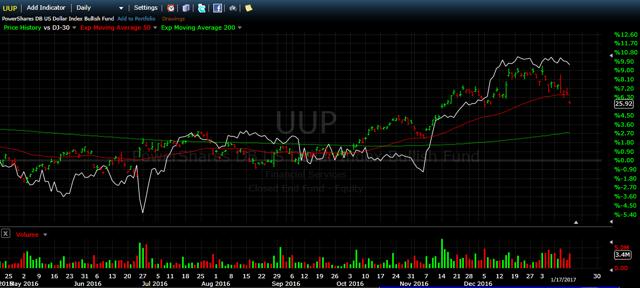 As you can see, the dollar has started to pull back. The move was exacerbated as the President-elect's intentions for the greenback were made clear today. Those who watch the balance of risk/reward didn't need a crystal ball to see that something was likely to stem the dollar's recent ascent: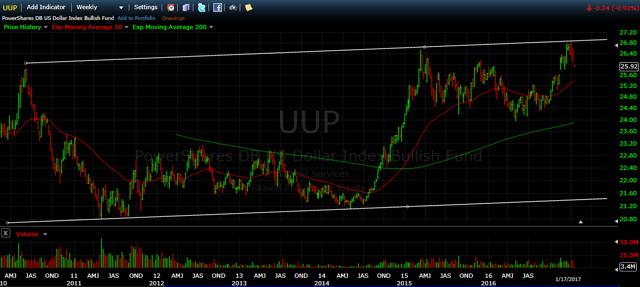 All things considered, the environment appears favorable for nimble stock pickers. If one assesses the various scenarios, I believe it's easy to see what will benefit (U.S. stocks) and suffer (bonds, China, and international stocks) if Trump's policies prove effective. Conversely, if Trump's plans fail, it's probably safe to say that stocks (domestic and international), the dollar, and interest rates will all pull back.
For those who wish to play the fence, the lowest-hanging fruit appears to be as follows:
Buy small cap domestic stocks that were battered by tax-loss selling at the end of 2016 (see my picks above).
Short Chinese stocks. Shorting the iShares FTSE/Xinhua China 25 Index Fund (NYSEARCA:FXI) is a liquid ETF-based way to do this.
Avoid trading the dollar. The risks are too varied; the potential rewards are not sufficiently compensatory.
To get more analysis and my latest stock picks in real-time, sign up for our free newsletter at PipelineDataLLC.com. As a reminder, reading my Investment Methodology is critical to understanding the lessons, secrets, and rules I utilize to buy and sell my stock selections.
Disclosure: I am/we are long GLUU, MATR, MRIN, RDCM, RSYS.
I wrote this article myself, and it expresses my own opinions. I am not receiving compensation for it. I have no business relationship with any company whose stock is mentioned in this article.
Additional disclosure: The information in this article is for informational and illustrative purposes only and should not be regarded as investment advice or as a recommendation regarding any particular security or course of action. The opinions expressed in Pipeline Data, LLC publications are the opinions of Mr. Gomes as of the date of publication, and are subject to change without notice and may not be updated. This content may also be published at PipelineDataLLC.com at a prior or later date. All investments carry the risk of loss and the investment strategies discussed by Mr. Gomes entail a high level of risk. Any person considering an investment should perform their own research and consult with an investment professional. Additional trading disclosures can be found in the Important Disclosures section at PipelineDataLLC.com.
Editor's Note: This article covers one or more stocks trading at less than $1 per share and/or with less than a $100 million market cap. Please be aware of the risks associated with these stocks.