Gold (GLD, GDX, IAU) traders have two sessions prior to the inauguration. It's been one of the most anticipated events since perhaps Brexit. Friday is going to be a critical day for the markets and it's expected that volatility will increase materially, as we're already seeing signs of that in early VIX trading. I said just over a week ago that it was going to be an interesting January for gold and with this major event now on the horizon, investors need to be prepared, from a portfolio standpoint, for what precious metals like gold might do.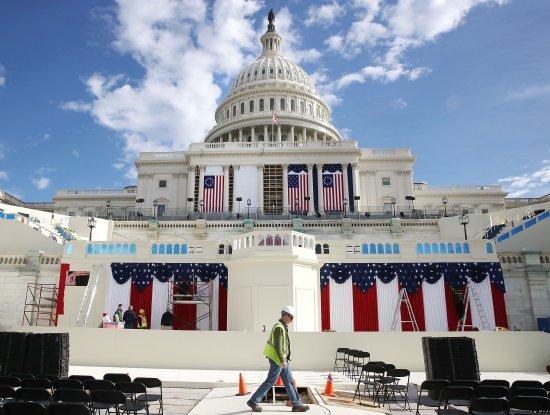 Source: Time
Gold Rallies Despite Positivity
Gold has really seen a strong trend to kick off 2017 and there has been minimal down days since the trading year began for the precious metal. What does this mean? This means that investors are largely building up a hedge against the first day of policy actions by Donald Trump. Did this directly go against my previous thesis? Yes, but that's fine because it means that the market is being far more cautious than I thought it would be. This caution is coming in direct opposition to the heavy bond outflows, heavy precious metal outflows, and heavy equity inflows that we saw in the back half of Q4 2016.
Source: StockCharts
With an increased amount of caution present, expectations of investors are rapidly changing. It is my belief that based upon the strong uptrend in gold this past January (on elevated volume over the trailing three month average) that investors are lowering their expectations for what the Trump administration may do given the large amount of uncertainties around policy. Such questions are as follows:
Will Trump actually increased domestic spending and create a material number of jobs?
How will Trump interact with China, particularly as it pertains to FX markets and commodity markets?
What of Obamacare and its supposed replacement?
And the list goes on. So, it's very fair to see why this uptrend has occurred and why it's been very reasonable to build a hedge against the probability that Trump doesn't follow through on campaign promises. However, of those promises, it's hard not to recall how drastically positive some of them are. The Trump campaign promised to provide a higher level of infrastructure spending, more domestic jobs, wage growth, and perhaps most importantly, tax cuts. Some of these items, like the tax cuts have quite a bit of granularity already so I am inclined to believe they will be implemented within the next twelve months.
The U.S. Dollar As A Core Driver
The support for gold's uptrend has also come from a weakening U.S. dollar in January. The dollar started the year at a nearly overbought level just above 103 and has since settled to just above 100 mark. Perhaps this was to be expected as the post-election rally was quite fast, arguably too fast. As the dollar continues to weaken, gold continues to benefit, passing the $1,200 level for the first time since summer 2016. I don't expect much more downside in the U.S. dollar in the near-term so from that perspective, I believe gold's upside is heavily limited.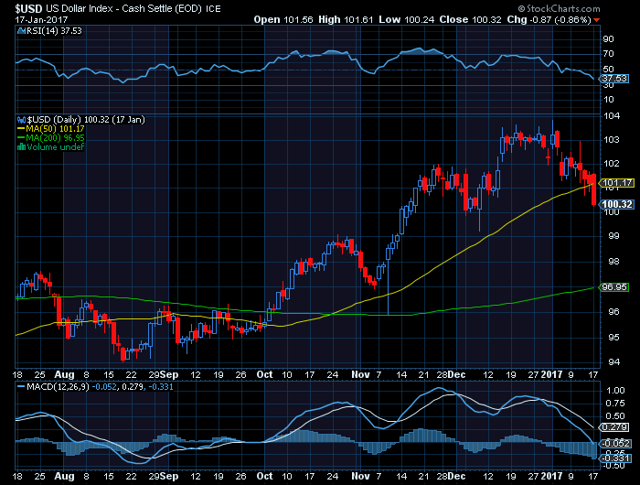 Source: StockCharts
Another caveat to gold's uptrend right now that I must mention is the Federal Reserve. Such a large topic of discussion has amassed over the last few months as to the potential pacing of short-term interest rate hikes during the Trump presidency. While we won't know for sure how much the pacing will increase or if it'll just stay in line with current guidance, that guidance is our baseline. The Federal Reserve has said that they're looking to potentially raise rates 2-3 times in 2017, which means that we should see some normalization in the trends for gold, equities and bonds whereby gold and bonds see weakness and equities see strength.
However, this normalization could be thrown adrift if volatility picks up considerably. With the potential for increased volatility under this new administration, the trends in gold may not be as clear as they have been over the past year (the event of the election itself should be a strong indication of that). We're seeing the VIX right now trade up considerably for two days in a row as a reaction to post-election trading. It'll be important to monitor, over the coming months, how the VIX trades relative to its 2016 average and on major events, how high it spikes.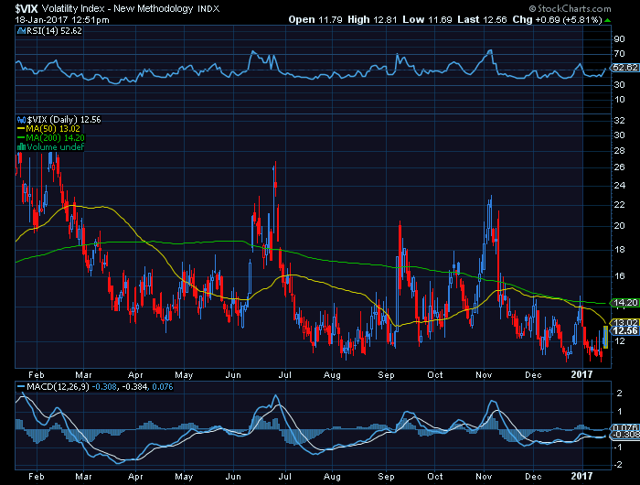 Source: StockCharts
Conclusion
There are many moving parts in the global markets at the moment, but for at least this week, focus will remain on the inauguration. Perhaps the streak that gold has had this January will continue through the inauguration and throughout the end of the month, but any single policy move of great proportion, and there sure are a lot of them on the table at this point, could change that. While I largely expect gold to continue to see outflows on the full year 2017, short-term trading actions are contradictory of that thesis.
Disclosure: I/we have no positions in any stocks mentioned, and no plans to initiate any positions within the next 72 hours.
I wrote this article myself, and it expresses my own opinions. I am not receiving compensation for it (other than from Seeking Alpha). I have no business relationship with any company whose stock is mentioned in this article.