Alcoa (NYSE:AA) has a had a decent start to the trading year and while I believe the full-year is largely going to be positive for this aluminum producer, I believe the very short-term is going to be some turbulence. For the many reading this article that are long-term investors, you can largely ignore the current fundamental discussion as it will only move the percentages ever so slightly for you. However, if you're concerned about timing the best possible entry into the stock, then giving a strong amount of consideration to the conflicting short-term fundamentals is quite appropriate.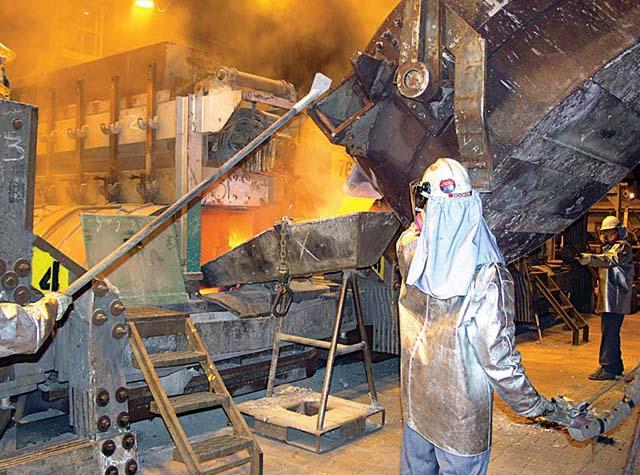 Source: Green Groundswell
China Curbs Oversupply
Positive news came out last week that a domestic company, Century Aluminum (NASDAQ:CENX) is filing a complaint with the WTO to help curb the government subsidies to Chinese aluminum producers that have been flooding the global market for years with excess supply. This is another step in the right direction and naturally, Alcoa, now purely just an upstream company, will benefit heavily should anything materialize. Should overcapacity retract in the next six to twelve months, it's highly likely that futures prices break the $2,000/ton resistance level. This would be another strong step in the cyclical recovery and would drastically boost earnings for Alcoa.
The themes that we were so heavily engaged with in 2016, that is the rising demand from Chinese government-backed stimulus and capacity retractions from Chinese smelters, are going to continue to be the two most important aluminum fundamental lines in 2017. However, a monkey wrench has essentially been thrown into the global aluminum machine with Donald Trump being elected President. His pro-stimulus campaign promises may or may not be materialized this year, but if they do, then Alcoa will have a sizeable new source of demand where it can reduce reliance on China and benefit from domestic infrastructure development. There's not much color to be had on this, yet, but when we get specific data on the infrastructure plan, Alcoa shareholders and prospective investors will be informed.
It's also important to recognize that there is now a precedent set in the market in terms of tariffs and the global market for metals. Last February, I remember watching steel stocks pop off as the U.S. Department of Commerce unveiled the first round of tariffs on steel exports from China. Since Trump may potentially have a "trade war" on his hands (who even knows what will happen at this point), global trade policies may be developed such that domestic producers of aluminum like Alcoa are aided in average realized prices by the U.S. government.
Off of that third theme, there are other factors to consider in the global base metals trade now like the stronger U.S. dollar and that currency's trajectory over the near-term. A weaker U.S. dollar is going to help out aluminum producers like Alcoa, however at the same time, there are tradeoffs in terms of domestic demand. Unless the dollar becomes highly volatile in the short-term, I would not place too much emphasis on this factor yet. I'm largely expecting the dollar to retain support in the spot above 100 over the long-term.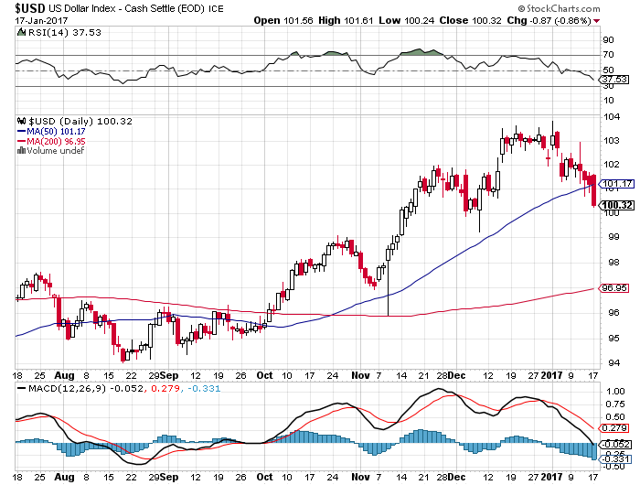 Source: StockCharts
Food For Thought
Taking these fundamentals in mind, there's some interesting information to consider. News came out over the weekend that Alcoa is making progress with the Australian government to keep a smelter online. After reading the story, I'll say two things. First, it's reassuring that despite the pressures the company has faced that they want to keep plants that have been challenged online. Second, and more of a contradictory point, I'm curious as to when Alcoa will provide investors the timeline as to restoration of the two thirds of the capacity at this plant that was removed. Because, if the company was truly confident in its operations and the fundamentals ahead, it would start to increase the capacity at the plant. While I recognize that there are problems associated with the plant that doesn't make the decision all that binary, it's nonetheless an interesting point to consider.
With that being said, since the split, Alcoa stock has been rather range bound after an initial pop. We did see a slight breakout of the trading range late last week, but I think it may settle back into the range ($28-32). Scooping up shares below $30 looks to be a solid long-term investment entry at this time. Shorter term traders should be looking to more of a mean reversion strategy than anything, however Alcoa did just hit a four week high, so perhaps an uptrend may start form later this week.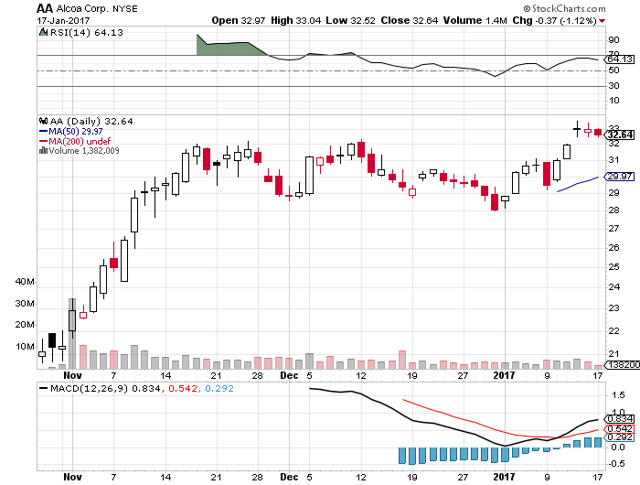 Source: StockCharts
Now, we have to understand just how important aluminum prices are to Alcoa. Currently, per $100/ton shift in aluminum prices, Alcoa's EBITDA changes $233 million. To put that in perspective, Alcoa in Q3, did about $413 million in EBITDA, meaning that right now, a near $100/ton shift in aluminum prices could add more than 50% to EBITDA, which is incredible. That lends this company, in short-term trading to be highly volatile, given the lack of earnings strength that we've seen in the last couple of years and the need for consecutive quarters of operating income strength to be shown. While I think 2017 is going to be a drastically better year in terms of earnings reports, there is the inherent need for a track record of consistency to be established.
Conclusion
Aluminum, on the futures market in 2016, saw a near 13% increase, the first full-year pick-up in nearly five years. Alcoa has been the beneficiary of this and through a shareholder split in Q4 2016, unlocked a significant amount of shareholder value by separating into a value-add company and a pure upstream company. I think that there are positive fundamentals for aluminum to continue seeing gains in the futures market in 2017, but those short-term prospective buyers need to wait for down days to initiate positions. An entry sub-$30 is advisable.
Disclosure: I am/we are long AA.
I wrote this article myself, and it expresses my own opinions. I am not receiving compensation for it (other than from Seeking Alpha). I have no business relationship with any company whose stock is mentioned in this article.