I have been writing articles for a while now on a bunch of stocks, almost all of them issued by some very good companies that as a dividend growth investor I would like to have in my portfolio if the price was right. Many of them I haven't been able to buy because I didn't have the cash. I now have a large sum o f cash coming in, and would like to show how I use the valuations I developed for stocks I want to buy and how to use that watch list to pick the best stocks to buy at the current time.
Why do I have money to spend?
Some months ago, because I was concerned about Chevron (NYSE:CVX) cutting its dividend payment if the low price of oil continued, I wrote a covered call on CVX with a strike of $105. As time went on several options expired, and others I rolled out, till today I have a covered call with a strike price of $116 that expires on February 10th (it's a weekly option). Currently the market price of Chevron is a bit above $116, and I expect my shares to be called away at the expiration date.
I wrote an article about CVX and what I was doing with options here. Basically my use of covered calls was to generate additional income and lock in a sale price. With the call options, I managed to get a price higher than my cost basis of $114.05, but I had a net debit of around $200 on the calls.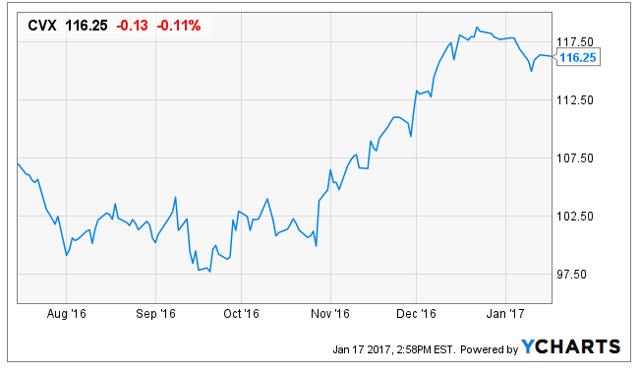 I wrote the first call on September 15th, when the price of CVX shares was about $98. I started with a strike price of $105 and eventually rolled that out to $116. During that period I also collected $108 in dividends from CVX. I was hoping to cut down on my loss, but managed to do better than that. So after February 10th, I expect to have $11,580 to spend (I get charged $20 when the shares get called away).
What's on my watch list and how do I compare them?
I maintain a watch list, so that when I research a stock, I can keep a record of what price I want to purchase it at so I have a list to work from when I get money from dividends or share sales in my account. Below is my current list, which is composed of stocks that I have written articles on. All companies on the list are companies I have already determined that I wish to own. I have written an article on each of them, where I do the analysis to make that determination, in either January or December.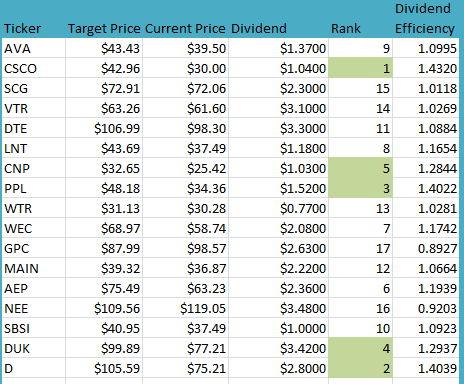 In the table above, the first column is the ticker symbol for the stock.
The second column contains my DDM calculation of the present value of the dividend (if the dividend has changed since I wrote the article, I updated the calculation with the new dividend amount). Two stocks, Main Street Capital Corp (NYSE:MAIN) and NextEra Energy Corp (NYSE:NEE) had a buy price that I applied an addition discount to so as to have a margin of safety because of various factors. I included a link to the original stories for those who are interested in why I wanted the additional discount.
In the third column is the current market price. I used the closing price from Friday January 13th for now, but before I make the actual purchases I will update that column with the latest price data.
Column 4 contains the dividend for each stock. I used an annualized value of the last reported dividend.
Column 5 contains how each stock is ranked, 1-17. Since I don't want to spend all of the money I will be getting on a single stock, I have decided to buy the top 5 stocks by rank. The rank is determined by the value in column 6.
Column 6 is the important one for evaluating the stocks against each other. I have taken to calling it the dividend efficiency, because it is the number of dollars of present value of future projected dividend payments that a $1 investment in the stock will produce. It's simply calculated by dividing the PV of predicted future dividends of the stock by its current market price. That works out to be the value in column 2 divided by the value in column 3 for each stock. I used the Rank.EQ function in Excel® to get a ranking for each stock's dividend efficiency relative to all the other stocks I am considering.
What stocks am I going to buy with the new money?
Below I have copied a table with the 5 stocks that I currently plan to buy based on their current valuation.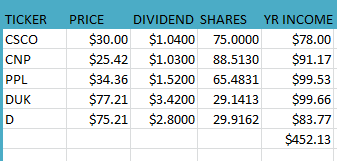 Cisco Systems Inc (NASDAQ:CSCO) is currently at a good price and in the top 5 in valuation based on its price at market close on last Friday. I will spend $2,250 to buy shares and get 75 of them at $30, which will give me an estimated yearly dividend of $78. I wrote a full analysis here.
CenterPoint Energy Inc. (NYSE:CNP) will give me 88.5130 shares and an income of $91.17 projected over the next 12 months. I wrote a full analysis here.
PPL Corp (NYSE:PPL) will give me 65.4831 shares with a dividend income of $99.53 projected over the next 12 months. I wrote a full analysis here.
Duke Energy Corp (NYSE:DUK) will give me 29.1413 more shares with an additional $99.66 of dividend income projected over the next 12 months. I wrote a full analysis here.
Dominion Resources Inc. (NYSE:D) will give me an additional 29.9162 shares with an additional $83.77 of dividend income over the next 12 months. I wrote a full analysis here.
So, if I were to get these prices, and I do recognize that the price will very likely be different on February 14th (which is the date I will actually be purchasing my new shares), I now have an estimate. That could change especially since the top 3 valuation stocks are very close in relative valuation.
One of my goals when I add stocks because of a sale is to replace the income that the sold assets generated. The 100 shares of CVX generated $432 of dividends projected from its last quarterly dividend announcement. As can be seen, with the prices from last Friday, the replacements currently slated to be bought will generate a total of $452.13, a gain of $20 in income.
Conclusion
This is the first really large amount of cash that I have dedicated to buying stocks that were picked solely on the basis of the valuation calculated by DDM. In the past, while I have used the DDM value to help identify which stocks to choose from, other factors have come into play in the final selection process (current yield played a big role in the final selection in the past). I am glad to see that while yield didn't play as big a role as it has in the past; I still selected stocks that would have had a better yield than the stock I sold. I will keep this watch list around even after the purchase in February, and likely add new stocks to it, because I have about $25K in an old 401(k) that I need to roll over. I will probably have that cash sometime after the middle of February, as I have to get some forms sent to me by snail mail, which I then have to fill out and send on by snail mail as well.
Note: I hope you all got something out of this article. I do appreciate the time you took reading it. If you are one of those who follow me here, I appreciate it; if you'd like to include yourself amongst those individuals, please hit the "Follow" button next to my name as well as following other contributors whose work you enjoy. As always, please leave any feedback and questions you may have in the comments below.
Disclaimer: This article is intended to provide information to interested parties. As I have no knowledge of individual investor circumstances, goals, and/or portfolio concentration or diversification, readers are expected to complete their own due diligence before purchasing any stocks mentioned or recommended. The price I call fair valued is not a prediction of future price but only the price at which I consider the stock to be of value for its dividends.
Disclosure: I am/we are long CVX, D, DUK, SBSI.
I wrote this article myself, and it expresses my own opinions. I am not receiving compensation for it (other than from Seeking Alpha). I have no business relationship with any company whose stock is mentioned in this article.