Investment Thesis
DRDGold (NYSE:DRD) is a very unusual gold miner as it cleans up the environment by retreating old mine dumps. Also, it's currently the top US-listed dividend metals stock according to Metals Channel as well as the best precious metals dividend stock according to Dividend Channel. I think that there are several red flags and some potential storms on the horizon but DRDGold have repaid their debts and hold a substantial war chest, which should allow them to prosper in the long run and continue distributing impressive dividends.
Business
When you think how gold is produced, the first image that pops into your mind probably features underground mines, explosives and heavy machinery. Yes, that's how most of the gold in the world is produced but there are many types of companies in the industry - take for example the red hot streaming/royalty companies. There are also explorers, developers, project generators, toll milling firms and tailings retreatment companies. Tailings are what's left behind after mining, so think mine dumps. DRDGold specializes in the retreatment of surface gold tailings around Johannesburg in South Africa.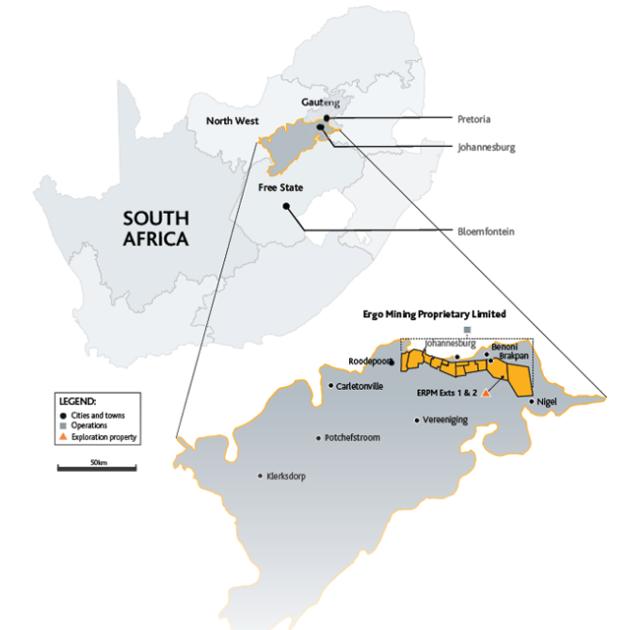 Source: company website
There are many companies that use tailings retreatment facilities at their own operations to boost production but DRDGold is one of the few in the world that process tailings from closed old mines. It doesn't have its own mining operations so it operates more like a factory. When you think of this business, imagine high pressure water hoses, which slurrify slime or sand, which is then pumped through pipelines as far as 60 km away to be processed at a yield of less than 0.2 g/t. This kind of business has obvious advantages over traditional mining, such as fewer health and safety risks, no exploration risk and less environmental issues.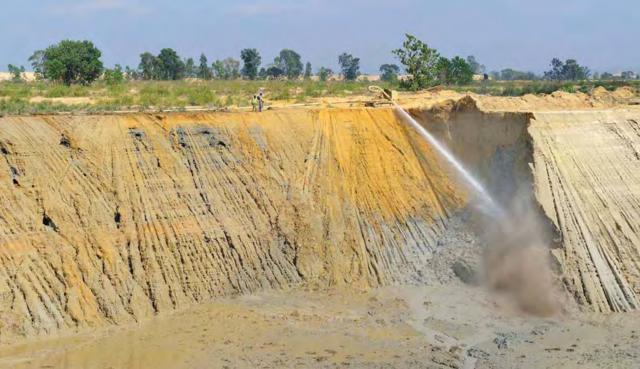 Source: company presentation
It's a business model that's nearly impossible to replicate on the scale of DRDGold because there aren't gold-rich regions in the world that come even close to the Witwatersrand Basin. It holds the world's largest known gold reserves and has so far produced over 1.5 billion ounces, or about half of all the gold ever mined in history. According to a database of South African state-owned firm Mintek, "there are more than 446 gold tailings dumps spanning more than 18,000 ha across Johannesburg."
Key operational and financial figures
DRDGold's main plant - Ergo - produces crude bullion - around 85% gold, 7%-8% silver, some copper and other elements. The company has a processing capacity of 2.1 million tons per month and in FY16 (ended 30 June 2016), they processed 24.8 million tons of waste to produce 143,457 oz (4,462 kg) of gold. Target volume throughput is over two million tons of material a month to produce between 140,000 oz and 150,000 oz of gold a year.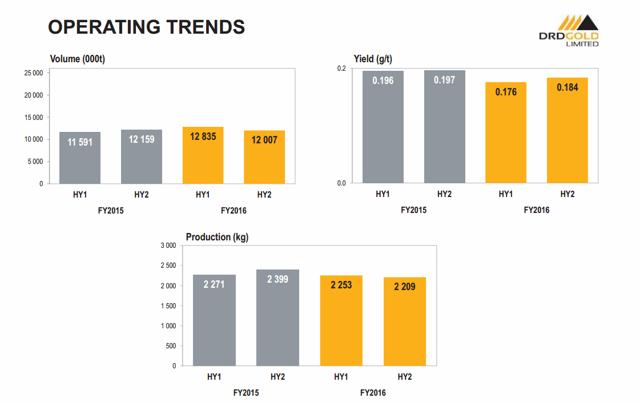 Source: company presentation
In FY16, cash operating costs came in at USD 958 per oz, all-in sustaining costs (AISC) were USD 1,072 per oz and all-in costs stood at USD 1,095 per oz. These are high figures that make DRDGold very leveraged to gold prices. This in turn creates incredible share volatility with the 52-week range of DRDGold's ADRs being USD 1.96-USD 9.10.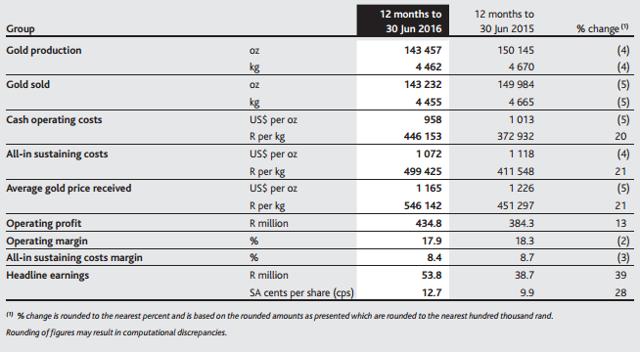 Source: company FY16 report
DRDGold's operating margins and profit are not that impressive compared to other gold producers but what really sets the company apart is the dividend yield. During 2016, the company paid three dividends totaling just over 40 cents per ADR, or a yield of 7.02% in regard to the closing price of USD 5.77 per ADR (market cap USD 245.1mn) as at 13 January 2017. That was the ninth consecutive year of dividend yield and the company also used the free cash flow to repay loans thus becoming debt free.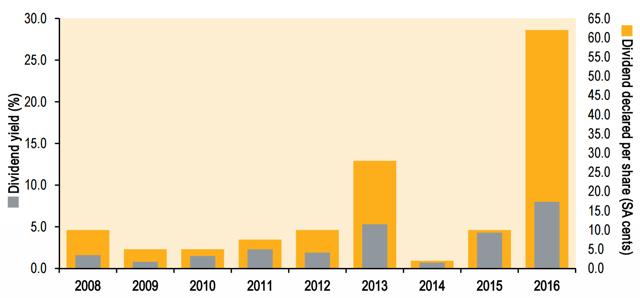 Source: company presentation
DRDGold boasts some impressive reserves and resources but note that in the table below resources are inclusive of proven and probable (2P) reserves (1.84 million oz) and the gold price used is USD 1,293 per oz.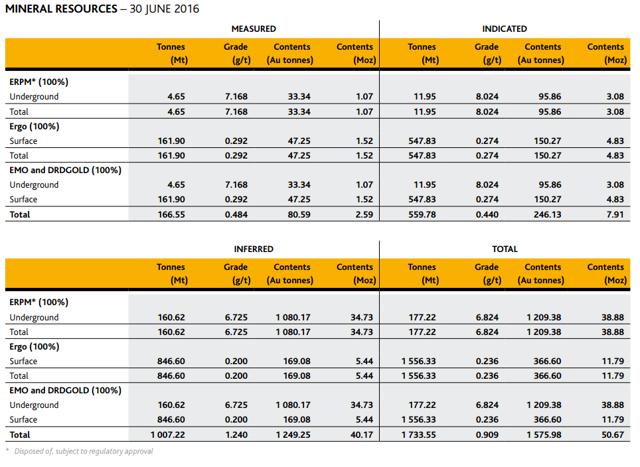 Source: company FY16 report
Although the table shows total resources of 50.67 million oz, the figure is misleading as DRDGold agreed in 2014 to sell its remaining underground mining and prospecting rights, which account for 38.88 million oz of resources. That's why the actual resources of the company are mentioned as 11.79 million ounces in its FY16 financial report.
Still it's a pretty impressive figure which should suggest a very long life of mine (LOM) and values the company at just USD 133 per oz of 2P reserves, USD 29.93 per oz of 2P reserves and M&I resources and USD 20.79 per oz of total reserves and resources. The resource optionality also looks pretty good, enough material for around 25 years at the current throughput.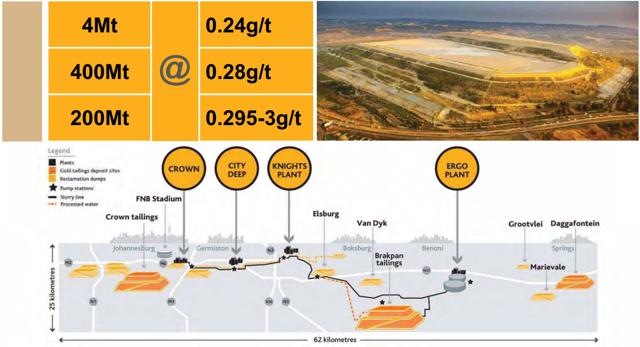 Source: company presentation
However, DRDGold's current LOM is only around 10 years and this is because of the insufficient capacity at the company's main deposition facility (see above picture - Brakpan tailings). Of course, there are plans to remedy this and increase the LOM to above 25 years through the expansion of said deposition capacity.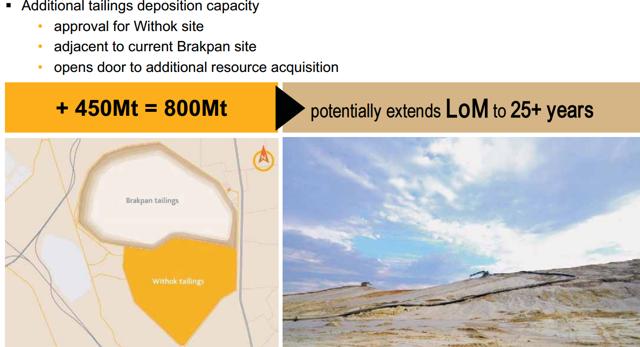 Source: company presentation
The new Withok site will have capacity for 450 million tons of material and will be located adjacent to Brakpan. According to news magazine Mining Weekly, DRDGold CEO Neil Pretorius expects the company to start construction of the additional tailings capacity in late 2018 or early 2019 and the facility will cost between ZAR 450mn and ZAR 550mn. At the current exchange rate, this is between USD 33.1mn and USD 40.5mn.
Also, the tailings at DRDGold's deposition facilities can be reprocessed again to squeeze out some extra gold when gold prices are high enough to make the process economically feasible.
The company publishes semi-annual results and only provides quarterly production updates. However, the latter do give some idea about cash flows as cash and cash equivalents figures are revealed. In the quarter ended 30 September 2016, volume throughput came in at 6.6 million tonnes (+8% q/q) and gold production stood at 1,034 kg (+1% q/q). However, cash and cash equivalents declined by ZAR 17mn (USD 1.24mn) to ZAR 335mn (USD 24.4mn).
One has to take into account that DRDGold distributed an additional dividend of USD 8.57 cents per ADR in October 2016 and that the company is cleaning up certain Crown sites (see resource optionality picture) which are expected to weigh on costs until Q3 F17.
Environment and human capital
By cleaning up old mine dumps, DRDGold helps prevent groundwater contamination and acid mine drainage around Johannesburg. They also improve quality of life around the city through vegetation of tailings dams and suppression of dust from reclamation sites. DRDGold has so far vegetated 538ha of land and in FY16 alone they rehabilitated 62ha. The rehabilitation of these lands also unlocks real estate for development.
Due to the nature of the company's business, the cost structure is much different than other gold producers. Most expenses go for electricity and water as well as primary materials such as cyanide, steel, hydrochloric acid and caustic soda.
In FY16, DRDGold used 62.1% recycled water - a total of 18,825 million liters (Ml) process water was recycled. Also, DRDGold managed to get 942Ml of sewage water retreated thus decreasing its use of potable water.
Also, the business of DRDGold is much less labor intensive compared to traditional gold producers, for example only four people are maintaining the flotation and fine grind circuit at Ergo at any given time. The company has just over 900 full-time employees and its operations employ another 1,500 people through specialist service providers. Because the business operates more like a factory than a mine, DRDGold employs more women than other gold producers - women comprise around 17% of the workforce.
The red flags
One thing that I learned as a young investor when I started out over nine years ago is that you can't look only at the positives for a company. My approach when I find a company that I like is to try to find as many flaws as possible and then I evaluate if I still think that said firm is worth it, something like the fatal flaw philosophy in NFL. The price of gold aside, here are the things that I consider red flags for DRDGold:
Jurisdiction. This is the elephant in the room - South Africa is considered to have a bad investment environment for mining with lots of employer unrest. There is also the Black Economic Empowerment program that scares off foreign investors and the revised Mining Charter that the country is about to implement. The draft of the latter has some very controversial requirements such as a having at least 26% ownership by an empowerment partner in perpetuity.
Silicosis class action lawsuit. Silicosis is a nasty incurable lung disease that many South African miners got during the apartheid era since companies were too stingy to pay for masks and quality ventilation equipment. What happened several years ago is that sick former employees and their relatives launched a class action lawsuit against over 30 South African gold mining companies, including DRDGold (the company is over 120 years old, it used to have mines).
It's an incredibly large (estimates show that over 500,000 gold miners have contracted silicosis) and complex case (pretty much every mining shaft should be examined). It's impossible to forecast the outcome of the case or the compensations that the gold mining companies will have to pay (some estimates put the figure as high as USD 2.8bn).
While I do agree that it's a disgusting crime and that the miners and their families should receive huge compensation, I doubt that anyone of the people responsible will go to jail and I don't see why the current shareholders of these companies should pay for the sins of former managers and former shareholders who cashed in and retired a long time ago. In any case, DRDGold hasn't made any provisions for this lawsuit.
Currency. The South African rand is an incredibly volatile currency - the USD/ZAR trading range for the past 52 weeks is 13.19-16.95; two years ago it stood at 11.5. Since gold producers get their revenues in USD, a strong rand is very negative as it drives up costs, particularly labor costs. While DRDGold's business requires a smaller workforce compared to other gold producers, a strong local currency will still have a negative impact.
Insider ownership. It's considered a good sign when management have skin in the game, owning a large chunk of shares in the company they steer. In 2015, DRDGold's CEO bought company shares but started selling in 2016, most recently in September
Conclusion
DRDGold is a very unusual gold producer that reclaims gold from mine dumps in the most gold-rich region in the world while cleaning up the environment at the same time. They have a business model that is nearly impossible to replicate and the company is very hard to evaluate since there are just a handful of comparable firms. In any case, they boast high and consistent dividends, no debt, strong free cash flow and lack most risks associated with traditional miners.
On the other hand, there are serious risks associated with operating and investing in the mining sector in South Africa, there's a large class action lawsuit against pretty much every gold mine in the country and the rand has been strong over the past months. Also, DRDGold's free cash flow will be negatively impacted in the first half of its FY17 due to costs associated with cleaning up some of its sites (Crown) and moving on to other ones.
I think DRDGold doesn't possess a fatal flaw and that the strengths of the company and its business model far outweigh any current and potential weaknesses. While there may be potential headwinds in the short term, I see DRDGold as a solid pick for a dividend-driven long-term portfolio for both traditional investors and gold bugs.
Supporting Documents
Disclosure: I am/we are long DRD. I wrote this article myself, and it expresses my own opinions. I am not receiving compensation for it (other than from Seeking Alpha). I have no business relationship with any company whose stock is mentioned in this article.