Dynavax (NASDAQ:DVAX) is a clinical stage pharma company undergoing extreme stress. The deeper I have gone into the Dynavax story, the more I have come to believe that its own recurring failures are the author of its current unhappy situation.
I wish it well. Given world enough and time, I am sure that it would achieve FDA approval for some compound to treat some important medical affliction. Unfortunately, at the moment, it seems so enmeshed in trying to get the process down that it is starting to burn through its bounteous, but far from unlimited, cash resources.
My thesis for this article is to explain how Dynavax finds itself at a crossroads. The yawning maw of failure seems to be one likely outcome; however one dare not write off a pharma company that has been in operation for 20 years, and appears to have significant unencumbered assets as indeed seems to be the case.
There is always the possibility that it achieve its long-sought FDA approval for its hepatitis B vaccine or that some pharma company bail it out with a buyout or some joint venture, etc.
Dynavax has had a disheartening run of about a dozen year since its 2004 IPO.
Dynavax priced its IPO in 2004 at $7.50 per share. It traded above this initial price a few times during its IPO year, but never managed any sustained rallies over its threshold IPO price. During the Great Recession it traded as low as sub-$0.25 per share and dallied ignominiously under $1.00 for several months.
By 2010 it had regained its footing and restarted its climb back up towards its IPO price. It struggled up towards $5.00 a share on several occasions in 2012 until, exhausted by the effort, it returned to its natural range between $1.00 - $2.00 per share. Unable to get its stock to cooperate, management took matters into its own hands on 11/10/14 implementing a 1 for 10 reverse stock split.
This seemed to be working as the new nominal price per share moved resolutely higher towards $30 per share for a short time. Then it started feeling the pain and here we are in 2017, having suffered a massive 10/1 dilution and trading at a substantial (more than 90%) discount to the 2004 IPO price. Oh, and need I say, no dividends have been declared or paid.
The chart of Dynavax stock below shows its percentage moves off its highs since its IPO in visual terms: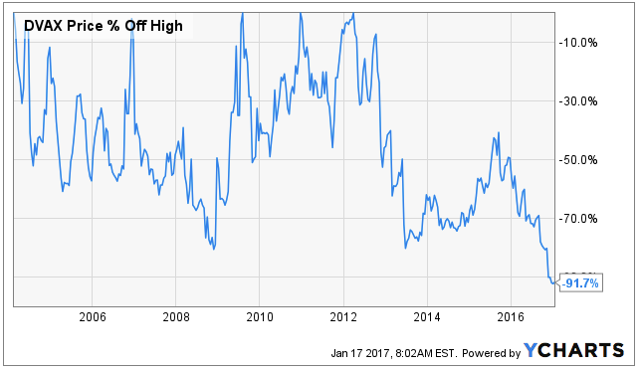 Dynavax's lead drugs, now and then, add up to a study in futility.
At the time of its IPO, Dynavax's registration statement announced three lead drug candidates. Its numero uno was a ragweed allergy remedy that subsequently took on the name Tolamba. It also listed its hepatitis B vaccine as its second lead candidate.
At the time it was planning a Phase 3 trial for the hepatitis B vaccine to take place outside the United States in 2004. It stated its intention to develop this vaccine only for use outside the United States.
Its third lead drug was an inhaled treatment for asthma. This was in a pilot phase 2 study after a favorable phase 1, indicating the drug was well tolerated.
The following caveat from the 2004 Dynavax registration statement, after the description of its three lead candidates, speaks of the oft-experienced futility of start-up pharma. The statement reads:
The clinical trials process is lengthy and expensive and outcomes are uncertain. Even if earlier trials yield encouraging results, subsequent trials can fail for a variety of reasons, including lack of efficacy or safety issues. In addition, the FDA has requested companies to repeat clinical trials, conduct additional studies or suspend clinical development altogether based upon its independent review of clinical trials data. We do not believe any of our product candidates will be commercially available, if approved, until 2007, at the earliest.
Well, it is now 2017. It is ten years after the cited earliest date of commercial availability. None of the three lead candidates is commercially available today nor has been in the past, nor will any of them be available at any known time in the future.
It is almost as if the passage describing the clinical trials process had been a curse from Mount Olympus establishing a list of Herculean trials that Dynavax would have to endure before it could ever receive its laurels in terms of an FDA drug approval. To be sure Dynavax has encountered many of these trials and struggles mightily to accomplish them.
Currently, Dynavax lists the following as its current pipeline: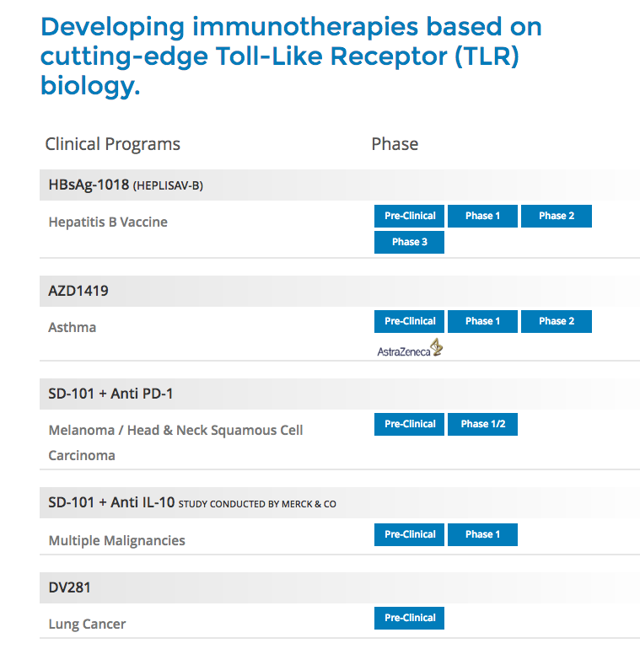 Its current asthma candidate is now in phase 2 being conducted and paid for by AstraZeneca. Its ragweed candidate Tolamba was dropped back in 2008 after it failed to meet its efficacy endpoint. Only the hepatitis B vaccine (HEPLISAV-B) has actually advanced significantly as a possible therapy that might generate product revenues for Dynavax. So far the FDA has shown little appetite for actually approving this as recent SA articles here and here with lively comment streams have noted with no little chagrin.
Over the next year Dynavax must either rekindle its prospects or dwindle back down to penny stock Hades.
The FDA's recent pink slip to Dynavax in the form of its complete response letter relating to the Dynavax's hepatitis B vaccination has nearly proven too much to bear.
Since its IPO, Dynavax has always been able to generate some bare level of revenue by working deals with larger pharma companies or other funding sources, such as its San Francisco neighbor, UC Berkeley. The graphic below from Simply Wall Street shows how remote these revenue opportunities have been from ever generating a profit.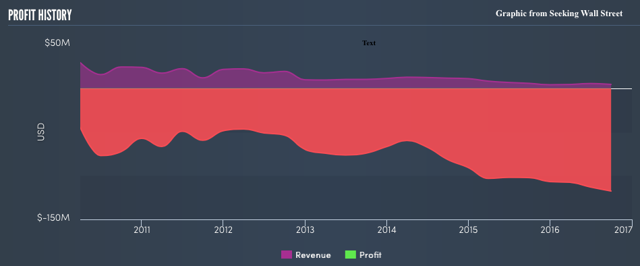 The ratio of red (negative earnings) to purple (revenue) is growing. Dynavax presented slides at the recent J.P. Morgan Healthcare Conference set out below which illustrate the situation. Upcoming milestones show that it must hold on until Q3, 2017 in order to reasonably expect FDA approval for HEPLISAV-B.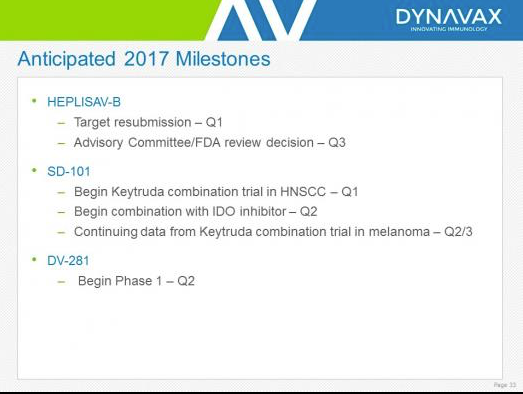 On January 5, 2017 Dynavax filed an 8-K with the SEC. This filing incorporated its press release setting out its formal plan to restructure itself for survival while it pursues FDA approval. In this release Dynavax announces a two pronged strategy. It will pursue FDA approval of HEPLISAV-B while continuing development of its cancer therapies.
The plan provides:
...suspend[ing] manufacturing for HEPLISAV-B and reduce[ing] its global workforce by 38 percent. The company will incur restructuring costs, currently estimated to be $3.0 million, primarily in the first quarter of 2017. The company estimates that its cash, cash equivalents and marketable securities were approximately $81.4 million as of December 31, 2016. Going forward, it expects HEPLISAV-B costs prior to any FDA decision to be less than $1 million per month, and all other operating costs to be less than $60 million per year to support continued development of its oncology program. This restructuring is currently estimated to result in approximately a 40 percent reduction in cash burn. The company will continue to evaluate the possibility of a partnership to support HEPLISAV-B as it increasingly concentrates its own strategic focus on oncology.
Dynavax is in a tight spot but it has options. An interesting SA article by Bernardo Garces gives a constructive overview of Dynavax's cancer therapies. This article also reminded me of the following encouraging potential asset which could become critical at some point:
...there are around $100 million left in potential milestones from the collaboration agreement with AstraZeneca relating to AZD1419 - with no associated costs, since Astra is funding all research related to this program (which is moving along with alacrity)
In addition to milestone payments, if this candidate ever gets approved Dynavax would be entitled to royalties.
A more recent SA article dated 1/17/17 takes an even more sanguine view of Dynavax and its immune-oncology pipeline, setting a most heroic target price of $13 on the stock.
Unfortunately, the bane of all pharma, class action lawyers are starting to circle round Dynavax as it works to right the ship. The allegations against Dynavax rub sand in its wound as it seeks to achieve FDA approval for HEPLISAV-B. The complaint alleges:
...that during the Class Period Dynavax made false and/or misleading statements and/or failed to disclose that: [i] the phase 3 HBV-23 trial for the Company's lead vaccine product HEPLISAV-B was not designed in accordance with the U.S. Food and Drug Administration's concerns and issues, as pointed out in a 2013 Complete Response Letter; [ii] Dynavax failed to provide sufficient information to the FDA in its Revised Biologics License Application for the drug; [iii] Dynavax's resources will not be sufficient for the Company to advance the HEPLISAV-B program on its own; and [iv] as a result of the foregoing, the Company's financial statements, as well as Defendants' statements about Dynavax's business, operations, and prospects, were false and misleading and/or lacked a reasonable basis.
It is hard to imagine anything that would make it tougher on Dynavax management than to be fighting for survival, when the very fact of the fight seems to prove aspects of a claim pending against it. Well that's why they earn the big bucks in the C-Suite.
Conclusion
Dynavax was incorporated back in 1996 under the name Double Helix, Inc. Somehow one can't help wondering why it has never been able to bring a product to market. The comment boards are often abuzz with conspiracy theories postulating that the FDA in league with Glaxo is to blame for Dynavax's failures. That may be so, but without any evidence it is just an excuse.
When I look back to Dynavax's registration statement for its IPO, I find it more likely that Dynavax has exercised poor judgment in critical areas of shaping its candidate therapies than that it is a victim of some nefarious conspiracy. Perhaps there is some element of truth in the lawsuit allegations that Dynavax designed its FDA applications suboptimally.
In any case, it is 2017. We cannot turn back the clock. The question is, hero or zero? I vacillate mightily between these two. With some trepidation, I intend to acquire a small position in the name. I am loathe to make any large commitment for such a woebegone stock. Plus, there is always the risk that I change my mind or lapse into long range indecision. Perhaps the SA community will help make up my mind with some cogent comments.
Disclosure: I/we have no positions in any stocks mentioned, but may initiate a long position in DVAX over the next 72 hours.
I wrote this article myself, and it expresses my own opinions. I am not receiving compensation for it (other than from Seeking Alpha). I have no business relationship with any company whose stock is mentioned in this article.
Additional disclosure: I am actively considering acquiring a small position in DVAX over the next few days, possibly before SA accepts this article for publication.