What would you think if you could get the same performance as the SPDR S&P 500 ETF (NYSEARCA:SPY) but using only 12% of your portfolio? Well. I just figured out that it is possible, using the Rex VOLMAXX™ Short VIX Weekly Futures Strategy ETF (NYSEMKT:VMIN). The name is certainly a mouthful, but let me tell you, this ETF is on steroids!
I just ran a backtest using Portfolio123, with an asset allocation of 12% VMIN and 88% iShares 1-3 Year Treasury Bond ETF (NYSEARCA:SHY), rebalancing weekly. The results are shown below.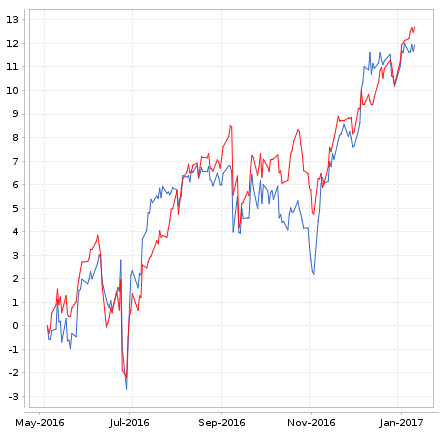 In the chart, the red line represents the percent profit for the 12% VMIN / 88% SHY combination from May 2016, when VMIN first started trading, to the present. SHY was used as a substitute for cash. The blue line represents the profit from holding SPY. Although the two equity curves are not identical, they are close in terms of total return and maximum drawdown.
| | | |
| --- | --- | --- |
| | VMIN+ SHY | SPY |
| Total Return | 12.69% | 11.92% |
| Max Drawdown | -5.80% | -5.52% |
What this means is that you can get similar performance as you would by holding SPY, and still have 88% of your portfolio left over for other investments. One word of caution however. You should only ever hold a small amount of VMIN, and you should rebalance with other investments frequently. Otherwise, you could lose a significant amount (or all) of your trading capital in a bear market.
What is the VIX?
The VIX, or so-called fear index, measures the implied volatility of S&P 500 large-cap stock options. The VIX has a strong negative correlation to the S&P 500 and is often used to hedge against potential broad market sell-offs. From 1990 through 2016, there was a -0.71 correlation to the S&P 500. Note: 0 is non-correlated whereas +1 means perfect correlation.
While the VIX itself is not an investable product, VIX futures contracts are. It is these derivatives that ETFs, such as the iPath S&P 500 VIX ST Futures ETN (NYSEARCA:VXX), use to gain exposure to the VIX. But there are issues with this method of exposure. The derivatives are valued at prices reflecting future expectations of the VIX. And since the VIX is mean-reverting, the futures do not fully reflect the index's daily fluctuations. Generally, futures are less sensitive to market movements, and the sensitivity declines with longer-dated VIX futures contracts, meaning that the futures do not perfectly track the VIX spot price.
Weekly expirations for VIX futures
In July 2015, weekly expirations for VIX futures were introduced by CBOE. The shorter time horizon found with weekly VIX futures contracts should result in a higher correlation to the VIX spot price. This has presented an opportunity for ETF manufacturers and the Rex VOLMAXX™ ETFs are one of the first to capitalize on the new derivatives.
The Rex VOLMAXX™ Long VIX Weekly Futures Strategy ETF (NYSEMKT:VMAX) is long the VIX and provides profit opportunities that arise should the VIX spike upward. Long VIX ETFs suffer when the futures are in contango. However, inverse VIX ETFs benefit from this phenomenon. VMIN, the ETF that is of interest to me, is the inverse fund and rises as the VIX falls. VMIN has achieved a total return of 134% since its launch on May 2, 2016. In contrast, the VIX performance over the same period was -32%. Greg King, CEO of REX Shares, said:
Many people think of volatility funds as having a significant decay in price. While this is generally true of long volatility funds, VMIN takes the other side of that exposure, potentially benefiting from such decay as it accrues in exchange for bearing the risks associated with spikes in volatility.
ETF on Steroids
I performed a backtest of a basket of all standard long U.S. equity ETFs from May 2016 to present using Portfolio123. The chart below illustrates how the average U.S. equity ETF stacks up against VMIN.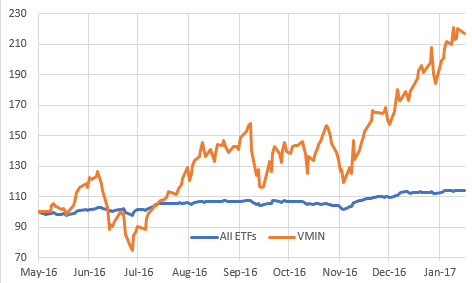 Issues With VMIN
VIX futures are not as liquid as traders would like, and fund managers are allowed to use monthly futures when necessary. They also have discretion about when to enter and exit the contracts. Due to the need for more management hands-on, the fee for VMIN is 1.45%.
VMIN also has relatively little Assets Under Management (AUM) which means that this fund may be in danger of disappearing in the future. But the ETF has not been around too long so there is still time for it to grow in size.
Disclosure: I/we have no positions in any stocks mentioned, and no plans to initiate any positions within the next 72 hours.
I wrote this article myself, and it expresses my own opinions. I am not receiving compensation for it (other than from Seeking Alpha). I have no business relationship with any company whose stock is mentioned in this article.