2016 was the first time since 2006 when Large Cap Value strategies collectively (both active and passive) outperformed the rest of the market. Financials, Industrials and to a lesser extent Energy, had a comeback in 2016 driving 11% annual return differential between Large Value and Large Growth Investors.

Source: Morningstar
With Dow Jones touching 20,000 and S&P multiples hitting levels unseen since the tech bubble and the Great Recession, there will be opportunities for value investors with an appetite for undervalued companies to try to outpace the market.
Value investing is based on the belief that companies with lower relative valuations will outperform the market in the long run. The theory behind this is that stocks with lower multiples, like price-to-earnings, price-to-book, price-to-sales, will eventually revert back to the mean triggered by either management changes, restructuring, cost cutting, acquisition, new legislation, political, consumer sentiment change or other force.
Deep (NASDAQ:PURE) value investing is the hardliner of value investing. Deep value investors look for beaten down, troubled or out-of-favor companies with attractive multiples. While the traditional value investing allows for target companies to have both value and growth characteristics, the pure value approach excludes any overlaps.
Value and deep value investing can experience significant volatility and long periods of underperformance. After all, troubled companies may take more than several years to re-ignite themselves.
Guggenheim S&P 500 Pure Value ETF (RPV)
With AUM just under $950 million, RPV is the biggest large-cap deep value ETF. Launched in mid-2006, this ETF has 10-year performance record tested through the Great Recession of 2008-2009.
Currently, it charges 0.35% expense ratio, which is somewhat higher than the regular value funds in the space.
Construction
RPV replicates the S&P Large Cap Pure Value Index. S&P calculates value and growth scores to each stock in the S&P 500 using three growth metrics (12-month price momentum, three-year change in earnings scaled by price, and three-year sales per share growth) and three value metrics (price to earnings, price to book, and price to sales). All growth and value factors are weighted equally. Each stock is ranked by the difference of its growth score to its value score.
The qualifying pure value stocks, currently 116, represent the group of stocks with the highest difference between value and growth score. The index is calculated following the divisor based methodology of S&P Dow Jones Indices' Equal Weight Indices, giving bigger weights to stocks with higher value ratings. To avoid outliers, each stock is capped at 2% of the total.
Return
For the past 10 years (2007 - 2016), RPV had outpaced the S&P 500 by 0.74% per year on annualized basis. During this period, RPV overperformed its parent index 5 out of 10 years. In the years when it outperformed the broad market, the deep value strategy did by a hefty margin.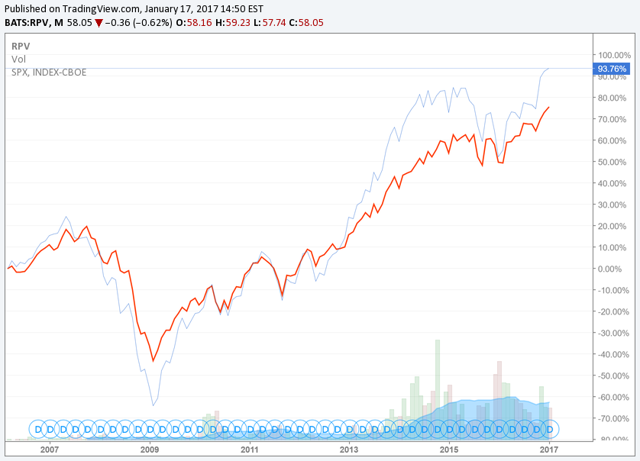 Source: Seeking Alpha
For the same period, RPV also outperformed the large value category by 2.3%, outpacing it 6 out of 10 years.
Due to its strategy of investing in companies with low valuations, the ETF experienced periods of under performance (2007-08; 2014-15), followed by periods of over performance (2009-10; 2012-2013).

Risk
Deep value investing is not for the weak-hearted. The strategy performance has its ups and downs which is reflected in its risk. The RPV has 50% higher standard deviation than the average fund in the large-cap value category and 58% higher than S&P 500. It also has a beta of 1.41 versus 1.01 for the average large cap value fund.
On the flip side, the pure value strategy has weaker correlation to the broad market. It's R2 is equal to 79.7%, which can add some diversification benefits next to a broadly diversified portfolio.
Despite its higher volatility, RPV outperformed the large cap value category on risk-adjusted basis. It's 10-year Sharpe Ratio is 0.4 versus 0.37 for the category.
On the other hand, RPV failed to beat S&P 500 on risk-adjusted basis. Its Sharpe ratio was lower than that of S&P 500, 0.4 versus 0.47.

Sectors
As of early January 2017, RPV is significantly overweight Consumer Cyclical, Financial Services and Utilities including names like General Motors (NYSE:GM), Ford (NYSE:F), Autonation (NYSE:AN), Staples (NASDAQ:SPLS), Goodyear (NYSE:GT), Macy's (NYSE:M), Gap (NYSE:GPS), Berkshire Hathaway (NYSE:BRK.B), Prudential Financial (NYSE:PRU), Assurant (NYSE:AIZ), and Exelon Corp (NYSE:EXC).
Curiously, Berkshire Hathaway is the only ticker in Top 25 holdings of RPV, that is in the Top 25 of the core S&P Large Cap Value Index (NYSEARCA:IVE).
In addition, RPV doesn't own any REITs. However, if a new rise in interest continues to put pressure on REITs price, it will not be surprising to see few REIT additions in the next round of rebalancing.
RPV versus SPY by sector: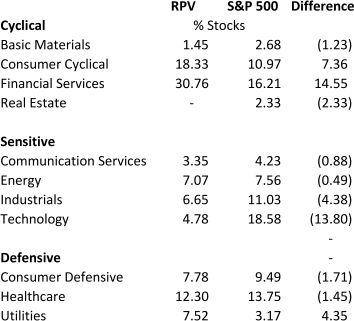 Source: Morningstar.com
Market Cap
Because of its value score weighting versus market cap weighting, RPV tends to lean towards the lower tier marker cap spectrum of the S&P 500.
Currently, the ETF is significantly overweight medium and small market cap companies relative to its parent index.
This tilt toward smaller companies adds to the higher volatility of this Pure Value ETF.
RPV versus SPY by market cap: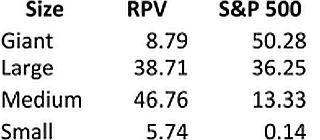 Source: Morningstar.com
Final Thoughts
1. The pure value ETF invests in deeply out-of-favor stocks with low relative valuations. Stocks included in the portfolio are those with the highest value score amongst S&P 500 members.
2. The portfolio construction is based on the composite value score instead of market-cap. Therefore, companies with stronger value characteristics will have bigger allocation over companies with a larger market cap.
3. RPV had a choppy 10-year run, during which it was able to outperform S&P 500 and large value rivals. The higher returns came at the expense of bigger downside risk and higher volatility. The ETFs was over 50% more volatile than comparable value strategies. It's a textbook example of the higher the return, the higher the risk tradeoff.
4. RPV has a sizeable sector tilt. The current portfolio overweights retail, auto, utilities and financial companies. Because of no set restrictions and only annual rebalancing, sector exposure can deviate significantly year over year.
5. RPV is more suitable to investors with longer time horizon and higher risk tolerance. Despite higher historical returns, it can be a quite volatile stand-alone investment. it's best considered as a part of a broader value strategy.
Disclaimer: Past performance does not guarantee future performance. Nothing in this article should be construed as a solicitation or offer, or recommendation, to buy or sell any security. The content of this article is a sole opinion of the author. The opinion and information provided are only valid at the time of publishing this article. The content should be only used for educational and research purposes. Investing in these asset classes may not be appropriate for your investment portfolio. If you decide to invest in any of the instruments discussed in the posting, you have to consider your risk tolerance, investment objectives, asset allocation and overall financial situation. Different investors have different financial circumstances, and not all recommendations apply to everybody. Seek advice from your investment advisor before proceeding with any investment decisions. Various sources may provide different figures due to variations in methodology and timing.
Disclosure: I/we have no positions in any stocks mentioned, and no plans to initiate any positions within the next 72 hours.
I wrote this article myself, and it expresses my own opinions. I am not receiving compensation for it (other than from Seeking Alpha). I have no business relationship with any company whose stock is mentioned in this article.
Editor's Note: This article covers one or more stocks trading at less than $1 per share and/or with less than a $100 million market cap. Please be aware of the risks associated with these stocks.