In spite of being one of worst performing stock in 2016 among the EU Pharma for the uncertainties related to the acquisition of Monsanto, I would not chase Bayer (OTCPK:BAYZF, OTCPK:BAYRY) in 2017, because I think the valuation is fully reflecting the strengths and opportunities of the company.
I like Bayer's long-term strategy and diversification approach, with exposure to pharmaceuticals (e.g. Xarelto, Eylea), Consumer Healthcare, Animal Health and Crop Science, but I don't think the company is strongly poised to outperform from the current valuation of 8.1x EV/EBITDA 2018 as it will still suffer from a series of headwinds in 2017 and beyond related to their Pharmaceutical Division:
- Kogenate could face competition by ACE910 in 2018. Roche has recently reported positive headlines from a PIII trial of ACE910 in Haemophilia A (inhibitor segment) and they will report a second PIII trial in the non-inhibitor segment before the end of 2017. This is the area where Kogenate maintains a leading position, but if ACE910 will confirm the promising results showed in the PI trial, with very strong efficacy but also a more convenient dosing regimen, I think Bayer could lose at least half of its franchise or around €0.5B of sales in 2018. Taking into account a 30% operating margin and a 23% tax rate, there would be around 15 cents of downside on the EPS, or about 2/3% downside to the stock price at the current valuation of 12.5x P/E 2017.
- Eylea has been a key driver of growth for the Pharmaceutical division in the last couple of years, but there will be increasing competition going forward from two sources:
New agents as RTH258 (Novartis) and DARPin (Allergan), which are targeting similar efficacy of Eylea in wet AMD, but lower frequency of injections. In particular, after a successful Phase II study reported in 2015, Novartis will likely report in 2017 the results from two Phase III trials testing RTH258, dosed every 3 months vs. Eylea, dosed every 2 weeks. On the other hand, Allergan will report the results from the Phase III trial of DARPin in 2018, tested in two regimes (8 and 12 weeks) vs. Lucentis dosed every 4 weeks. Phase II results for DARPin showed interesting efficacy, but also some safety issues. In particular, several patients reported ocular inflammation, which could hamper the potential of the drug if confirmed in the PIII trial.
Biosimilars competition. Despite Eylea patent protection extends beyond 2020, the big issue for Bayer is the patent expiration for the key Eylea's competitor, Lucentis, which ends in 2019. Thus, both players are likely to face competitions from biosimilars by the end of the decade, likely by Formycon/Bioeq, who are the most advanced players in this space.
Given the increasing competition, it's reasonable to expect a potential pricing pressure in the wet AMD space, with the PBM starting to use formulary tools to force the companies to give higher rebates, in addition to market share lost for the incumbents.
As an example, assuming 50% erosion of this franchise in 2020 from increasing competition, Bayer could lose around €1.5B of sales, which, at 40% operating margin and taking into account a 23% tax rate, equates to 50 cents of downside on the EPS, or about 7% downside to the stock price at the current valuation of 12.5x P/E 2017.
- Bayer could benefit from a broad pipeline with several upcoming catalysts (Copanlisib, ODM-201, Anetumab, Finereone, Vilaprisan, Vericiguat), but I don't see any of these assets as a multi-billion opportunity that could radically change the long-term picture, especially because the company will face a huge patent cliff in mid-2025 with the patent expiration of Xarelto. Thus, I don't believe the Pharma business could keep growing after 2020, especially in absence of innovation coming from the Bayer R&D or from external M&A.
- At 8.1x EV/EBITDA 2018, shares trade at discount vs. the diversified biopharma group, justified by lower visibility on some key growth drivers and some uncertainties about the closing of the acquisition of Monsanto. In addition to that, the valuation is in line with the absolute 10-year historical one, and at discount to the relative 10-historical one, as shown by the following analysis. Thus, the current valuation looks reasonable and not sufficiently attractive.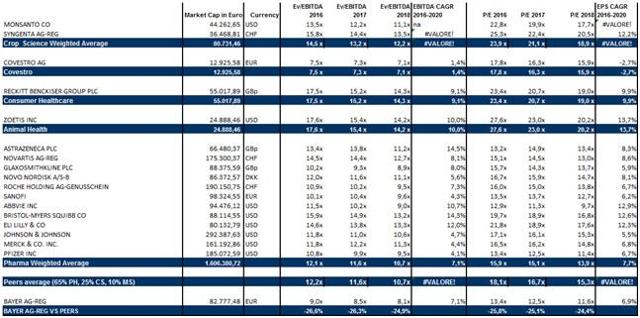 Source: Own Valuation Model, data from Bloomberg Terminal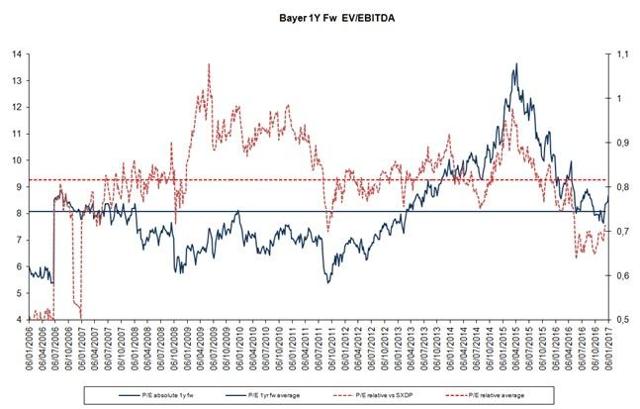 Source: Own Valuation Model, data from Bloomberg Terminal
Lastly, in terms of valuation, I think Bayer's valuation fully reflects the value of the Crop Science Division. This business is the key pillar of its strategy in the future, with further benefits expected from the acquisition of Monsanto in terms of scale and cost/revenue synergies. On the other hand, the company will still face further pressure in the Pharmaceutical division, and I don't think the valuation offers any room for further upside regarding this business.
I would now show why I think Bayer is trading at fair valuation, using two different Sum-of-the-Parts (SOTP) Analysis to assess a scenario in which the acquisition of Monsanto will be completed by the end of 2017 and another one in which the acquisition will fail.
SCENARIO 1: BAYER WITHOUT MONSANTO
I would now show what multiple is implied in the current 8.1x EV/EBITDA 2018 valuation for the Crop Science Unit, using a SOTP based on the five key segments:
Pharmaceuticals, assuming a valuation of 9x EV/EBITDA, at a discount to the Pharma peers, given a weak pipeline which seems insufficient to compensate the patent expiration of Xarelto in 2024/2025.
Consumer Healthcare, assuming a valuation of 11x EV/EBITDA, at a discount to Reckitt Benckiser's valuation given its smaller scale and lower profitability.
Animal Health, assuming a valuation of 12x EV/EBITDA, at a discount to Zoetis given its smaller scale.
Crop Science, assuming a valuation of 10x EV/EBITDA, at a discount to Syngenta's valuation, which is inflated by Chemchina's bid.
Covestro, assuming a valuation of 7x EV/EBITDA, in line with market valuation for this separate entity.
As a reminder, to calculate the Bayer's Equity Value from the EV, I should also consider the following elements:
Net Debt & Pension Liabilities, estimated to be around €18B at end of 2017.
Covestro Minority, given that Bayer retains only a 64% stake in this entity. At the current Covestro's valuation, the minority is valued at around €5B.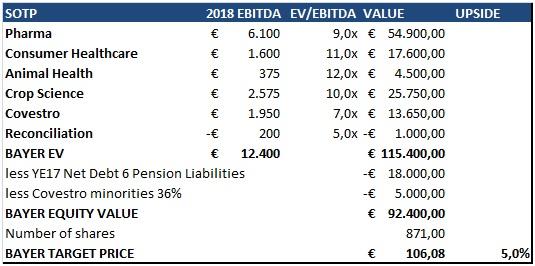 Source: Own Valuation Model
SCENARIO 2: BAYER & MONSANTO
Compared to the previous scenario, I make the following changes to the SOTP, to reflect the combination of Bayer and Monsanto regarding their Crop Science Units:
Crop Science EBITDA goes from €2.6B to around €7B, with the consolidation of the MONSANTO EBITDA and some synergies from the acquisition.
To finance the €60B acquisition of Monsanto, I assume Bayer will raise €17B of equity (€4B mandatory convertible announced in November 2016 plus €13B additional rights issue which will be announced in 2017). Assuming a rights issue discount of about 30% from the current share price, I assume Bayer will issue around 185M of additional shares in 2017. Thus, the number of shares outstanding goes from 871M (which includes already the impact from the €4B mandatory convertible) to 1060M. The TERP, following the rights issue, is likely to be around 95€, which I used to compare the Bayer's valuation from the SOTP in this second scenario.
The residual €43B will be raised by debt issuance, with a Total Net Debt in 2017 estimated to be around €61B.
I assume a valuation for the Crop Science Unit of about 11x EV/EBITDA, to reflect the benefit of larger scale and manufacturing efficiencies, after the merger with Monsanto.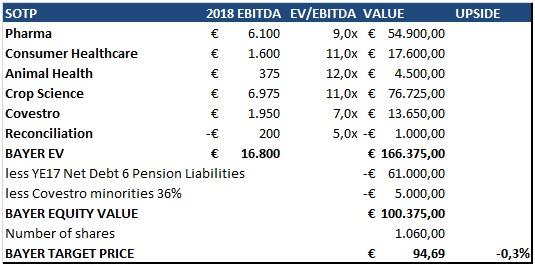 Source: Own Valuation Model
These two analysis show that, assuming a reasonable valuation of 9x EV/EBITDA for the Pharma division and 12x EV/EBITDA for the Animal Health Unit, the market is already assigning a full valuation to Bayer, which adequately reflects the quality of the Crop Science and the Consumer Healthcare units, independently from the likelihood of closing the acquisition of Monsanto.
These types of business should trade at a premium to Pharma peers and more in line with the staples peers, as already reflected in our implied >10x EV/EBITDA valuation for these two units. Thus, further upside from here for Bayer should come from a higher valuation assigned to the Pharmaceutical division, which will still suffer from a lot of issues in the coming years and are poised to disappoint.
Conclusion
In summary, Bayer trades at a fair valuation for a conglomerate that offers exposure to interesting therapeutic areas like crop science, animal health and consumer healthcare, but, with a lot of uncertainties about the ability to close the acquisition of Monsanto and some headwinds in the Pharma Division, I don't think the stock is poised to outperform from the current valuation.
Disclosure: I/we have no positions in any stocks mentioned, and no plans to initiate any positions within the next 72 hours.
I wrote this article myself, and it expresses my own opinions. I am not receiving compensation for it (other than from Seeking Alpha). I have no business relationship with any company whose stock is mentioned in this article.
Additional disclosure: Not investment advice. I am not an investment adviser.
Editor's Note: This article discusses one or more securities that do not trade on a major U.S. exchange. Please be aware of the risks associated with these stocks.