The Big Oil Portfolio was started as a discussion on how to invest in a recovery in oil prices by investing in large oil companies. The portfolio was originally created with an investment of $100 thousand and watched its value decline. However, as the oil markets have recovered, the portfolio has remained strong. The portfolio's recovery prospects combined with its strong dividend make it a portfolio with strong growth prospects.
Introduction
Those who have been following the oil markets since the start of the crash have been on a wild run. Oil prices peaked in mid-2014 and from that point fell to an early-2015 low. Prices then stayed fairly constant for 2015 before rapidly dropping to an early-2016 low of less than $30 per barrel. Since then, prices have recovered some to more than $50 per barrel but are still noticeably below their highs.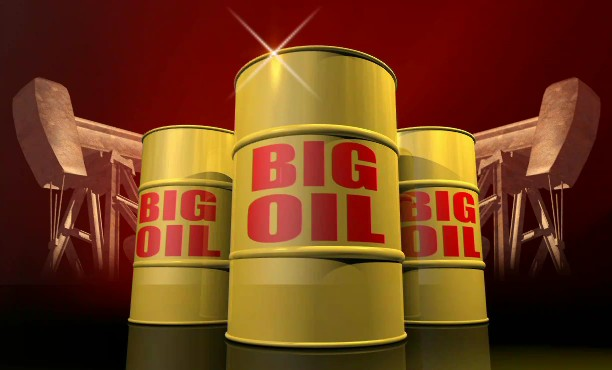 Big oil companies, traditionally including companies like Exxon Mobil (NYSE: XOM), Chevron (NYSE: CVX), and Royal Dutch Shell (NYSE: RDS.A) all with market caps in the hundreds of billions, have tended to outperform these oil markets. The reason for this is that these companies offer investors a respectable dividend. This provides investors with cash flow in exchange for supporting these companies throughout the crash.
At the same time, these companies still offer modest earnings potential in the event of a crash. As we will see in this article, the portfolio's recovery and dividend give it strong upcoming growth prospects.
Portfolio
Before we discuss the changes in the portfolio, let's begin by discussing the portfolio itself.
| | | | |
| --- | --- | --- | --- |
| Name (Ticker) | Number of Shares | Present Price | Position Value |
| Exxon Mobil | 150 | $87.36 | $13,104 |
| Chevron | 200 | $116.28 | $23,256 |
| Royal Dutch Shell | 250 | $55.54 | $13,885 |
| Schlumberger Limited (NYSE: SLB) | 100 | $86.43 | $8643 |
| Phillips 66 (NYSE: PSX) | 100 | $83.56 | $8356 |
| Total S.A. (NYSE: TOT) | 430 | $51.51 | $22,149 |
| Kinder Morgan (NYSE: KMI) | 590 | $22.55 | $13,304 |
Total Cash: $1779
Portfolio Value: $102,697
Total Portfolio Value: $104,476
Portfolio Discussion
The portfolio has recovered admirably over the past six months. Six months ago, the portfolio was down six percent from its original starting value of $100,000. At that point, I decided to take the portfolio's cash and invest it in Kinder Morgan, anticipating a recovery in stock prices as the markets recovered. This turned out to be a good decision as the Kinder Morgan portion of the portfolio has gone up 30% alone.
Overall, the portfolio as increased to a value of more than $104,500, meaning that the portfolio is up 4.5% from its starting income. At the same time, the portfolio has recovered by more than 10% from its lows set six months ago. This represents an incredibly impressive low as the portfolio continues to throw off very significant cash flow. The portfolio's present yield of roughly 4% is double the yield of the S&P 500.
As we can see here, I remain pleased by the portfolio's performance and look forward to seeing it continue to grow both from an income perspective and from a capital perspective. However, despite this performance, I continue to look for ways to improve the portfolio, both by decreasing its risk and increasing its long-term income potential.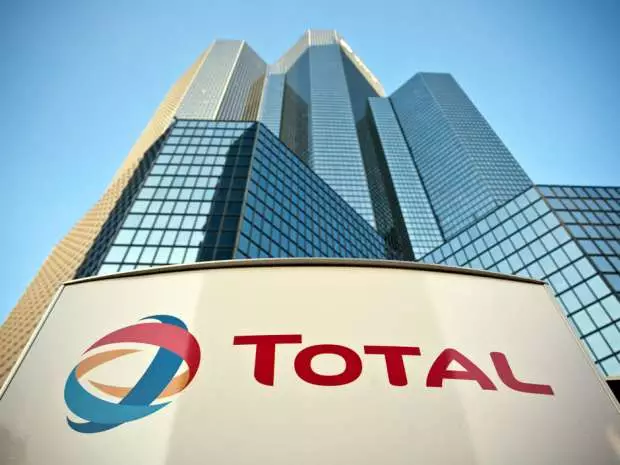 The way I plan on doing this is by decreasing the portfolio's position in Total. Total S.A. is the second largest position in the portfolio and is near the size of the Chevron position, the largest position in the portfolio. This will be done by selling 230 of the 430 share position in Total. This will provide the portfolio with $11,847 in additional cash, albeit with an impact on the portfolio's income.
Combined with the portfolio's present cash position, this increases the entire cash holdings of the portfolio to $13,626.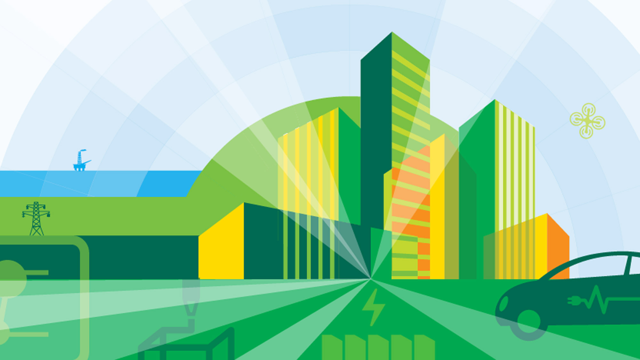 This money will be invested into British Petroleum (NYSE: BP), long seen as one of the largest oil corporations in the world. The company has a market cap of more than $120 billion and pays out an incredible quarterly dividend of $0.60. This comes out to an annualized yield of more than 6% annually. This will result in an increase of the portfolio's dividend income compared to Total S.A.
As a result, this new $13,626 cash position will be enough to open a 360 share position in British Petroleum and leave us with $147.6 in cash in the portfolio. At the same time, this will increase the entire portfolio's dividend income by more than $100 annually or 0.1% spread across the entire portfolio. This is a significant increase in the portfolio's dividend income and will help increase its cash flow.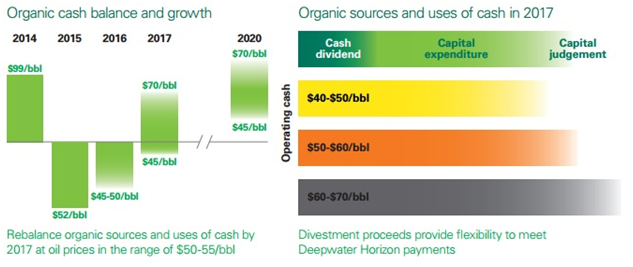 British Petroleum Cash Flow - Simply Safe Dividends
At the same time, British Petroleum is a rapidly growing company that should see its cash flow continue to increase. At present oil prices of more than $50 per barrel, British Petroleum is anticipating cash flow breakeven for 2017. By 2020, even with a modest recovery in oil prices to $70 per barrel, the company anticipates higher cash flow than what it earned in 2014 at $99 per barrel.
This shows how British petroleum is continuing to increase its earnings and cash flow to investors. This should enable the company to continue increasing its dividend above present levels. And this should help the portfolio's long-term earnings continue to increase.
Conclusion
The Big Oil Portfolio has done an incredible job over the past six months. The portfolio has gone from dropping 6% from its initiation, to being 4.5% above its initiation value at present. At the same time the portfolio's dividend has continued to remain strong at double the S&P 500 average. This shows how the value of the portfolio is not only continuing to increase but the portfolio is continuing to provide strong dividend income.
One of the most major changes I made in the portfolio was decreasing the size of the position in Total S.A.. Total S.A. was the second largest position in the portfolio despite not being one of the largest oil companies. As a result, the portfolio was trimmed, and the cash, along with dividend income, was used to open up a 360 share position in British Petroleum.
This new position will increase the portfolio's long-term dividend income and growth prospects. This shows the success of the Big Oil Portfolio.
Disclosure: I am/we are long BP, CVX, XOM, KMI, PSX, RDS.A, SPY, SLB, TOT.
I wrote this article myself, and it expresses my own opinions. I am not receiving compensation for it (other than from Seeking Alpha). I have no business relationship with any company whose stock is mentioned in this article.