Sri Lanka is one of the higher-risk/higher-reward emerging markets (NYSEARCA:EEM) available. Back in December I made the case as for why I'm long a particular portion Sri Lankan debt (maturing in 2021), believing its 12%+ yields outweigh the political risks and current account and fiscal deficits. One recent development could provide a boost to Sri Lanka's budget and therefore place the country in better standing from a credit perspective.
Last week, the European Commission announced the possibility of renewing the country's Generalized Scheme of Preference Plus ("GSP-plus") trade standing. If this were to pass, Sri Lankan goods would no longer be subject to the same level of tariffs on EU imports as they are currently. This would decrease the cost of the country's exports to the EU and increase its overall trade competitiveness. In turn, this would boost export volumes, increase GDP growth, and work to close its existing fiscal and current account deficits, which are presently financed through an expansion of the country's debt issuances. Central government debt came to 76.0% of GDP as of the end of 2015 and likely expanded into the 77%-78% range by the end of 2016. A restoration of GSP-plus is likely to decrease this metric by 2 to 3 percent per year through 2020.
The EU is Sri Lanka's trade partner, taking in about one-third of all its traded goods. Sri Lanka formerly had GSP-plus status from 2005-2010 but had it withdrawn in light of human rights violations. Tariffs jumped from zero to 18% on many items.
A downtrend in trade activity had plagued the country from early-2015 to mid-2016, contributing to rising deficits, but has recently begun growing again on a year-over-year basis.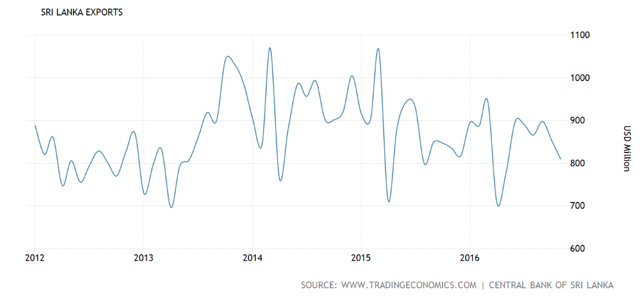 If GSP-plus trade status were to resume, it would greatly aid Sri Lanka's goal to increase export income to above USD$20 billion by the end of the decade from the $10-$11 billion mark the country has achieved in each of the past two years. Recently the government has been making headway in augmenting the country's trade competitiveness, investing in new ports and the expansion of current bays and facilities to accommodate additional export capacity. In the near future, generating greater efficiency in shipment processing should translate to more favorable pricing on goods for trading partners and work to boost export volumes and overall earnings from trade. GDP growth has been down-trending for five years since hitting a peak reading of 15%+ in the early portion of 2012, but has the potential to pick up to around the 5% level in 2017 with augmented GDP growth.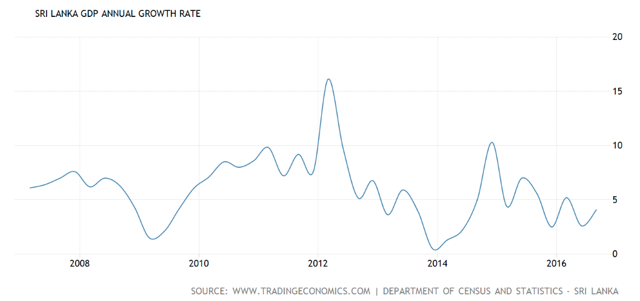 Beyond the aspect of "sanction removal" that came along with Sri Lanka's stripped GSP-plus status, its prospective renewal could spark trust from foreign nations on the stability of Sri Lanka for foreign investment purposes. With a re-vote of confidence with respect to its human rights and governance conditions, Sri Lanka's improvement on the export and overall economic front could encourage capital inflows into a variety of different industries in the country. This will improve its level of economic diversification and bring down its current account deficit, which is likely to come in the -2.4% to -2.5% range as a percentage of GDP for the FY2016.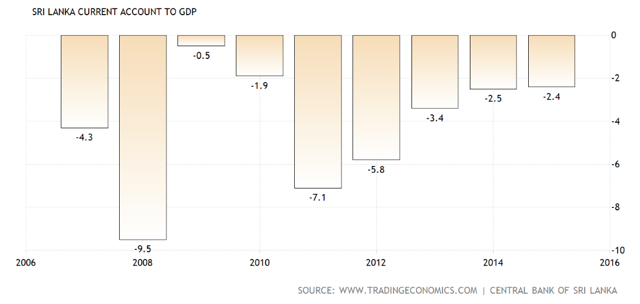 Foreign debt issuance has been Sri Lanka's primary financing initiative to support perpetually negative fiscal and current account balances, but foreign capital investment could help limit its reliance on external borrowing. Foreign exchange reserves could also receive a boost and be a positive development for the Sri Lankan rupee ("LKR"). The US dollar has been appreciating against the LKR since mid-2014, but very recently Sri Lanka's central bank has clearly been entering the market to control the currency's depreciation against the USD, as illustrated by the periods of pegging (flat lines/no price movement).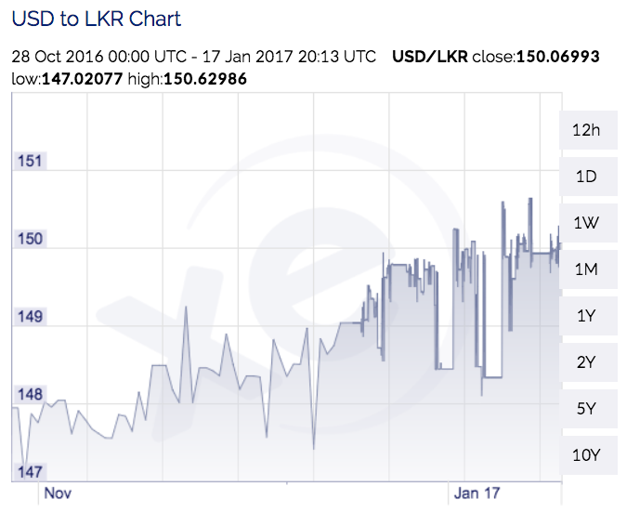 (Source: xe.com)
As of today, there are four Asian nations that benefit from the GSP-plus system - Kyrgyzstan, Mongolia, Pakistan, and the Philippines. The other four include two South American nations (Bolivia and Paraguay), one European country (Armenia), and one African nation (Cabo Verde). Sri Lanka would become the ninth country in such an arrangement.
The GSP-plus system was developed to help emerging markets gain access to the markets of European Union members while paying no tariffs (on most products) to have their goods imported into the region. A standard GSP arrangement allows for a partial or full exemption of tariffs of two-thirds of all product lines. The GSP-plus system allows for a full removal of all tariffs on two-thirds of all product lines. Two of the most important sectors for Sri Lanka - fishery products and textiles/apparel - would be exempted from all tariffs.
The Sri Lankan government most recently applied for GSP+ restoration in July 2016 after its trade relations with the EU thawed after a lift of its embargo on Sri Lanka's fisheries products. In a report dated January 11, 2017, the European Commission affirmed that Sri Lanka meets the GSP-plus 27-point criteria with respect to international conventions on human rights, labor conditions, environmental protection, and good governance.
Sri Lanka's re-entry into the GSP-plus system is now contingent on a committee assembled by the European Council and Parliament to raise matters that might conflict with these conventions. If there is no dissent from these parties, which is likely, a reinstitution of Sri Lanka's GSP-plus status is likely by May.
Disclosure: I am/we are long SRI LANKAN GOVERNMENT BONDS; USD/LKR.
I wrote this article myself, and it expresses my own opinions. I am not receiving compensation for it (other than from Seeking Alpha). I have no business relationship with any company whose stock is mentioned in this article.