Perhaps no other major oil and gas producer has been harder by the slump in energy prices than Chesapeake Energy (NYSE:CHK). The company, which is the second largest natural gas and thirteenth largest liquids producer in the US, is not even a large-cap driller, carrying a market cap of just $6.1 billion. But the company could do well this year as it slowly repairs its balance sheet.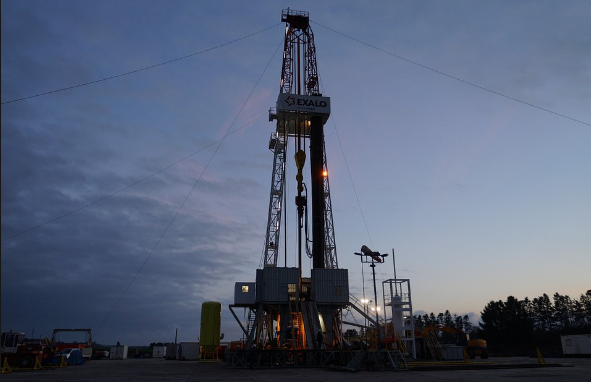 Chesapeake is one of the leading shale drillers, with exposure to more than 8 million net acres of oil and gas producing properties in some of the top energy plays in the onshore US, as per YE2015 estimates. The company mainly operates in Eagle Ford, Haynesville, Marcellus, Utica, Mid-continent and the Powder River Basin. The company holds 11.3 billion barrels of oil equivalent reserves representing around 5,600 drilling locations that can generate 40% returns at $3 per mcf gas and $60 per barrel oil.
But Chesapeake also carries one of the weakest balance sheets in the industry. Therefore, it has been severely punished by Mr. Market in the downturn. Since the start of 2015, the year when the current downturn started, the company's shares have fallen almost 65%, which compares against a drop of 17% witnessed by its peers, as measured by SPDR S&P Oil & Gas Exploration & Production ETF (NYSEARCA:XOP).
At the end of the third quarter, Chesapeake had just $4 million of cash while its net debt ratio was an astounding 111% - the highest among all large-cap and mid-cap oil and gas producers.
Chesapeake, however, has been trying to improve its financial health through debt management and asset sales. Last week, the company announced the results for its latest tender offer for senior notes and convertible notes. Consequently, the company is now facing less than $400 million of debt obligations in the short term (2017-18) and has just $30 million of convertible notes with 2017-18 put dates.
Besides, Chesapeake Energy has also either sold or agreed to sell assets worth $2.5 billion in 2016, exceeding its 2016 divestiture target by $500 million. This includes disposal of almost 119,500 net acres in Haynesville shale for $915 million through two separate transactions in December. The proceeds from these asset sales will significantly increase the company's cash reserves in the coming months. That will reduce the company's net debt which was $8.7 billion at the end of the third quarter (principal amount). We'll likely begin to see the impact of divestitures on Chesapeake's balance sheet when it reports fourth quarter results which will include cash proceeds related to Barnett Shale transaction.
Note that Chesapeake's debt levels have fallen in the downturn. The Q3-2016 net debt was considerably lower than $12.78 billion seen at the end of 2012. Total adjusted net leverage has fallen more than 50% in the corresponding period to $10.9 billion.
The improvement in financial health came under the leadership of Chesapeake CEO Doug Lawler, who has recently said that the company aims to continue selling assets, which will allow it to reduce its debt by $2 billion to $3 billion over the next three two to three years.
Improvement in balance sheet, in addition to an uptake in energy prices, will have a positive impact on Chesapeake stock. In addition to debt reduction, Chesapeake has is aiming to grow production by 5% to 15% annually, achieve net-debt-to-EBITDA ratio of 2x in the near term and become cash flow neutral in 2018. If the company makes meaningful progress on achieving these targets in 2017, then it should lift Chesapeake stock. Improvement in financial health will likely also have a positive impact on the company's valuation.
In short, I believe Chesapeake's management has done a commendable job of improving the company's financial health in the downturn. I expect Chesapeake stock to move higher as it repairs its balance sheet. But I believe that at current price levels, investors should steer clear of this stock.
Remember, Chesapeake targets related to financial health are ambitious. For instance, the company has been reporting negative EBITDA and has been burning cash flow throughout the downturn. In the third quarter, it reported an EBITDA of negative $801 million while cash flow shortfall was of $127 million. It is, therefore, going to be an uphill task to even report a net-debt-to-EBITDA ratio in the near future and become cash flow neutral in 2018.
Chesapeake's adjusted EBITDA, however, has been a positive $955 million in the first nine-months of this year. But this doesn't mean that the company can hit the 2x leverage target, with adjusted EBITDA, in 2017.
If the company becomes successful in considerably increasing adjusted EBITDA to around $2 billion in 2017, then even this won't be enough to translate into 2x leverage since that would require an additional $4.7 billion cut in net debt from Q3-2016 level. Based on what we've heard from Doug Lawler, the company is not targeting debt reduction of this magnitude in 2017-18.
Also, the company's targets are underpinned by $3 per MMBtu gas and $60 per barrel oil price environment. If prices turn out to be weaker than expected, then Chesapeake will find it difficult to deliver on its promises in the next couple of years.
Chesapeake's shares are not expensive, but for a company that still has a large debt load and tough goals to achieve, investors would want a compelling valuation. At almost $7, Chesapeake doesn't offer that.
In terms of EV/EBITDA ratio (2017e.), the company's shares are priced 7.6x, lower than the large-cap peer average of 9.8x, as per data from Thomson Reuters. But there are few other companies like Apache Corp. (NYSE:APA) and ConocoPhillips (NYSE:COP) who are also priced in the 7x range and also have a high-quality asset base, but have significantly lower levels of debt and have already achieved cash flow neutrality. On top of this, these are oil-focused companies that are in a better position to capitalize from the strength in crude prices. I believe investors might be better off with stocks like ConocoPhillips and Apache than Chesapeake Energy.
Note from author: Thank you for reading. If you like this article, then please follow me by clicking the "Follow" link at the top of this page.
Disclosure: I/we have no positions in any stocks mentioned, and no plans to initiate any positions within the next 72 hours.
I wrote this article myself, and it expresses my own opinions. I am not receiving compensation for it (other than from Seeking Alpha). I have no business relationship with any company whose stock is mentioned in this article.