The offshore oil and gas drilling industry has proven to be a treacherous one for investors as a decline in capital spending by oil and gas companies has cut off the source of revenue for offshore oil drillers. However, there are certain offshore drillers who have proven to be a good bet even in weak end-market conditions. Transocean (NYSE:RIG) is one such company that has recently sent the shorts running for cover and I am not surprised. Let me explain why.
Shorts are running away from Transocean, leading to a strong price performance
Transocean's short float has seen a rapid decline of late. At present, Transocean has 59.3 million shares, or 18.2% of its float, short. However, just a month ago, the company's short float was higher at 64.13 million shares. Therefore, in a short span of just one month, Transocean's short float has dropped over 7.5%.
More importantly, the drop in Transocean's short float is not a recent phenomenon. Over the past year, the company has witnessed a rapid decline in its short float, which has eventually resulted in a higher stock price. This is evident from the chart given below: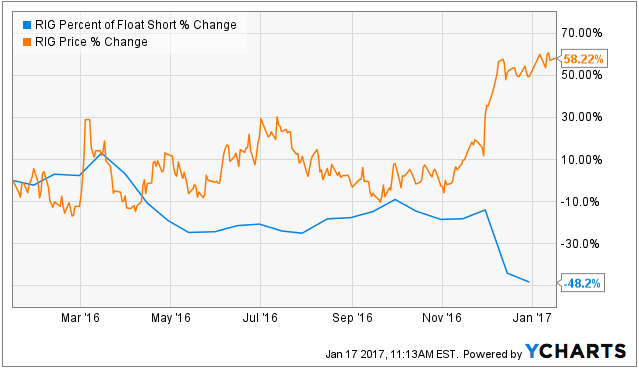 The inverse relationship between Transocean's short float and the stock price is clearly on display in the chart above. Looking ahead, it is likely that Transocean's short float will continue to decline as the company's financial performance could improve in 2017. Let's see why.
100% revenue efficiency will be a key driver in 2017
One of the key factors why shorts have been running for cover from Transocean is because of the efficiency with which the company is converting its backlog into revenue. In fact, Transocean's revenue efficiency has risen to 100% of late, taking its average revenue efficiency for 2016 to 97%. The following chart shows the rapid improvement in Transocean's overall fleet efficiency: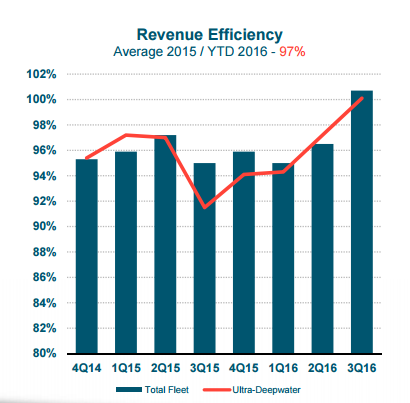 Source: Transocean
As seen above, the revenue efficiency of Transocean's total fleet has risen to 100% in the last-reported quarter. The reason why the company has been able to improve its revenue efficiency is because it has been focusing on increasing the uptime of its rigs. Transocean is enhancing the uptime by trying to gain more business even in a difficult environment, as a result of which it has been able to lower idle costs and keep utilization rates high.
For instance, its Transocean Barents rig will start working for Suncor from the middle of the year and will run for 15 months, while the Deepwater Conqueror drillship has also found work with Chevron from this year. Hence, by putting more of its fleet to work, Transocean has kept its utilization rates high, which has eventually led to 100% revenue efficiency. Now, this strong level of revenue efficiency will enable Transocean to convert its entire backlog into revenue this year.
Transocean's backlog for this year stands at $2.7 billion. Given that the company has managed to achieve a 100% revenue efficiency rate, it should report $2.7 billion in revenue for this year. More importantly, as more than 90% of Transocean's backlog is held by investment grade companies, the chances of contract cancellations and a reduced backlog are low for the year.
Assuming that Transocean reports revenue of $2.7 billion for the year, I will now calculate the company's projected costs for 2017 and see how it will be valued by the end of the year.
Calculating Transocean's EBITDA for 2017
As discussed earlier, a revenue level of $2.7 billion for 2017 has been arrived at assuming that Transocean converts its entire backlog into revenue, which looks possible considering its revenue efficiency. Now, to arrive at the company's projected EBITDA for 2017, we will have to find out its cost of revenue and operating expenses for the year.
Transocean's cost of revenue is equivalent to the cost that it incurs to run its rigs and the company states this line item as operating and maintenance expenses. For 2017, Transocean forecasts that the cost of operating and maintaining the rigs will drop in the range of 20%-25% as compared to last year's levels. Now, in the first nine months of 2016, Transocean has incurred operating and maintenance costs of $1.57 billion.
The company incurred $665 million in costs during the first quarter, $500 million during the second quarter and $404 million during the third quarter. This indicates that Transocean's operating and maintenance costs have dropped at an average rate of 22%. At this pace, Transocean's operating costs in the final quarter will come in at $315 million, taking the annual operating and maintenance costs to almost $1.9 billion for 2016.
Now, as Transocean's operating and maintenance costs are expected to drop 20%-25% next year as mentioned earlier, Transocean's operating and maintenance costs in 2017 should drop to $1.47 billion at the mid-point. On the other hand, general and administrative expenses in 2017 will come in at $150 million at the mid-point after accounting for a drop of 10% as compared to 2016 levels. Thus, Transocean will have an EBITDA of $1.08 billion this year (projected revenue minus operating and maintenance costs minus general and administrative costs).
Valuation using enterprise value
Now that I have arrived at an EBITDA of $1.08 billion, I will use this to calculate Transocean's enterprise value. Transocean has a forward EV to EBITDA ratio of almost 10. Using this EV/EBITDA ratio, Transocean will have an enterprise value of $10.8 billion in 2017. Now I will use this EV to calculate the market capitalization of Transocean.
To calculate the market cap, we also need to know Transocean's debt and cash and investments. Currently, Transocean's cash position and other short-term investments stand at $4.49 billion. On the other hand, the company's total debt is $8.26 billion. Thus, using these numbers, Transocean should have a market capitalization of approximately $7 billion by the end of the year.
In comparison, Transocean currently has a market capitalization $6.1 billion. Therefore, considering the projected market capitalization, Transocean could deliver upside of more than 15% as compared to current levels.
Conclusion
Hence, Transocean's short float should continue going down as its financial performance gets better this year on the back of high revenue efficiency and lower costs. This will lead to upside at Transocean as discussed above, which is why investors should continue to hold the stock going forward.
Disclosure: I/we have no positions in any stocks mentioned, and no plans to initiate any positions within the next 72 hours.
I wrote this article myself, and it expresses my own opinions. I am not receiving compensation for it (other than from Seeking Alpha). I have no business relationship with any company whose stock is mentioned in this article.