Kinder Morgan (NYSE:KMI) reported fourth-quarter and full-year results on Wednesday afternoon, missing estimates for the top and bottom line. Let's see what this means for the stock and the company's owners.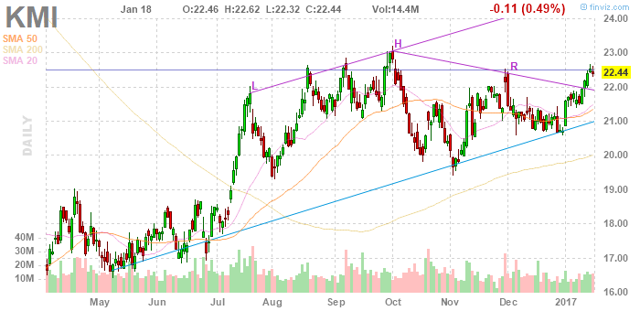 Kinder Morgan has been trading sideways over the last three months, with its share price declining slightly on Wednesday before fourth-quarter results were released. The share price is still just three percent below the 52-week high, thus there could be some downwards risk.
The company reported gross revenues of $3.34 billion, down 7% over the prior year's quarter. Expectations were missed by $150 million, or roughly 5%. Net income was $170 million, a big improvement over the prior year's fourth-quarter loss, but still well below analyst estimates, with EPS coming in at just $0.08 versus expected earnings of $0.19 per share.
The most important numbers for Kinder Morgan and its owners are not earnings and revenues though, but rather cash flows and the company's debt levels. Looking at its cash generation, we see distributable cash flows of $1.15 billion for the fourth quarter, which is a solid number, but $80 million below the prior year's level. This decline was not a surprise, since Kinder Morgan has sold a 50% stake in SNG last fall, which means SNG's contribution was cut in half. But a 6.5% distributable cash flow decline still isn't something investors want to see. Distributable cash flows totaled $4.5 billion for the full year, thus they were roughly flat versus the fourth-quarter run rate. Kinder Morgan's expectation for full-year 2017 distributable cash flows is $4.46 billion, slightly lower than in the previous year, which can be partially explained by the sale of the 50% SNG stake, although it is a negative that the company's continuous investments into new projects are not able to deliver growing cash flow numbers.
Two of those projects were finished during the last quarter, namely the SNG pipeline (which is partially owned by KMI) and the Elba Express Company expansion, which brought Kinder Morgan's project backlog down to $12 billion from $13 billion at the end of the third quarter. It is crucial for Kinder Morgan to develop the remaining projects in a way that will enhance cash generation, as it has not made any progress in that regard over the last years. With $3.2 billion in cash investments scheduled for the current year, I hope we will see a positive change in the company's cash flow number in the upcoming quarters. One huge positive is that Kinder Morgan plans to fund those investments with internally created cash flows, not via new debt or equity offerings. This means no further share count dilution, which will hopefully allow it to lower its debt levels going forward.
The company has done not bad in that regard over the last year, lowering its total debt by $3 billion, Kinder Morgan further plans to lower its debt to a number that reflects an EBITDA ratio to 5.4 at the end of the current year (and to 5.0 as a long-term goal). Lower debt levels mean less risk for bond investors, which should lead to lower interest rates, which, in turn, would lead to higher cash flows available for shareholder returns.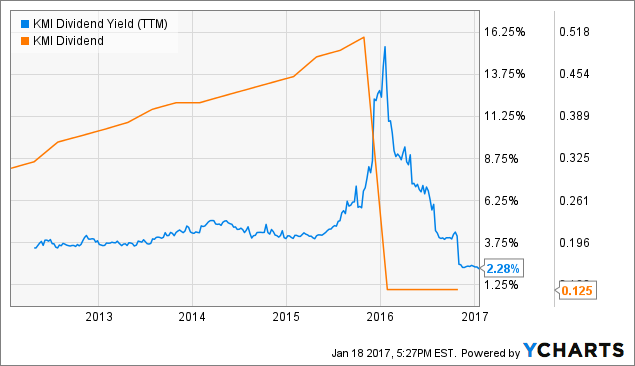 Looking at those shareholder returns, we see a dividend standing at $0.125 per share per quarter, which will not be increased for the foreseeable future (management states it plans to keep the dividend at the current level through all of 2017), and which provides a 2.3% income yield for investors at today's price. This is a little more than investors get from the S&P 500 index (trading with a dividend yield of 2.0%), yet a 2.3% income yield is not groundbreaking.
Kinder Morgan could be an interesting play for income investors with a very long-term horizon, since the company's dividends could grow significantly over a couple of years. Once most projects in the company's backlog are finished and debt levels are at the targeted 5.0 times EBITDA level, Kinder Morgan could pay out all or most of its distributable cash flows, which would could mean dividends of roughly $2.00 per share per year, and that would mean a dividend yield of 9.0% at today's price. Thus, there is a lot of potential for income in this stock, but whether (and if yes, when) we get there is not guaranteed at all.
Takeaway
Kinder Morgan once again missed estimates for the top and bottom line, but those numbers aren't too important.
Cash flows were a little lower than last year, but this was not a surprise, due to the SNG sale in Q3. The projects Kinder Morgan executes over the next quarters and years should push cash generation (otherwise, investors should take a very close look at why there are no improvements here), and at the same time, the company aims to lower its debt levels (and has done so in 2016).
This year's dividends are not very compelling, but Kinder Morgan shares could provide a lot of income in a couple of years, once the majority of the company's cash flows can be returned to shareholders instead of being used for debt payments and project execution.
Disclosure: I/we have no positions in any stocks mentioned, and no plans to initiate any positions within the next 72 hours.
I wrote this article myself, and it expresses my own opinions. I am not receiving compensation for it (other than from Seeking Alpha). I have no business relationship with any company whose stock is mentioned in this article.