If technical indications are anything to go by, Crude oil (NYSEARCA: USO) is witnessing a bearish price action that may force it down another 10 percent in the coming weeks. Crude has already retreated approximately 7 percent from its 17-month high of $55.24. At the time of writing this article, it is trading at $51.47 and has temporarily breached the 30-day simple moving average of $52.33 in a strongly bearish manner.
From the daily crude oil futures price chart below, we can see that today is the third time in less than two months that the commodity has failed to build on gains, and is attempting a retest of the short-term support. This support earlier helped the commodity jump to a fresh yearly high but the underlying strength is weak. There are significant evidences of extreme selling near higher levels and three have been marked below.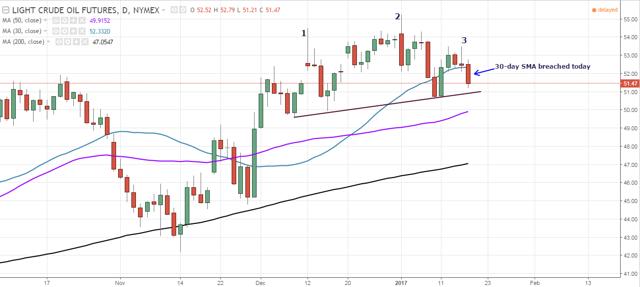 Source: TradingView
Breaking this crucial support will likely embolden the sellers to increase their bearish bets and breach the 50-day simple moving average of $49.92. The next noteworthy support level could be the 200-day SMA near $47.
But, how does this affect the long-term investors? Can they use it to their advantage? Well, let us discuss this using the weekly crude oil futures price chart.
As is evident in the 9-month weekly chart below, crude oil (NYSEARCA: OIL) has failed to maintain the bullish momentum which pushed it north of the strong resistance zone of $50-$52.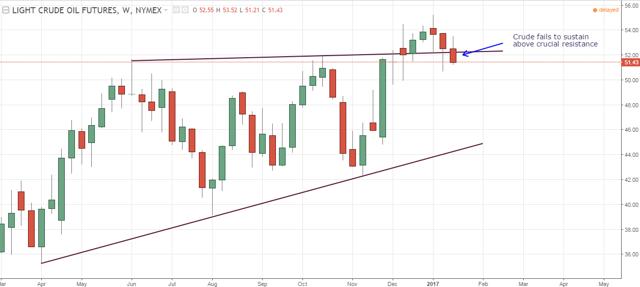 Source: TradingView
Now, there are two points to note here. One is that there are still two more trading sessions left in this week, and the commodity may not even violate the resistance trendline as it now seems. We will just have to wait for the weekly close for confirmation. If the commodity is able to close above the resistance trendline on a weekly basis, it would mark three consecutive weeks of retests. This, in itself, speaks of the resilience of the bulls.
If the resistance trendline (now acting as the support) is breached, we can expect the fall to accelerate down to the lower end of the previous range. As of this moment, the lower end is close to $45. So, one shouldn't be really surprised to see crude oil trading in the zone of $45-$47 in the coming weeks.
The long-term investor does not have to be perturbed by this small correction of 10 percent, and instead, he should use the dip to create long positions. The weekly chart clearly tells us that the last two times an investor went long on crude near the lower range, he could have easily generated 25 percent in returns. On a conservative note, factoring in the volatility of crude oil and the strength in the U.S. dollar (NYSEARCA: UUP), an investor should be willing to dedicate at least a year for good returns.
Either way, long-term investors only have to gain from here on.
Note: I cover several stocks in different sectors as well as S&P 500, crude oil, gold and silver, U.S. dollar, etc. So, if you liked this update, and would like to read more of such informative articles, please consider hitting the "Follow" button above. Thank you for reading!
Disclosure: I/we have no positions in any stocks mentioned, and no plans to initiate any positions within the next 72 hours.
I wrote this article myself, and it expresses my own opinions. I am not receiving compensation for it (other than from Seeking Alpha). I have no business relationship with any company whose stock is mentioned in this article.