Exxon Mobil's (NYSE:XOM) purchase of assets from the Bass family is a decisive, if slightly belated, answer to the criticism of the company having insufficient leverage to oil. The price paid per acre is significantly below average for recent Delaware basin transactions. The company is buying acreage in a part of the basin that has seen relatively extensive development in recent years, further reducing its risk. Additionally, wells drilled in Eddy county of New Mexico by the seller's operating entity BOPCO appear to be more prolific than the county average and on par with, for example, an average well in Reeves county, Texas that was featured in the second-largest Delaware basin acquisition this month by Noble Energy (NYSE:NBL). Despite the transaction's scale, Exxon will, however, remain behind rival Chevron Corporation (NYSE:CVX) in terms of resource potential estimated to be held underneath the companies' respective holdings and will continue lagging by far in net acreage.
Exxon Mobil: a late and slow entrant to the Permian basin
Exxon claims to produce 140 MBoe/d in the Permian. Viewed as a portion of the firm's 4 MMBoe/d worldwide production, the Permian at 3.5% is less important to Exxon than it is to Chevron. The latter, producing 150 MBoe/d, derives about 5.7% of its worldwide total from this basin.
A feature of Exxon's lower-48 production is the non-operated nature of a great portion of it. One question is how the company's production in unconventional basins evolved over the years, and how the basins rank in the order of importance. For operated production only, this is illustrated by the following exhibit. Most of Exxon's operated oil production from horizontal wells in the lower-48 states is in the Bakken. Permian follows as the second most important basin, at about a third of Bakken while Eagle Ford is the distant third. This is in contrast to Chevron deriving virtually all of its operated unconventional lower-48 production from the Permian.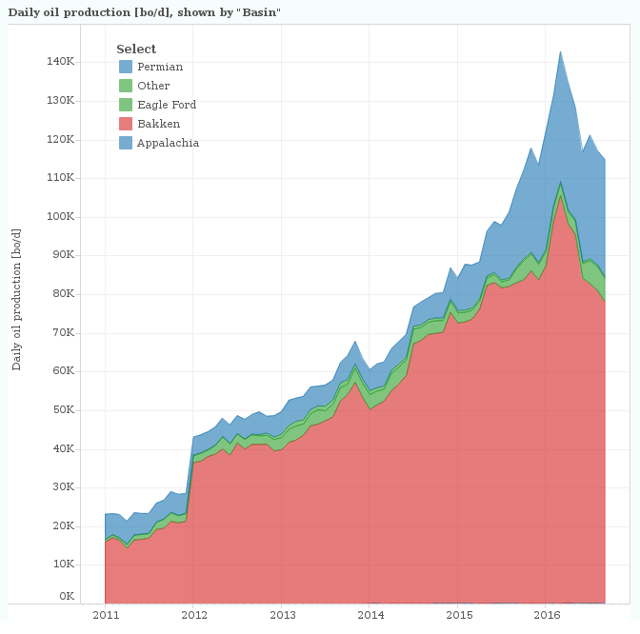 Source: shaleprofile.com. The chart includes production from horizontal wells operated by Exxon Mobil as well as those reported under XTO.
Despite the magnitude of the purchase, Exxon will continue lagging behind Chevron
Exxon's purchase of Permian acreage will raise the company's standing in the basin. Nonetheless, its resulting resource potential of 6 BBoe will still lag that of Chevron that claims 9 BBoe.
The quantity of acreage Exxon is buying, at 250,000 acres mostly in the Delaware basin, makes this acquisition the largest in quite some time compared to others in this basin. It exceeds by nearly one-half the acreage involved in the takeover by Noble Energy, Inc. of an entire publicly traded company Clayton Williams Energy (NASDAQ:CWEI), announced January 16. Large as this purchase might be, by acreage, Exxon will still remain behind Chevron, holding 2 million net acres spread all around the Permian basin with particularly dense coverage of the north-west part of the Delaware basin in New Mexico.
Exxon is paying a below-average price per acre
To facilitate comparisons, the following exhibit presents key figures and pricing metrics for Exxon's January 17, 2017 transaction and eight other deals that took place recently in the basin. Rows, representing the largest considerations or the greatest acreages are shown in bold. The takeaway is that Exxon is paying the lowest price per acre.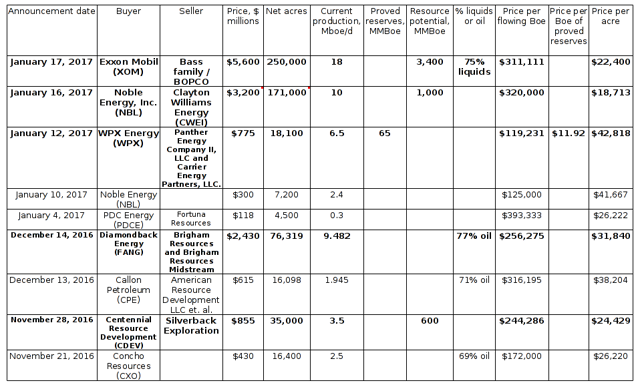 Source: companies' news releases and author's analysis. Note that the price per acre paid by Noble Energy is considerably higher than shown, if most value is attributed to acreage in core Delaware basin.
The acreage being bought is likely largely undeveloped, given the relatively small current production of 18 MBoe/d net. The $5.6 billion purchase price implies the price of $22,400 per acre, assuming that no value is assigned to acreage outside of the Permian, and also translates to $1.65 per Boe of resource potential.
The price per acre compares favorably to most recent transactions. While Noble's acquisition of Clayton Williams was done at around $19,000 per acre, not all acres are equally productive. If the entire transaction value were to be assigned to "71,000 highly contiguous net acres in the core of the Southern Delaware Basin in Reeves and Ward counties in Texas" rather than the total Permian acreage of 171,000 held by Clayton Williams, Noble would be seen as paying $45,000 per acre in the core of the basin. Exxon has done exceptionally well according to this metric.
Where to buy: Eddy Co., New Mexico or Reeves Co., Texas?
We can get the first look at what Exxon is buying by examining BOPCO's existing wells. Most of them are located in Eddy county of New Mexico.
Reeves county of Texas provides an interesting comparison point, as it was involved in both of the largest, by the amount paid, comparable transactions. These are the purchase by Noble Energy and December 14, 2016 acquisition by Diamondback Energy (NASDAQ:FANG).
The following chart presents a "productivity heat map." Shown are well locations of all operators, distinguished by cumulative 12-month oil production and located in Eddy county, New Mexico and Reeves and Ward counties, Texas. Ward county is included as it is the other county with Clayton Williams' Permian acreage.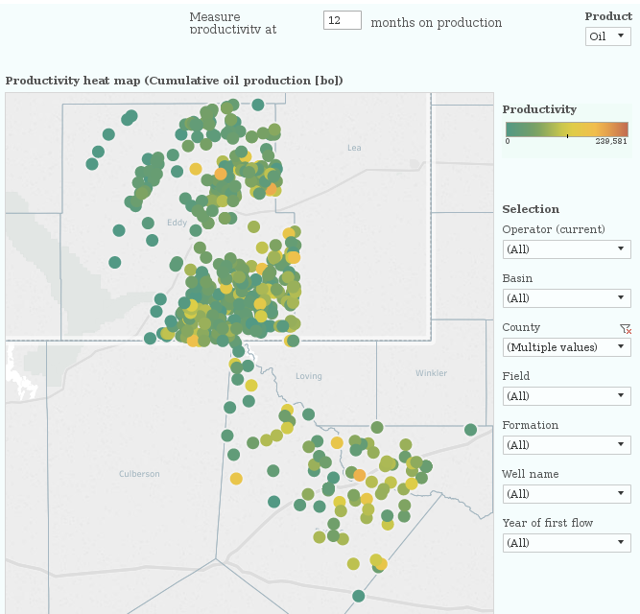 Source: shaleprofile.com
There are many more wells in Eddy county, yet the average oil production in the Reeves county appears to be higher. However, as shown by the following exhibit, BOPCO wells in Eddy county in fact perform not only above the Eddy county average, but indeed also roughly in line with, if not a little better than, the Reeves county wells of other operators.
Between Eddy county and Reeves county, Noble Energy's purchase is in the county with fewer wells. This could mean potentially a greater opportunity, yet more unknowns. From Noble's point of view, such unknowns are mitigated by the fact that the firm is buying acreage contiguous to that already owned. From Exxon's perspective and in the absence of Noble's area-specific expertise, acreage in Reeves county would present more unknowns, even if it were available at a good price.
Conclusion
Exxon Mobil's purchase of Bass family assets in the Delaware basin involves paying a low price for acreage in a relatively derisked part of the basin. While wells in Reeves county, Texas featured in two other large acquisitions by Noble Energy and Diamondback Energy are more prolific on average, wells by the seller's operating entity BOPCO appear to exceed the average of Eddy county and are on par with those in Reeves county. On balance, Exxon appears to have negotiated an attractive deal.
This transaction has the potential to increase significantly Exxon's Permian production - an area, where it has lagged its largest competitor, Chevron. Notwithstanding the size of this transaction, Exxon still lags Chevron by Permian resource potential and by the sheer amount of acreage.
Note from the author: Thank you for reading. If you like this article, please follow me by clicking the "Follow" link at the top of this page and choosing "Real-time alerts on this author" to be informed of my latest ideas.
Disclaimer: Opinions expressed herein by the author are not an investment recommendation and are not meant to be relied upon in investment decisions. The author is not acting in an investment, tax, legal or any other advisory capacity. This is not an investment research report. The author's opinions expressed herein address only select aspects of potential investment in securities of the companies mentioned and cannot be a substitute for comprehensive investment analysis. Any analysis presented herein is illustrative in nature, limited in scope, based on an incomplete set of information, and has limitations to its accuracy. The author recommends that potential and existing investors conduct thorough investment research of their own, including detailed review of the companies' SEC filings and consult a qualified investment advisor. The information upon which this material is based was obtained from sources believed to be reliable, but has not been independently verified. Therefore, the author cannot guarantee its accuracy. Any opinions or estimates constitute the author's best judgment as of the date of publication and are subject to change without notice. The author explicitly disclaims any liability that may arise from the use of this material.
Disclosure: I/we have no positions in any stocks mentioned, and no plans to initiate any positions within the next 72 hours.
I wrote this article myself, and it expresses my own opinions. I am not receiving compensation for it (other than from Seeking Alpha). I have no business relationship with any company whose stock is mentioned in this article.