The biotech beat-down that many believe began with Clinton's comments last year has left many stocks in the sector battered and bruised. While many of the companies are down 30-40% from their highs, there are few that have been squashed, like Valeant Pharmaceuticals (NYSE:VRX). The stock is down over 90% from its highs, and it has not paid to be a hero in this violent downtrend. The stock has claimed the lives of many investment accounts and put a dent in some of the largest funds in the world. Despite Valeant being 80% lower than when it was considered undervalued in late 2015, I still have zero interest in the stock. I believe price to be the final arbiter, and I learned early in my trading career that the market is always right.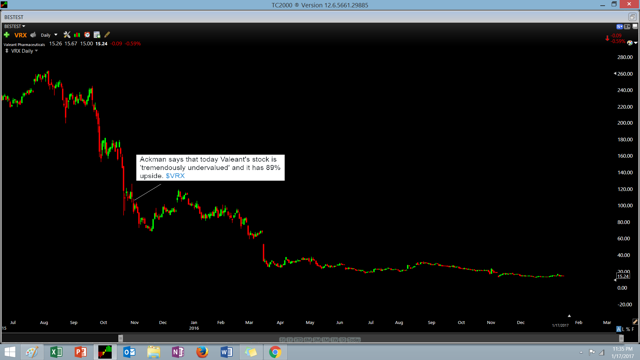 (Source: TC2000.com)
Almost 20 months ago, I hopped on to the Valeant bandwagon, as the stock had given me a decent technical base to enter a position from. I knew how crowded the stock was, but an entry is an entry, and I do not like to overthink things. I purchased the stock at $255.70 (US$210) on the Canadian market in late April 2015, with a stop on my trade of $240.00 at the time. To my amazement, my late-stage entry in the stock turned out to be well timed, and the stock soared higher over the next few weeks.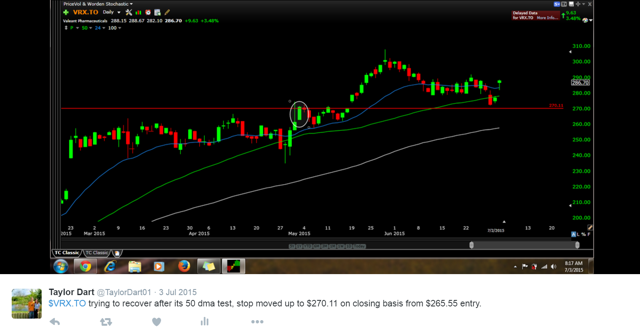 (Source: TC2000.com, Taylor Dart on Twitter)
By mid-July, the stock had broken out above $340.00 CAD, just after I had added 50% to my position based on a new technical breakout. This allowed me to move my stop up to $300.00 on the stock and continue to ride what was now becoming a monster trend from the stock's pullback in Q4 2014. At this point, saying this was a crowded trade was an understatement, and absolutely everyone was talking about Valeant. I always get an uneasy feeling when this happens to a position I'm in, but at the end of the day, my job is to remain in the trend until it kicks me out. The idea behind this is that trends can persist far longer than people imagine, and the market will always send a loud, clear signal when the trend is over.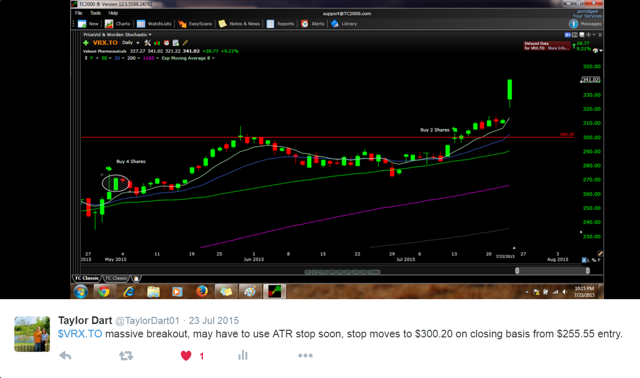 (Source: TC2000.com, Taylor Dart on Twitter)
Unfortunately, all good things come to an end, and so did my position in Valeant. The stock broke below its previous breakout level at $300.00 on August 20th, and I wasted no time stepping aside. Typically, I like to see breakout levels hold on a stock, and a close back below a breakout level tells me a stock is not showing commitment to this breakout. I ended up closing my position out for a 10.4% gain, which was a small winner per my system. I received no pats on the back for my trade like some of my tweets, but instead, backlash from quite a few followers. I could only attribute this to everyone and their little brother being long the stock, and a general market consensus that it could go only go higher from here.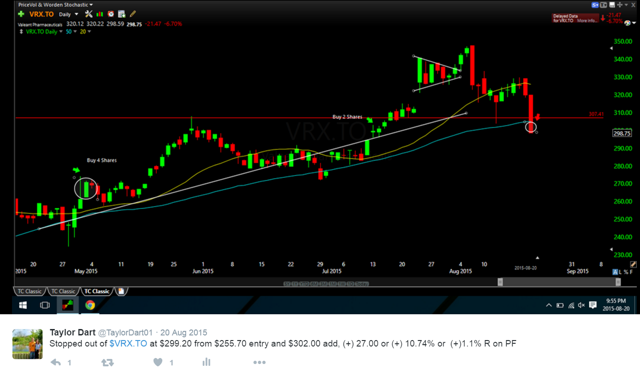 (Source: TC2000.com, Taylor Dart on Twitter)
This was not a problem for me, but it was a strange deviation from my past winning trades that received some praise, while minimal. I had no idea what the news to follow was, I only was interested in being on the correct side of the trend. The idea behind trend following is your stop is placed at a point where the trend is in serious jeopardy, so you're able to avoid getting caught in a violent trend change. During the correction, many analysts were busy crunching numbers for Valeant's Q3 results, but my methodology is one of "Sell first, ask questions later".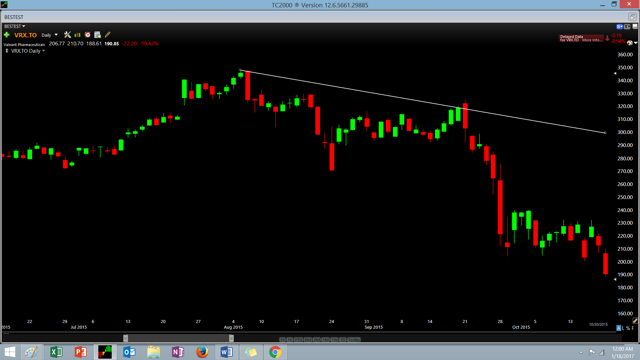 (Source: TC2000.com)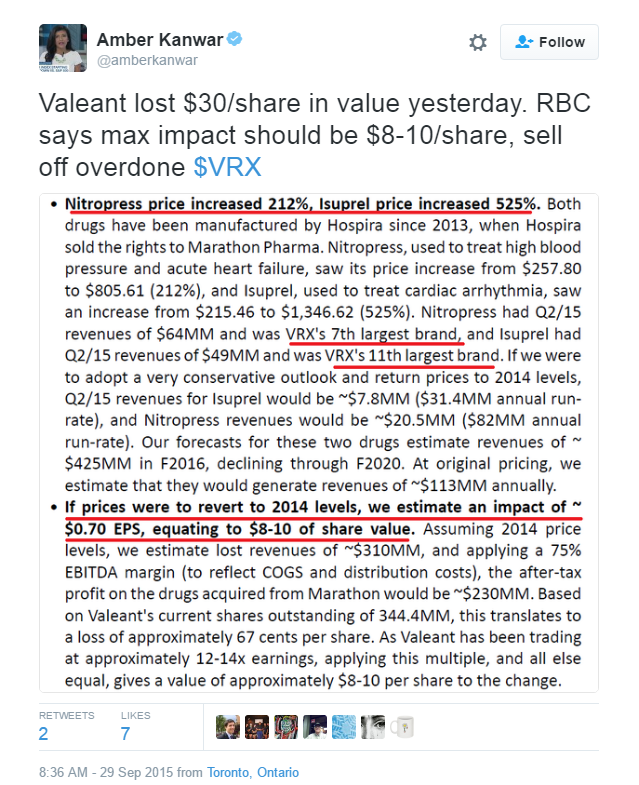 My system exit on Valeant ended up being quite lucky, as things turned sour almost immediately. This prompted Royal Bank of Canada (NYSE:RY) to state the sell-off was overdone, despite the stock only being 30% off its highs. One of my favorite quotes is by Mark Abraham of II Technology, which goes:
"While a fundamental analyst may be able to properly evaluate the economics underlying a stock, I do not believe they can predict how the masses will process this same information. Ultimately it is the dollar-weighted collective opinion of all market participants that determines whether a stock goes up or down. This consensus is revealed by analyzing price".
While Royal Bank may have been convinced that the sell-off was overdone from a fundamental standpoint, it was unable to predict what the sudden trend change would do to investors' perceptions of Valeant. The sell-off turned out to be just beginning, and things got much uglier within a week. The stock proceeded to make a lower high the next month, before posting its worst monthly decline since August 2007. This sent VRX tumbling to $238.00 CAD (US$178) and showed a very clear trendline break on the stock. I warned my readers of this with a simple chart, despite many people being on the opposite side of this trade and averaging down.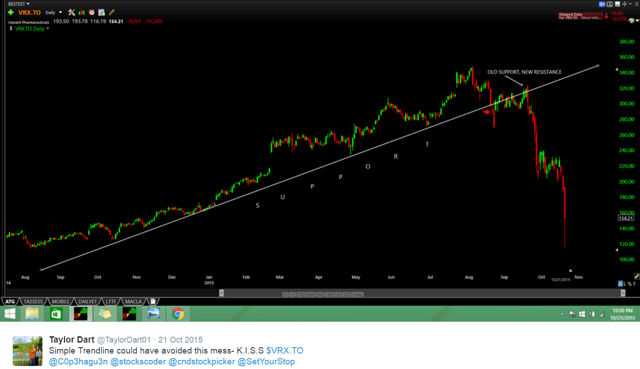 (Source: TC2000.com, Taylor Dart on Twitter)
The above chart displayed a 2-year steep trendline in Valeant that had finally come to an end. The lower high in Valeant did nothing but test the broken trendline, and there was no reason to try and be a hero in what had become a new bear market. Fast forward a few months, and Ackman was adding to his position and several fund managers were buying the stock, all with the general consensus that the worst was over. In the end, the dominant trend prevailed, as Valeant dropped another 50%, proving that the market is always right. Does this mean I'm smarter than Bill Ackman and the many fund managers that tried to be heroes? No. I only looked smarter because I followed price while they fought price, and the latter does not work for anyone - not even billionaire hedge fund managers.
So why have I gone through a long-winded summary of Valeant's fall from grace? The intention is to hopefully save you money down the road. When the trend is over, it's over. There is no need to question it or wait a couple days to see if it reverses, as the market does not care what our average cost is. The following quote is a great one to trade by, and will always make sure you stay in the game. In addition to the Ed Seykota saying, "If you can't take a small loss, sooner or later you will take the mother of all losses", it is my one of my favorite quotes.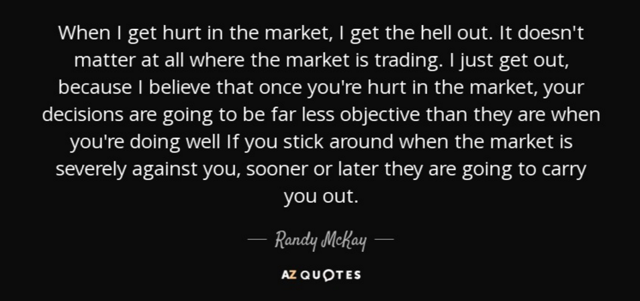 (Source: AZ Quotes)
What Randy is trying to tell us is that no one is smarter than the market, and the longer you stay with a losing position, the more difficult it becomes to finally cut the cord. This is akin to staying in a abusive relationship but trying to stick it out in the hope of better days to come. The longer you stay, the more painful it gets, and the more difficult it often becomes to find an exit strategy.
So how do I know when to get out? Paul Tudor Jones gave a speech to an undergrad class at the University of Virginia where he taught, and I believe his methodology for playing defense to be one of the best. Jones explained his specific strategy for protecting his portfolio, and his answer was very simple:
"My metric for everything I look at is the 200-day moving average of closing prices. I've seen too many things go to zero, stocks and commodities. The whole trick in investing is 'how do I keep from losing everything'? If you use the 200-day moving average rule, then you get out. You play defense, and you get out."
The majority of my systems are built around this advice by Paul Tudor Jones, in addition to using support levels to warn me that a trend is changing. I will never hold a full position in a stock or market below its 200-day moving average, as the risk far outweighs the reward.
Technical Outlook and Summary
So how does this relate to Valeant currently?
Despite VRX seeing no reprieve from its violent bear market, I still see people lining up every week to start new positions in the stock. This is not a way to make money long term - as discussed above, no one is smarter than the market. Fighting the dominant trend is a losing battle, and buying momentum stocks under their 200-day moving average is a recipe for disaster. We can see an example of this in Chipotle (NYSE:CMG), which has been a wrecking ball in value investors' portfolios for the past year. The gap down in October 2015 gave investors a chance to exit the stock at $665, but many who rode it on the way up took the elevator all the way back down. There was absolutely zero reason for this if one subscribes to Paul Tudor Jones' advice, as the stock made a clear violation of its 200-day moving average (yellow line).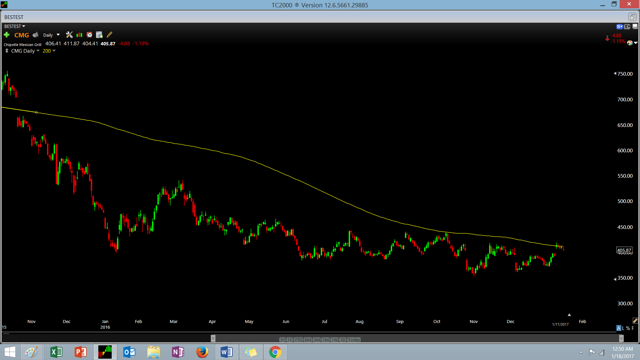 (Source: TC2000.com)
So is there a bottom in sight for Valeant yet?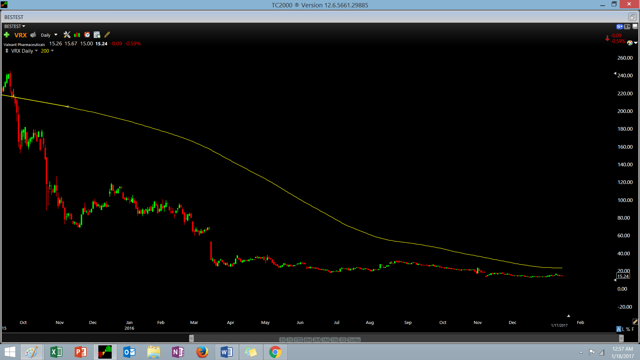 (Source: TC2000.com)
Taking a look at the daily chart of VRX, the stock has not given investors any reason to try and be heroes. The 200-day moving average has been trending down above price for over a year now, and there should have been no confusion as to whether to avoid Valeant. For those who were long, the stock gave a clear exit in late September, and there has been no turning back since.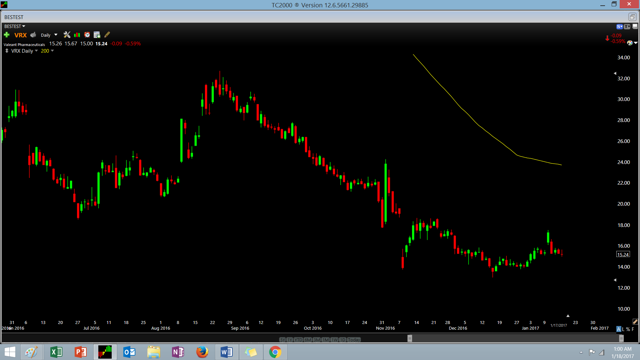 (Source: TC2000.com)
Zooming in to get a better picture, the 200-day moving average for the stock is at $23.75. It is beginning to flatten out, and is actually looking somewhat constructive compared to the nasty slope it had for the majority of 2016. Does this mean VRX has bottomed? No, it simply means that the stock is setting itself up for what could be a potential base. This does not mean we've hit bottom, and is in no way a buy signal, but the stock is on my watchlist for a close above this level. Ultimately, what I want to see in VRX is a close back above its moving average before I would consider putting a penny on the long side.
At this point, the majority of investors have thrown in the towel on Valeant, and I expect we could see a very strong new uptrend develop if the stock can get momentum behind its back. Until it has closed above its 200-day moving average, though, this is all speculation, and trying to be a hero and guessing the bottom is a losing strategy long term.
Disclosure: I/we have no positions in any stocks mentioned, and no plans to initiate any positions within the next 72 hours.
I wrote this article myself, and it expresses my own opinions. I am not receiving compensation for it (other than from Seeking Alpha). I have no business relationship with any company whose stock is mentioned in this article.
Additional disclosure: If you liked this article and found it useful, please feel free to follow me by clicking on my name next to my avatar at the top of this article. I also invite you to follow me at www.twitter.com/TaylorDart01 where I routinely share my entries, exits, and stops on new positions, as well as updating followers on sentiment data on markets I am following.