Netflix (NASDAQ:NFLX) has silenced its critics once again with a blowout fourth quarter earnings report announced after the close Wednesday. Revenue was in-line and EPS beat slightly, but the real story here is subscriber growth. Much has been said about Netflix's slowing growth from claims that the video streaming market is saturated to claims that competing services were siphoning away users. While this was a central issue for Q1 and Q2 2016, Q3 and Q4 2016 have put these critiques to bed with authority.
In my opinion, these results have also justified the spend-to-grow strategy that Netflix management has used to expand its customer base. More on this in a bit later.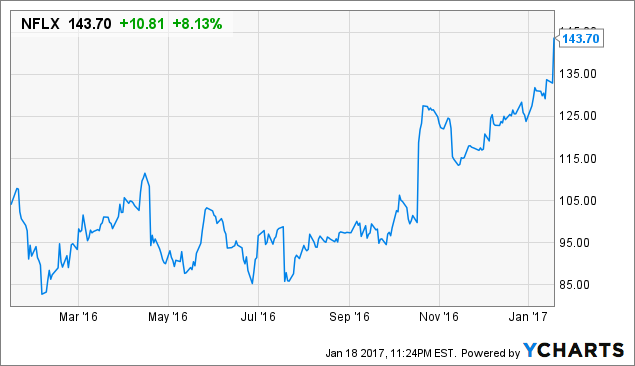 When NFLX was crushed after Q2, I wrote an article about the stock, which can be found here, as part of my "Buy on the Drop?" series. I concluded that the selloff was an overreaction, and rated NFLX a Strong Buy on the drop, my highest rating. As of after-hours trading on Wednesday, the stock has risen 73% since that article was published. I think this demonstrates just how much sentiment has reversed regarding NFLX in the second half of 2016.
With that said, what does 2017 hold in store for the stock? If Q4 is any indication, 2017 might be very kind to Netflix and its investors. For the quarter, Netflix announced 1.93 million in net subscriber additions compared to a 1.2 million consensus, and 5.12 million in global subscriber additions compared to a 3.5 million consensus. The numbers for the current quarter also blew away Netflix's own guidance for the quarter, while its guidance for Q1 is above many analyst estimates.
How was Netflix able to achieve such robust growth numbers? In my opinion, the answer lies in the statement of cash flows. Net cash used in operations, which is largely used in the production of original content, increased from $245 million in Q4 2015 to $557 million in Q4 2016. The sequential increase is fairly substantial as well, about $100 million. This significant increase in spending is the primary reason Netflix is burning cash more and more every quarter, as negative free cash flow ballooned to $639 million in Q4.
This is often referred to negatively by many Netflix critics: a company that can't generate cash is unsustainable. While true, this is irrelevant to the company's future. Netflix could make oodles of cash if management wanted to, but that it would come at the cost of sacrificing Netflix's long-term viability. Sure, Netflix could cut back on original programming and start generating cash, but that would severely hamper its largest and most vital competitive advantage.
As I argued in my past article, original programming is increasingly becoming the primary distinction between video streaming services, and Netflix has a massive lead in this department. Not only does Netflix have many original shows and movies, but they have much higher production value and are better received by both critics and audiences. Yes, Netflix is burning through cash like wildfire, but spend-to-grow is necessary for survival in these early stages of the video streaming market. So many first-movers fail because they try to become profitable before they become entrenched and indispensable. Netflix management understands this and I think they are making the correct decision to maintain and grow the largest competitive advantage it has rather than curb that advantage in order to bring in some cash.
As long subscribers are coming in and existing ones are content, the capital and debt markets will remain open. Netflix is building up a ton of potential energy that will be actualized into profits once the dust settles and a winner emerges.
In sum, Netflix is spending cash as fast as possible to produce original programming that maintains existing subscribers and convinces potential subscribers that Netflix is the best service. This strategy is bearing fruit now and the robust subscriber growth numbers demonstrate that fact. How long Netflix remains committed to the spend-to-grow strategy is entirely dependent on the market environment. When the market becomes truly saturated, which will not happen for quite some time in my opinion, then we will probably see a more bottom line-focused strategy from Netflix, but until then investors can look forward to subscriber additions, ballooning cash burn, and, in my opinion, further stock gains.
If you want to stay up to date on my articles, you can Follow me by going to my author page or by clicking "Follow" at the top of this page.
Thanks for reading!
Disclosure: I/we have no positions in any stocks mentioned, and no plans to initiate any positions within the next 72 hours.
I wrote this article myself, and it expresses my own opinions. I am not receiving compensation for it (other than from Seeking Alpha). I have no business relationship with any company whose stock is mentioned in this article.