Overview
DeVry Education Group (NYSE:DV) offers higher education through its institutions in healthcare, technology, business, accounting, finance and law. The company provides associate, bachelor's and master's degree programs to students all over the world. Since December 31, 2014, the stock declined more than 40%, while the overall markets (SPY) gained 10%. I believe declining enrollment numbers and claims surrounding misleading advertisements regarding students' performance and job opportunities led to the decline. However, I expect the company to turn around under the guidance of its new CEO, Lisa Wardell. The education company should perform well over the coming years.
Although the company is experiencing decline in student enrollments, DeVry University, Ross, AUC and Corrington College, its International and Professional business segment and Chamberlain College of Nursing are performing well. I feel management is emphasizing the profitable segments (Chamberlain and international and professional education), while curtailing costs in underperforming segments (Carrington college and DeVry university). The developments regarding defense of claims with FTC and the U.S. Department Of Education are positive. The current discounted valuation makes the stock an appealing value proposition for the long-term value investor.
Upside Triggers
Chamberlain College of Nursing is expected to be the major growth driver going forward
The company's Chamberlain College of Nursing, which constitutes almost 50% of Medical and Healthcare business, has been delivering strong results over the past three years. Total student enrollment at Chamberlain increased 18.9%, while revenues grew 20.5% YoY. Although the pace of new enrollments slightly declined in the first quarter of FY17 (due to enrollment caps at a few locations and enrollment limits in the Family Nurse Practitioner (FNP) program), we expect demand for the nursing to remain robust going forward. Chamberlain plans to begin increasing FNP student enrollments in January, as the institution ensures it can provide a quality clinical experience for the program.
An aging population and limited capacities in nursing schools have led to a shortage of nurses. As the population ages, demand for healthcare services will soar. According to the national council on aging, about 80% of older adults have at least one chronic condition and 68% have at least two diseases. As a result, approximately 1.2 million vacancies will emerge for registered nurses between 2014 and 2022 (Bureau of Labor Statistics).
Chamberlain will stand to gain from this opportunity due to its partnership model as potential students recognize the relevance of its presence among various institutions and network of healthcare specialists. The company continues to invest in new locations, and it plans to introduce new short programs in order to capitalize on the strong demand. Three new campuses were opened in FY16, and another three are expected in FY17. Looking ahead, I expect DeVry should be able to achieve its expected high-single digit to low-double digit growth in both total enrollment and revenue set for FY17.
Diversification into the under-tapped Brazilian education market should drive future growth opportunities
The company's acquisitions of highly respected Brazilian colleges Grupo Ibmec Educacional S.A. (Ibmec) and FACIMP in December 2015 and June 2016, respectively, have spurred growth in DeVry Brasil. Total student enrollments increased 35.0% in FY16 and 32.9% in the first quarter of FY17. Although Brazilian government regulation has instituted a more stringent student loan funding plan, the public sector is not very well developed. As a result, I expect private schools to perform well in the underdeveloped Brazilian markets. Growing middle-class families are creating the need for higher education, and I expect DeVry Brasil, with two most respected colleges in the country, is well positioned to benefit from the opportunity. Approximately 90% of revenue growth in Brazil was contributed by the acquisition of Grupo Ibmec Educacional S.A. (Grupo Ibmec) and Faculdade de Imperatriz (Facimp) by DeVry Brasil.
Transformation strategy to spur margin growth
One of the concerning factors is declining enrollment in the company's core DeVry University and Carrington College. At DeVry University, the number of undergraduate course takers dropped 61% from 60,907 students in FY12 to 24,322 students in the first quarter of FY17, while the number of graduate course takers declined 55.1% from 23,151 in FY12 to 10,385 in FY17.
In an effort to stem negative revenue growth, DV aims to introduce a range of technology-focused, stackable programs that are more affordable and provide students the flexibility to pursue education with work. The company recently collaborated with RefactorU to offer full-stack web development program under the DeVry Bootcamp in Denver. Students will be able to learn highly required coding skills, cybersecurity, mobile app development, digital marketing and social media marketing through this program, and at the same time expand their professional network and attend the Bootcamp career fair to connect with local employers.
In an effort to maintain positive economics, management seeks to expand margins through efficiency gains by consolidating locations, reducing headcount, minimizing advertising expenses and optimizing resources. Since FY14, DeVry University has closed 39 campus locations and completed additional campus size reductions. Management expects additional consolidations and closures of DeVry University locations in FY17. In the first quarter of FY17, the company achieved $33.8 million in savings, and we expect the cost recovery rate at DeVry University to increase as it continues to maintain a disciplined balance between the initiatives it is implementing to return the University to the growth trajectory.
Favorable economic outlook and policy change expectations
The macroeconomic outlook also remains favorable. Over the last decade, the US employment rate scenario has changed substantially, with unemployment rates dropping to 4.7% in December 2016 from around 10% in December 2009. Higher education instills confidence in finding quality jobs. With a better job environment and a more relaxed regulation under the Trump administration, students will be enticed to opt for short-term online courses with work, due to ease of funding and the need to keep themselves skilled.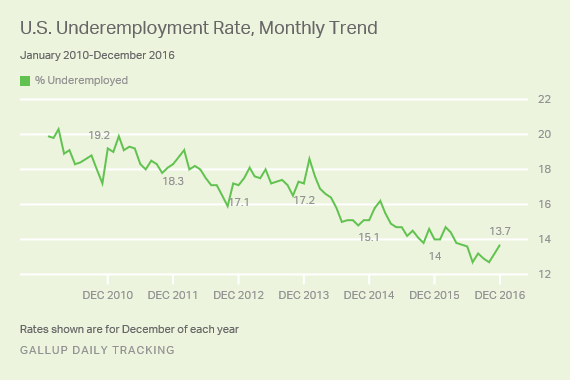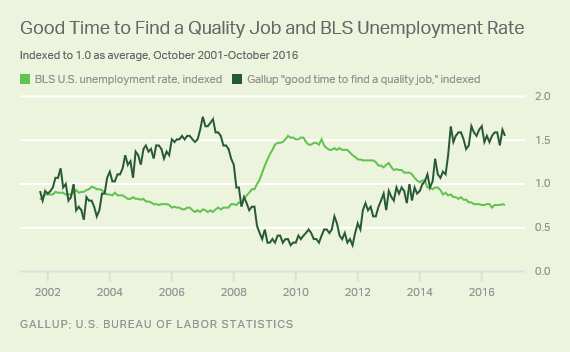 Valuation
The stock appears to be attractive in terms of valuation. DV is trading at a P/E ratio of 13.25x from continuing operations, reflecting a discount to its peer group average of 23.56x. Negative publicity around the company's image, recent sell-offs by investors and declining enrollment numbers in the company's core DeVry University have led the stock to trade at a discount compared to its peers. I believe DV's international business and its growing specialty nursing and medical staff training programs continue to be bright spots for investors. With aging Baby Boomers, the company is rightly focusing on its expanding nursing and healthcare business. Legal developments regarding FTC claims and the U.S. Department Of Education are promising. Further, a likely easing of regulation in the education sector under the Trump administration should further drive future growth opportunities. Based on our conservative FY17 estimated earnings of $2.55 and a forward P/E multiple of 15.0x, I expect the stock to be valued at $38.25, up 16% from the current market price.