Investment Thesis
Gilead Sciences (NASDAQ:GILD) has seen its revenue slow down after huge revenue growth from 2012 to 2016. GILD at the moment reminds me of Apple (NASDAQ:AAPL) in early 2013, when AAPL was very much out of favor. A lot of investors felt Apple would never return to its glory days at the height of 2012. They were wrong on AAPL, and I think it is possible that investors are wrong on GILD now. I think GILD now trades at a discount to intrinsic value of least 35%.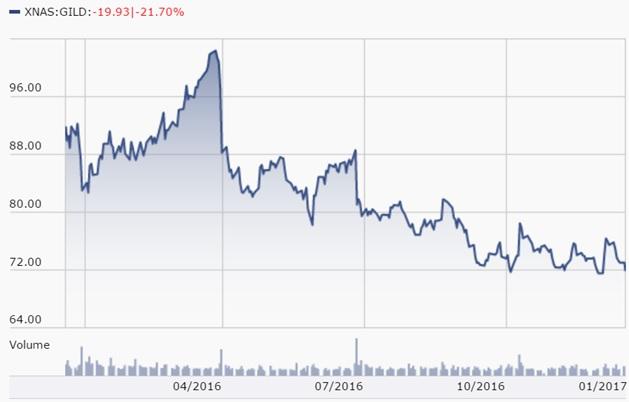 Source: morningstar.com; 1 year share price.
Business Overview
GILD is a research-based biopharmaceutical company that discovers, develops and commercializes innovative medicines in areas of unmet medical need. GILD's primary areas of focus include human immunodeficiency virus (HIV), liver diseases such as chronic hepatitis C virus (HCV) infection and chronic hepatitis B virus (HBV) infection. GILD has a very diversified portfolio of successful drugs that it continues adding to through internal discovery and through a product acquisition.
Total revenues for the third quarter were $7.5 billion compared to revenues of $8.3 billion for the same period last year. Product sales for the third quarter were down 10% year-over-year (YoY). These declines were due to lower HCV sales, partially offset by increased sales in HIV. This YoY decline is more than priced in its shares, down roughly +25% since last year and down ~35% from its heights.
In the US alone, product sales for the third quarter were $5.1 billion. HCV product sales were down 37% YoY partially offset by demand for Epclusa (used treatment of HCV), which was launched at the end of Q2 2016 and generated $593 million in its first full quarter of sales (not an insignificant by any measure). And with management's focus going forward being less on HCV revenue streams and more on HIV (and other antivirals), this has been reflected by having a huge increase in these HIV antiviral drugs of 32% YoY.
One example that demonstrates that GILD is excelling in HIV treatment, according to Gilead COO Kevin Young: Genvoya "is the all-time most successful product adoption in its first year in the 30-year history of HIV therapy in this country."
Bears can argue that a substantial portion of its revenues are derived from sales of products that treat HCV and HIV. And once its patients are treated they do not be treated again. But bears overly discount that GILD has been able to consistently proof itself by growing its revenues from just $3B in 2006 to $32B in 2016 or more than 10 times. This while maintaining incredibly strong market share in HCV drugs (across the major markets, with the exception of the U.K.). There has always been competition in pharmaceuticals, We also could experience a decline in market share due to increased competition.
Financials
GILD shareholders have seen its bottom line compound at roughly 39% annually (through increases in revenue and share repurchases).

Source: morningstar.com; author's calculations.
It is also worth noting that when investing in a large cap company like GILD there are intangibles that are on the company's balance sheet that can take years to be reflected in its financial performance. For example, having a drug that helps treat hepatitis C is a great tailwind for the company. But this takes time, sometimes very long leads times to developing a drug, not to mention astronomical expenses (not easily replicable by many competitors), but once the drug is on the market a company like GILD no longer needs to spend much capital investing and developing it. That is why companies like GILD that have such huge FCF margins. For others, feel free to see my article "Valeant Is A Great Investment To Start 2017" (disclosure: I'm long (NYSE:VRX))
Huge amount of share repurchases
GILD's management are excellent capital allocators and while the same can not be said for most companies management's I feel comfortable saying that about GILD's management.
With shareholder returns via dividends and share repurchases year-to-date being strong. In the third quarter alone, GILD repurchased 11.7 million shares for $1 billion. In 2016 GILD it has seen its shares count decline 11%.
Valuation
Relative Valuation
In order to confirm that there is, in fact, the required margin of safety in an investment in GILD, I performed both a relative valuation and a DCF valuation.

Source: Morningstar.com
First, from the relative valuation perspective. My favorite metric is the P/S. I like because it is quite a clean metric. I like to compare what investors have been willing to pay for a stock over the past five years and what they are willing to pay for it now. In the past five years, investors were happy to pay 6.9x P/S. Currently, investors are asked to pay only 3.2x P/S, at least 50% cheaper. Furthermore, currently investors get a dividend yield of 2.6%.
DCF Valuation
I confirmed the margin of safety when I performed a back-of-the-envelope DCF analysis with a normalized $11.5B of FCF, with 5% growth over the next five years (which is very conservative), before leveling off at 2% (which is less than the S&P 500 average and equal to inflation). I then discounted this FCF back at 10%. I used 10% because in spite of GILD having been extremely successful in the past, there is the need to develop a new pipeline of drugs. I hope you will agree that this DCF analysis is not "brave" in any way, and it is in fact quite conservative. This brings the DCF to ~$160B market cap or at least 50% upside to the current share price, but let me say 35% just to be super conservative.
Competition
The table below compares GILD with its peers.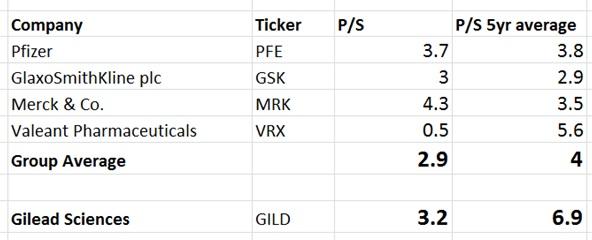 Source: Morningstar.com; author's calculation.
GILD certainly trades cheaply versus what investors have paid for over the last 5 years, and very much in align with the median average for the group.
I hope I have been able to effectively demonstrate that GILD is not only cheap relative to itself in its past, it is also cheap relative to its peers and cheap on a DCF calculation.
Conclusion
There has always been competition in pharmaceuticals but I believe investors are over discounting GILD's ability to keep throwing off FCF.
But patient investors that keep price at the forefront of their investments will be rewarded with 35% upside to the current share price over the next 18 months.
Investors seeking slightly less contentious stock should look at this potash mine, or a different type of growth stock, selling below intrinsic value.
Thank you so much for reading my article. If you have enjoyed reading this article, please click "Follow" to get more articles of mine in real time.
Disclosure: I am/we are long VRX.
I wrote this article myself, and it expresses my own opinions. I am not receiving compensation for it (other than from Seeking Alpha). I have no business relationship with any company whose stock is mentioned in this article.