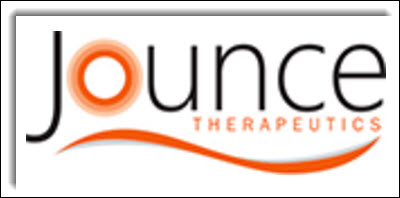 Quick Take
Cancer treatment biopharma Jounce Therapeutics (NASDAQ:JNCE) wants to sell 5.36 million shares at a midpoint price of $14 per share, for gross IPO proceeds of $75 million.
I analyzed Jounce's prospects in my article, Jounce Therapeutics Seeks $75 Million In IPO.
The company has tremendous liquid resources on hand, a very involved collaboration partner in Celgene (NASDAQ:CELG), top-tier management and private investors.
My opinion on the IPO is a strong BUY.
Company Recap
Jounce is developing immuno-oncology treatments for cancer and has developed its proprietary Translational Science Platform that it says can quickly identify new cancer immunotherapy candidates.
Its lead candidate (developed with Celgene) is JTX-2011, a potential treatment for inflamed or hot tumors, and the company expects safety data from its Phase 1/2 trial in the first half of 2017 and "preliminary efficacy proof of concept data" in 2H 2017.
It is also developing (with Celgene) JTX-4014, an anti-PD-1 antibody for possible use in future combinations with JTX-2011.
Below is the company's full pipeline and current status: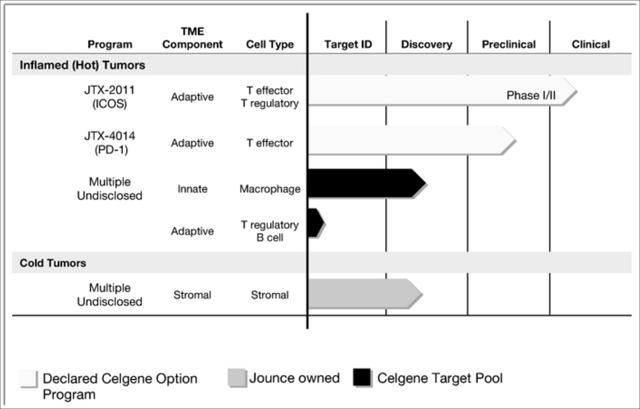 (Source: Jounce Therapeutics S-1 Filing)
IPO Details
Jounce intends to sell 5.36 million shares of common stock at a midpoint price of $14 per share, for total gross proceeds of approximately $75 million, subject to an additional 804,000 shares of common stock made available for the underwriters to purchase at their option.
The company intends to use the proceeds as follows:
We anticipate that we will use the net proceeds from this offering to advance our lead product candidate, JTX-2011, through the completion of our multi-arm Phase I/II clinical trial, to advance JTX-4014 through IND enabling studies and our planned initial clinical studies, to advance and expand our Translational Science Platform and research and development pipeline, and for working capital and other general corporate purposes.
Notably, existing stockholder and collaboration partner Celgene as indicated a non-binding interest to purchase $10 million of common stock in the offering. This is not uncommon for successful biopharma IPOs and provides a positive signal to potential public market investors.
Upon a successful IPO and underwriter purchase options, the company will have approximately 31,000,000 shares outstanding, so it will be selling approximately 17.3% of its capital stock in the IPO.
Jounce is therefore proposing a post-IPO market cap of $434 million.
The lead left underwriter on the IPO is J.P. Morgan.
Commentary
Although Jounce is still an early-stage development biopharma, the company has received significant milestone payments and investment from its collaboration with stockholder and partner Celgene.
Its strategic collaboration with Celgene has netted the company a $225 million upfront payment and a $36.1 million minority equity investment.
In return for these sums, Celgene has received exclusive options to develop Jounce's lead candidates JTX-2011 and JTX-4014.
Jounce had $271.4 million in cash and marketable securities as of September 30, 2016, so the company is extremely well capitalized.
Although milestone payments can be uneven and'lumpy,' Jounce continues to receive major votes of confidence from Celgene, which is evidently impressed with Jounce's Translational Science Platform and its two lead candidates derived therefrom.
Jounce's pipeline appears to be mostly focused on inflamed, hot solid tumors and it has multiple undisclosed candidates in discovery stage of development.
Celgene also has options to extend research terms for additional three-year periods, and in that event, Jounce would be eligible to 'earn additional clinical, regulatory, and/or commercialization milestone payments, option-exercise fees and research term extension fees.'
As to valuation, pre-revenue biopharma companies typically IPO at under $300 million post-IPO market cap.
With the Celgene collaboration and nearly $300 million in liquid resources that Jounce has in hand, its proposed valuation of $434 million is reasonable.
Also, Celgene wants an even larger piece of Jounce, with its stated intention to purchase an additional $10 million of the IPO.
So, it appears that Celgene has positioned itself as the acquirer of choice for the company should it choose to move in that direction, or at least have a say to potentially deny competitors access to the company's IP as both a significant shareholder and development partner.
In fact, I wouldn't be surprised if Celgene acquires Jounce before the IPO occurs.
Nevertheless, the IPO is a strong buy at its proposed $14 per share price.
I write about IPOs, secondaries, and M&A deals. If you want to receive future articles automatically, click the +Follow link next to my name at the top of this article.
Disclosure: I/we have no positions in any stocks mentioned, and no plans to initiate any positions within the next 72 hours.
I wrote this article myself, and it expresses my own opinions. I am not receiving compensation for it (other than from Seeking Alpha). I have no business relationship with any company whose stock is mentioned in this article.